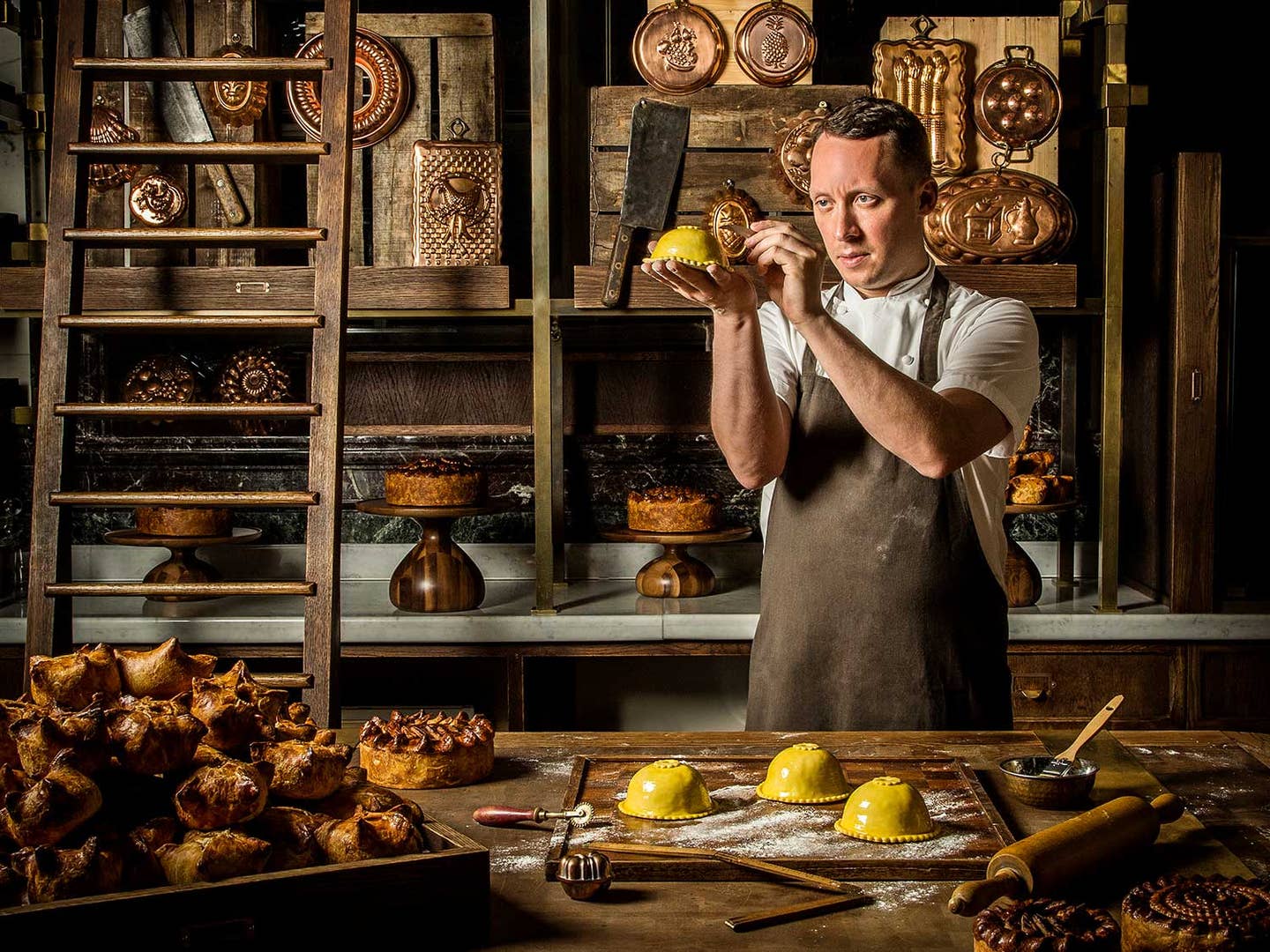 Culture
How One British Chef Is Bringing Traditional Savory Pies Back into Style
They're intricate and time-consuming, but worth every second of the wait
There are few foods that could be more aptly described as labors of love than England's savory pies. Time-consuming and intricately layered, pies filled with meat have been eaten in England since medieval times—in fact, the word "pie" is believed to have been shortened from "magpie", which, in addition to crow, rabbit, and chicken, was considered a typical filling. These pastries have evolved dramatically since those days to become part of the modern English culinary canon—you may know of the Lancashire pork pie or a mincemeat pie—usually involving golden, buttery, flaky crusts encasing hearty meat-and-vegetable fillings. But they've lost a little bit of their popularity in the past few decades, says Calum Franklin, chef at the Holborn Dining Room in London's Rosewood Hotel, who's earned acclaim for bringing these savory pies back into the national spotlight. "Making [savory] pies has fallen out of favor in recent years—it's difficult, it's labor-intensive, and perhaps it isn't cool anymore," Franklin explains. "But those were three things that really didn't scare me; in fact, they probably made me more intent on getting it right."
Franklin had his first taste of savory pies as a child in Scotland—his mother's favorites were "chicken pot pie and shepherd's pie," he recalls. But it wasn't until three years ago that he rediscovered the art after coming across an antique pie mold at a store in the building that now houses Holborn Dining Room. Curiosity led to deep-diving research, and things snowballed from there.
"I grew up enjoying them, and I think eating a pie can quite often transport you back to the family dinner when you were a child," Franklin says. "I've always had a fascination with old crafted techniques in food, but this particular skill intrigued me because there are so many layers to its history."
These days, Franklin has become known among London's fine-dining cognoscenti for his fantastical pies, which are firmly rooted in tradition, while also catering to the modern discerning palate. In a 2017 review, The Standard's Grace Dent raved, "The Rosewood's brasserie, Holborn Dining Room, is my personal idea of a heaven; not that I'll ever be beckoned upwards—but if hell is full, I'd happily spend eternity eating chef Calum Franklin's pies."
Those celestial pastries come in a variety of formats, both hot and cold, perfect for breakfast or dinner: Consider the chicken, girolle, and tarragon pie that is served with green peas and, for 50 pence, upgraded with gravy. Or take the gut-sticking steak and kidney pudding with braised cheek and chuck. And then there's the beef Wellington, which, while not technically a pie, is a close relative that's earned its place in the family. Franklin points it out as one of the most difficult to make, requiring the labors of a large chunk of his staff of 30-some chefs.
"The Wellington is a three-day process of wrapping the beef in mushroom duxelle, spinach, pancakes, and finally puff pastry," he explains. "It's a long job but gives an incredible final dish, and one that every section of our kitchen has a hand in. It takes time because care goes into each and every process."
While many of these time-honored dishes reflect decades, if not centuries, of English tradition, Franklin isn't afraid to nudge them into modernity with experimentation and elevation. For a curried mutton pie, the chef tops slow-cooked shoulder with a zesty mango salsa; and for his personal favorite, the vegetable pie, he prepares a creamy dauphinoise potato that's set aside overnight to cool before joining grated Comté cheese and caramelized onion in a gorgeous dome-like design. Ingredients are also meticulously sourced from local purveyors—vegetables from nearby farmers, meat and fish from Cornwall, and flour freshly-milled from Northumberland—reflecting the finest of British foodstuffs. And Franklin brings these upgrades to old-school recipes and techniques in order to achieve a more balanced final dish.
"Our pork pie is an example of traditional technique that we have updated," says Franklin. "We looked at what we thought could be improved, so for example, traditionally it's the same weight of pastry to meat, which we felt gave you a heavy pie with undercooked pastry and overcooked farce, so we tested that until we got the ratio right and the cooking perfect."
On the surface, these are simple adjustments, but Franklin's thoughtfulness in perfecting every aspect of his craft goes a long way when it comes to taste. And that precise intention is also mirrored in the pastry's attention-snatching designs, which have become a huge selling point on social media. Intricate lattices, geometric shapes, and nature-inspired imagery all appear on Franklin's creations, adding an element of beauty to typically humble, unadorned food. This requires some planning, and even sketching in advance—unsurprisingly, rulers are part of the gear in Franklin's pastry kitchen.
A few months ago, Franklin opened the Pie Room, a dedicated nook within the Holborn Dining Room offering diners a direct view of his team prepping their pies, pithiviers, and pâté en croûtes for diners in the Grand Brasserie. For those on the go, there is a pared-down selection of takeout items dispensed via a "pie-hole" grab-and-go window, including hot or cold pies, sausage rolls, and the standout Scotch egg—another retro dish that Franklin has become known for.
And for fans who've been inspired to bring pies to their home kitchens, the Holborn Dining Room has just launched intimate, small-group pie-making classes with the master himself. As of this summer, you can gather round the counter in the Pie Room to get "up to your elbows in flour and pastry," according to Franklin, and walk away with the confidence and some special tools to recreate these spectacular, iconic dishes.
Pie-making is an old tradition, but there's innovating yet to be done. Franklin and his team are always experimenting with new creations—currently, they're working on an "ultimate fish pie." "We currently have five, and are working on more, but it's a very long process to introduce a new one," admits Franklin. "It's probably six months of testing before we are happy to let a pie join the family."
As trends in food change ever-more rapidly, there's even more beauty in preserving the foodways that have survived and evolved over centuries. And what started as culinary intrigue has become much more: Franklin has become a gatekeeper to a storied slice of English history. "I'm just working away on them, testing all the time, getting the pastry right and making what's inside beautiful as well as the outside," he says. "It's a big part of British food's history, and I want to represent it in the best way I can at the restaurant."