Culture
You Should Serve These Biscuits at Your Next Cocktail Party
Hand-held and infinitely customizable, the biscuits from Callie's Charleston Biscuits are the perfect all-day indulgence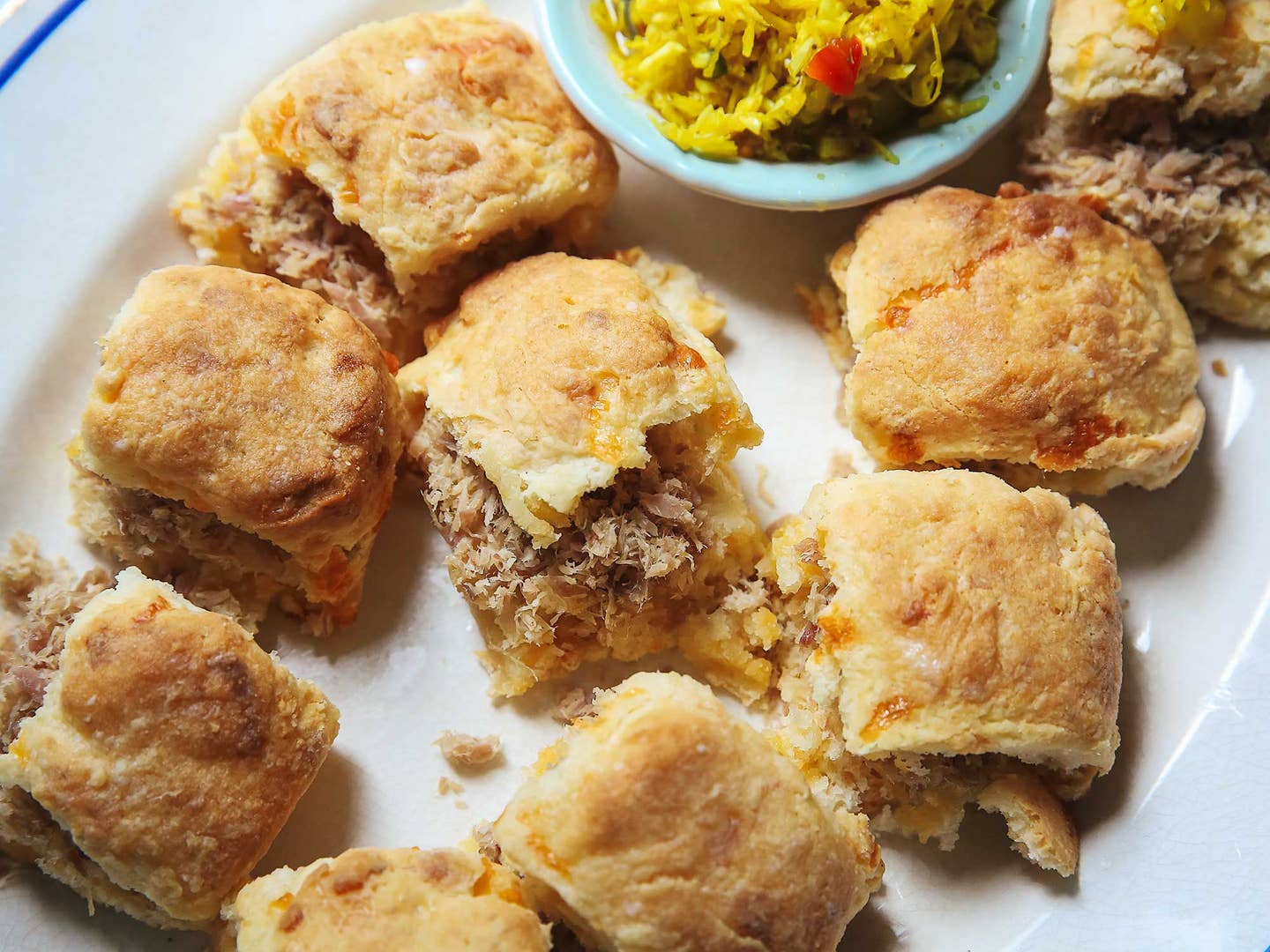 All Southerners cherish a good biscuit. There is absolutely nothing like waking up to biscuits fresh out of the oven, then pouring heaps of cream gravy—with sausage, preferably—all over, or perhaps topping them with blackberry preserve. A good biscuit, buttery and handmade, can offer inimitable comfort, while a dry one can ruin anything good about your day.
South Carolina native Carrie Morey is the genius behind Callie's Charleston Biscuits, an online shop bringing this particular brand of Southern biscuit joy to folks across the country. She named Callie's after her mother, and uses her mother's recipe to make these now-famous delights.
At her three brick-and-mortar outposts in Charleston and Atlanta, Morey selling fresh biscuits with flavors including traditional buttermilk along with cinnamon, chive and cheese, and black pepper bacon. While in Charleston for the Charleston Wine and Food Festival, I made the short walk from Marion Square up to Callie's Hot Little Biscuit and waited in a line that snaked out the door—and I was so thankful I did.
You can't go wrong when ordering off a menu consisting mostly of biscuits. I had a bacon, egg, and cheese sandwich which helped sooth my mild hangover. It was hard to resist ordering a baker's dozen to take back to my room. These biscuits are a little smaller than your standard biscuit, but this is intentional—Morey's grandmother believed party-goers should be able to hold a biscuit in one hand while at a cocktail party, freeing up the other hand for your drink. Yes, you read that right, a cocktail party, because a good biscuit shouldn't be limited to the morning.
Morey serves her biscuits at any kind of function she hosts, and she wants you to do the same. At your next fancy shindig, try putting biscuits on the menu. They're easy to make and you can toss cheese to the mixture to make them extra moist, and when served with a variety of toppings, like pimento cheese, country ham, and a pickle-y Southern-style chow chow, you're guaranteed to please a crowd.