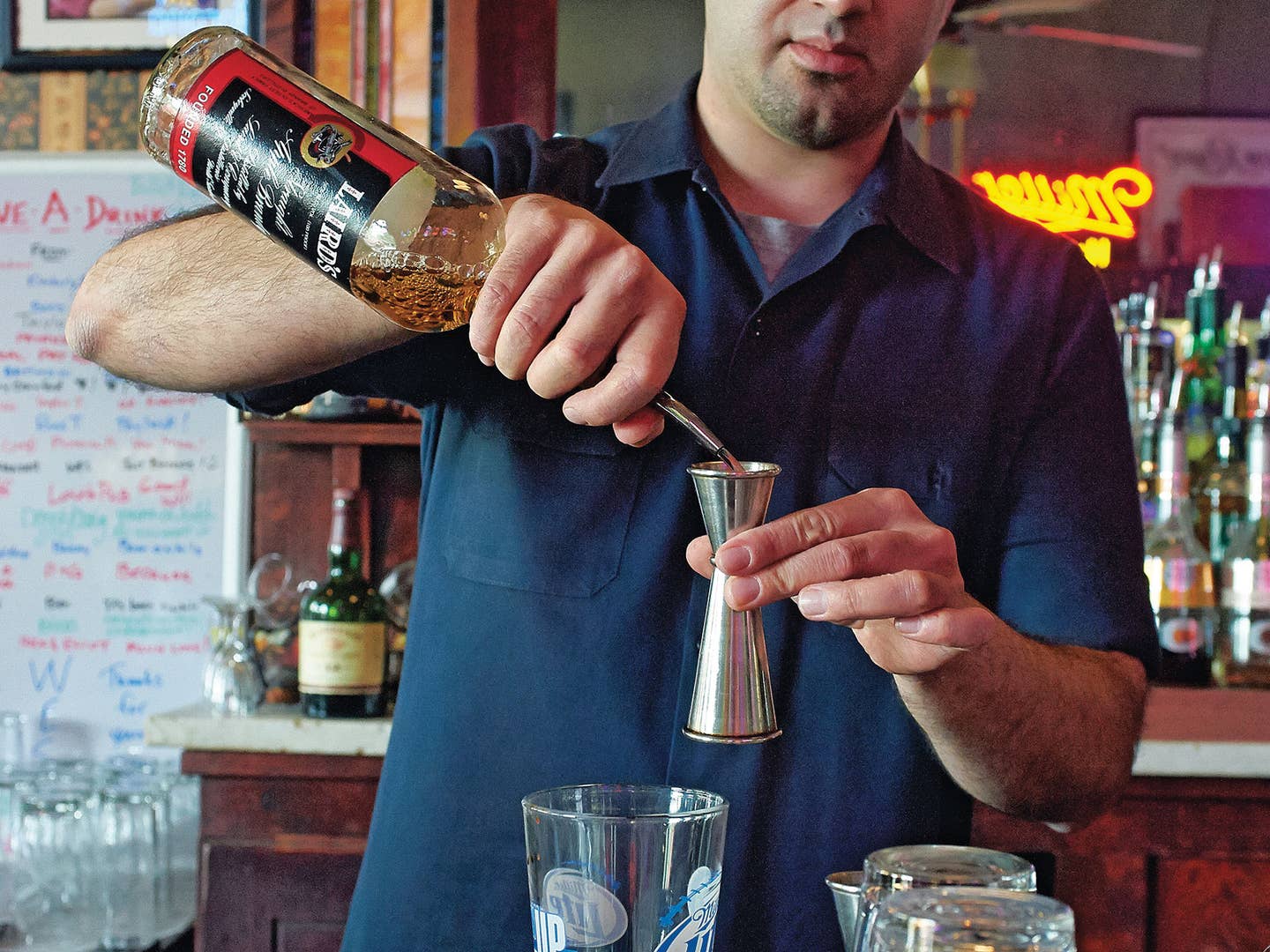 Travel
Church Night
On Sundays in Birmingham, a craft cocktail pop-up is a savior from the city's blue laws
I was lucky to get the clandestine, word-of-mouth invitation. Visiting Birmingham, Alabama, and desperately seeking a cocktail as the sun slid away on a Sunday afternoon, I didn't have many options. Over a third of Alabama's counties are dry, but even in wet Birmingham, many places abstain from serving on Sundays; liquor stores stay closed, too.
From the street, Lou's doesn't look like much. Green neon script in the window spells out "Lou's Pub & Package Store," and for the most part it delivers on that humble promise as a hybrid beer-and-shot dive bar and liquor shop (the retail side stays closed on Sundays). Locals drop in for a Bud at the low-ceilinged, dark-wood bar or sit on the patio, a few stone benches and tables arranged on the concrete out front. Some buy a bottle of Jack to take home at the end of the night. Most days of the week, it's a watering hole like any other, a little shabby, sure, but not without straightforward, reliable comforts—an empty stool, a cold beer.
On Sundays and Wednesdays, however, things are a little different: It's Church Night at Lou's. On those nights, bartender Angel Negrín sets up a craft cocktail pop-up, something like a swank supper club plunked into a greasy spoon. The dive-bar bones are still there, of course, but Negrín adds a bit of flash as he unpacks diamond-cut mixing glasses and shiny jiggers. The genial Bud-drinkers in T-shirts remain, too, but they sit elbow to elbow with a younger crowd dressed in vintage finds and sipping Corpse Revivers, Old Pals, and other classic cocktails.
"Is Angel here?" I ask the barrel-chested man in a flannel shirt who's standing at the clunky cash register over a display of gum and candy in a dusty glass case. Without a word, he jerks a thumb down the narrow bar. Negrín is easy to identify as mixologist material: tall and with a clean-shaven head, gracefully stirring two drinks at a time with long-handled bar spoons. Yes, this is the guy you want making your drink. I ease into one of the round tables arranged artlessly in the retail space between the long walls of bottles and scan the menu. There are a handful of original cocktails, including the Mid-Bar Purse Dump, a tall, fruity vodka sipper. But mostly Negrín sticks to classics: I order the Diamondback (rye whiskey, applejack, and yellow Chartreuse)—a vintage drink, but a new one to me. It's balanced and bracing, and it disappears awfully fast.
"It didn't start as a Church Night," Negrín says. "It just happened that way." Before Lou's, Negrín, a Pennsylvania native, mixed drinks at Birmingham's fine-dining restaurants, including Frank Stitt's French bistro, Chez Fonfon, and Italian-inspired Bettola. Around then, he noticed that Birmingham had little in the way of stand-alone cocktail bars. When the owner of Lou's mused aloud one night about offering craft cocktails, Negrín volunteered to jump in on the slow nights, Wednesday and Sunday. Coincidentally, those are the same two days that many of the Bible Belt faithful attend church. "You go to church twice a week if you don't want to be talked about bad by your congregation," Negrín says. But it wasn't any rebellion against moralists that got Church Night going—it was the dearth of great drinks. "The cocktail scene in Birmingham is so young," says Negrín. "It wasn't that long ago that you couldn't get a good cocktail here."
At Church Night, the low steel-and-vinyl barstools are full—one ponytailed gent in spectacles and a vest chats up a woman sporting plenty of ink and a crocheted dress. By the window, a table of denim-clad locals makes birthday toasts with bottles of beer and tequila shots. In a whiskey-fueled reverie, I squint and—just for a moment—the bottle-green neon glow in Lou's window almost looks like stained glass. A burst of laughter erupts from the group by the window, bringing me back, and it's time to order another round.