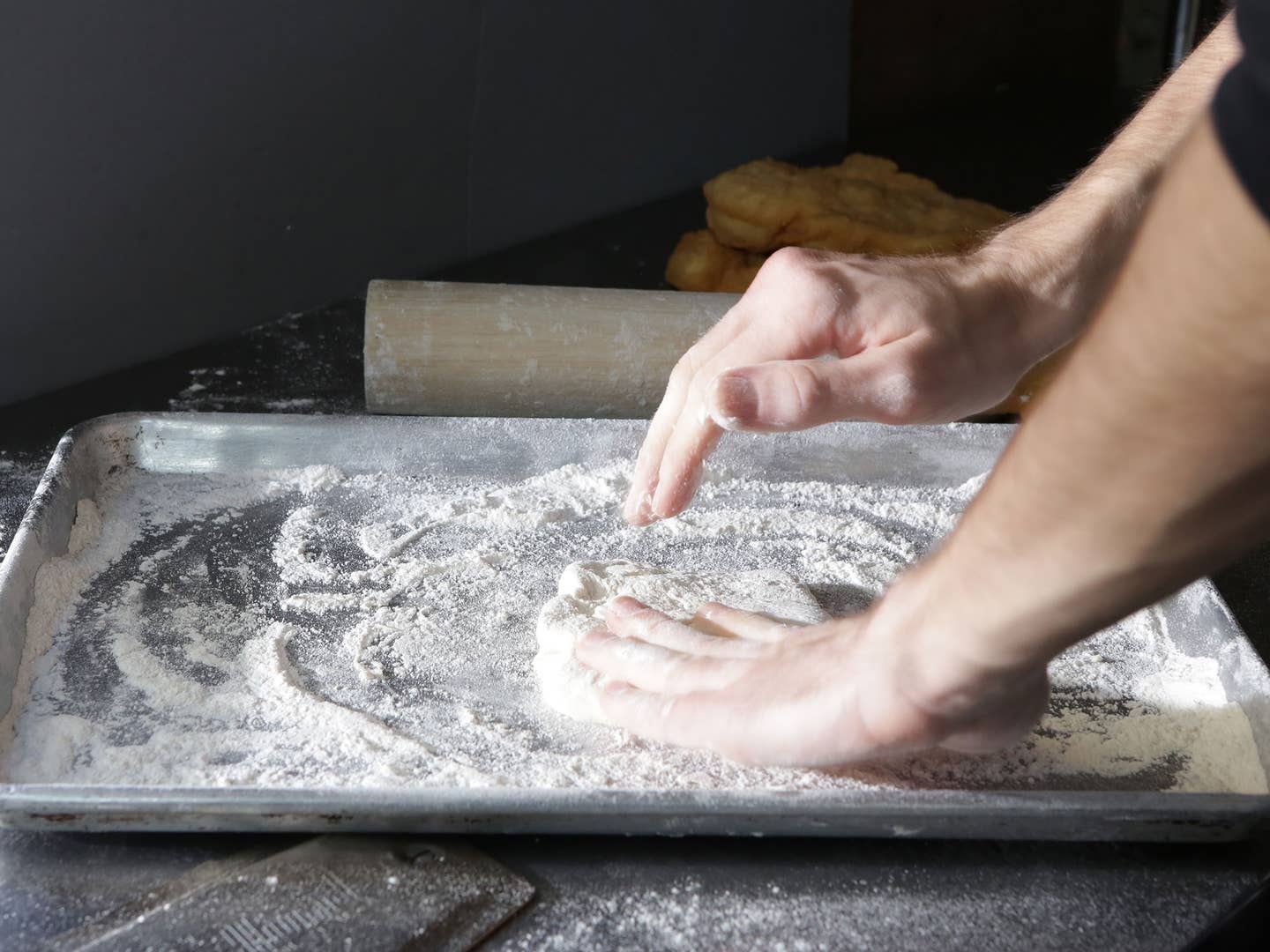 Culture
Pittsburgh's Conflict Kitchen is Fighting for Native American Representation Through Native American Food
A new menu showcases the traditional foods of the Haudenosaunee Confederacy
As Standing Rock's Dakota Access Pipeline protesters celebrate this weekend's hard-fought victory—an easement from the Army Corps of Engineers that should divert the pipeline's construction away from ancient burial grounds and Native American water supplies—the American public is once again focusing on the treatment and recognition of our indigenous populations, which account for over 500 culturally-distinct tribes from all over the country.
While there is no way to undo years of land theft and genocide, the Standing Rock conflict can serve as a starting place for these types of conversations, one of which, Munchies reports, is taking place at Pittsburgh's Conflict Kitchen.
The public art project-meets-restaurant rotates its menus every few months to highlight the cuisine of a country or state that is "in conflict" with the United States—in hopes of promoting empathy and understanding through food. Now, Munchies notes that the restaurant is serving the traditional fare of the Haudenosaunee Confederacy, also known as the Iroquois Confederacy, which has historic ties to New York and Western Pennsylvania.
The brainchild of artists Dawn Weleski and Jon Rubin (who are not themselves Native American), the restaurant undergoes a rigorous research process—roughly two years—to ensure both accuracy and sensitivity in dealing with each cuisine. For the current iteration, they've collaborated with several indigenous organizations: the Iroquois White Corn Project, Iroquois Indian Museum, The Seneca-Iroquois National Museum, and the Ganondagan State Historic Site, a historic Seneca village and cultural center.
The menu, which highlights staples like white corn, root vegetables, and wild game, offers small dishes such as cornbread made from roasted Iroquois white-corn flour sourced from the White Corn Project in Victor, New York. Larger mains range from whole-grilled quail with boiled potatoes and wild greens, and cranberry-and-juniper–braised venison with potatoes. For dessert, find drop dumplings boiled with seasonal fruit or white-corn cookies. Every meal comes with a large fold-out that offers snippets of interviews that were conducted during the research phase, including insight into the dishes served.
While perhaps the most recent, Conflict Kitchen is of course not the first restaurant to focus on Native American cuisine. A few months ago, we wrote about Sioux chef Sean Sherman, who founded the restaurant The Sioux Chef. His chef de cuisine, a Navajo chef named Brian Yazzie, was among those at Standing Rock cooking in makeshift kitchens for the protesters.
Check out Conflict Kitchen's full Haudenosaunee menu here and, if you find yourself in Pittsburgh, visit the restaurant for a taste of white-corn goodness with a side of history.