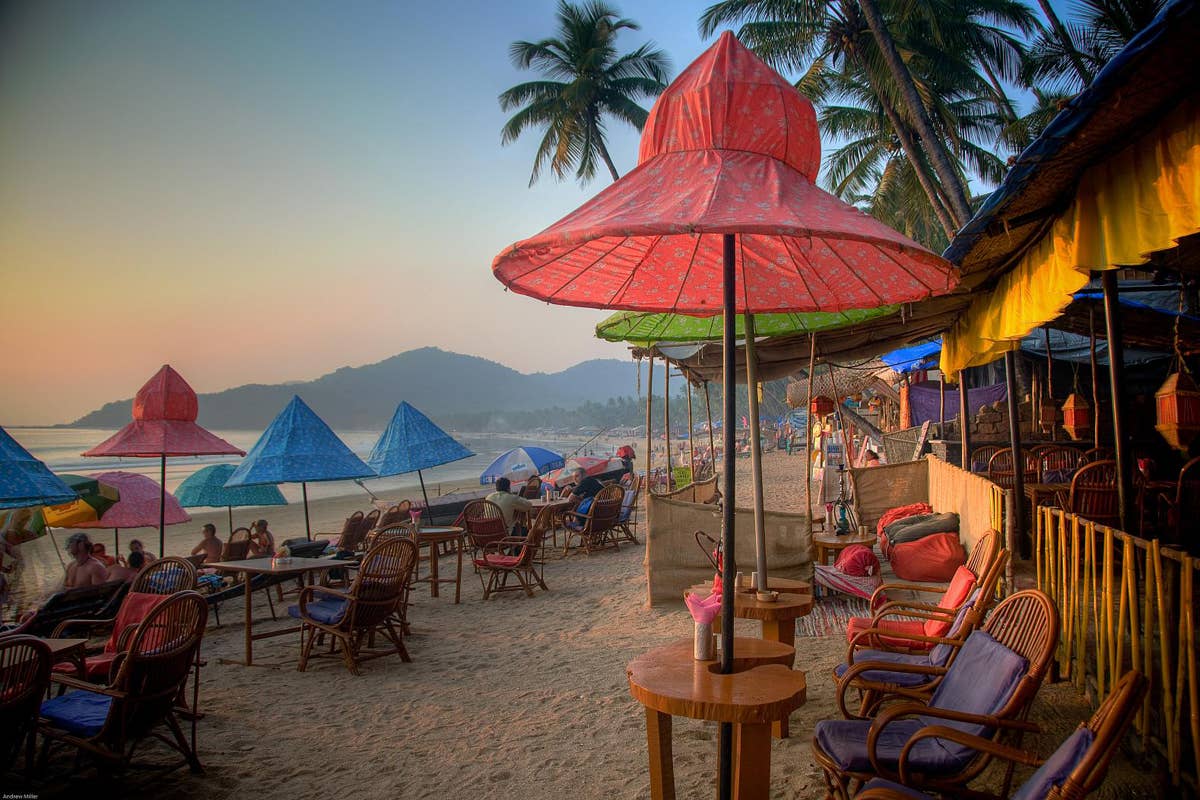 Travel
Travel Itinerary: Goa, India
A lush, green state with splendid white-sand beaches and a nuanced, coconut milk and seafood heavy cuisine, Goa is the smallest region in India yet ranks first in quality of life. It is said that Lord Parshuram—an incarnation of lord Vishnu—shot an arrow seeking a place to rest, and it landed on the soil now known as Goa. I'm proud to call this rejuvenating region home.
From famous rechad masala, pork vindaloo, and prawn curry to mouthwatering desserts such as bebinca, a multilayered pudding flavored with coconut and almond, Goa is a food-lover's dream. Briefly conquered by the Portuguese in the 16th century, Goa reveals the influence of Portuguese flavors in dishes such as temperado, a seafood stew sautéed with onions, garlic and ginger, and in fusion dishes like the now-famous pork vindaloo. Along with aromatic curries and tempting sweets, the Portuguese also brought Catholicism to the region—one could spend days exploring the gorgeous white churches and religious relics in Old Goa. After getting your fill of history, make time to explore the casual huts scattered along the pristine beaches in the far south of the state, and savor the seaside relaxation Goa is famous for.
—Jonas Coutinho, Goan local and guide with Kensington Tours
Day 1: Capital Culture in Panjim
9:00 AM: Neighborhood Breakfast Joint Follow crowds of locals to the casual Tato Café for the bhaji special, a breakfast of spiced, chopped potatoes served with fresh puri—a deep fried puff made of whole wheat flour dough. Have a cup of chai to complete your quintessential Goan diner breakfast at this circa 1913 Panjim standby.
Tato Café
G-3 Souza Towers
Rua Travessa De Revolucao
+91/83/2242-6690
10:00 AM: Take a Latin Quarter Stroll
Beginning at Praça da Igreja, the main square, visit Our Lady of Immaculate Conception, a Baroque-style church built in 1540. From there, amble the cobbled stone streets of Fontainhas that lead through neighborhoods of colorful villas, mango trees, and sprawling plazas.
Our Lady of Immaculate Conception
Church Square
12:00 PM: Home-Style Lunch
Nestled on a side alley in Fontainhas, an old Portuguese home has been converted into a fantastic Goanese restaurant, Viva Panjim. You can't go wrong with its traditional prawn curry, but the restaurant also serves up a wonderful chicken cafreal—a Portuguese-style grilled chicken marinated in lime juice and a green chile sauce.
Viva Panjim
House No. 178,
31st January Road
1:30 PM: Choose Your Adventure
After lunch, drive six miles to Old Goa, a centuries-old Portuguese city that has been perfectly preserved. This former capital of the vast Portuguese Empire is home to a number of 16th-century churches—Sé de Santa Catarina Cathedral, one of the largest churches in Asia, Our Lady of the Mount, St. Augustine, and St. Cajetan—that have been maintained by UNESCO World Heritage Center. If you've had enough relics of Portuguese rule, opt instead to hire a jeep or taxi for the afternoon to make the one-hour trip to Dudhsagar Waterfalls, a breathtaking thousand-foot waterfall on the Mandovi River. This is one of my favorite places in Goa—a must-see!
Sé de Santa Catarina Cathedral, Rua Direita, Old Goa
St. Augustine, Bainguinim, Old Goa
Our Lady of the Mount, Ella, Old Goa
St. Cajetan, behind the Cathedral
Dudhsagar Waterfalls
Bhagwan Mahaveer Sanctuary and Mollem National Park
4:30 PM: A Sweet Snack For an afternoon pick-me-up, head back to the capital and stop at the landmark Gujarat Sweet Mart for its famous homemade ginger lemonade, sweetened with honey and jaggery, or a thick mango lassi to sip while sampling the fresh-made sweets and savory fried samosas.
Gujarat Sweet Mart
Gujarat Lodge; 18 June Rd
gujratsweetmart.co.in
6:00 PM: Modern Luxury in Old Town
Check in at the chic Vivanta Goa in Old Goa, where you can take in the views of the heritage houses in Campal and the lush green banks of the Mandovi River from your room before heading downstairs for a pre-dinner drink at Tease, the most well-regarded cocktail bar in town. Order a tropical cocktail such as the pomegranate-and-mint-spiked Pink Passion or the ginger-infused, pineapple- and rum-heavy Breeze of Hawaii.
Taj Vivanta Goa
Off D.B. Bandodkar Road Panaji, Panjim, GA
+91/83/2663-3636 vivantabytaj.com
7:30 PM: A Home-Style Goan Feast
Sample regional Goan dishes at Mum's Kitchen, where the chef strives to preserve traditional recipes by collecting them from home cooks around the state. Be sure to try ambotik curry (sour vegetable stew), tamre bhaji (red spinach with onions and tomatoes), or any of the dozen variations of prawn curry on offer.
Mum's Kitchen
854 Martin's Building
D B Street, Miramar
+91/07/58/2149-262
mumskitchengoa.com
9:00 PM: Nightcap
Walk five minutes along the Mandovi riverfront to Quarterdeck, a laid-back restaurant and bar with an outdoor patio overlooking the water. Wind down with a Kingfisher beer and enjoy the live music while watching sparkling casino boats and passenger ferries drift by before retiring to the Vivanta.
Quarterdeck
Mondovi Riviera
Day 2: A Beach Day in Majorda
10:00 AM: A Leisurely Morning
Start your day with the excellent breakfast buffet at Latitude, where you can linger over a complimentary newspaper as the coffee and tea carts circle through the dining room, ensuring you are sufficiently caffeinated before starting on your scenic, one-hour drive south to Utorda Beach.
11:00 AM: Beach Day
After a full schedule in Panjim, a lazy day is in order, and the clean, uncrowded, white-sand Utorda Beach fits the bill. Eventually, make your way to the beach-front seafood restaurant Zeebop for an order of its famous crab xec xec, a traditional Goan dish of rock crab and roasted coconut masala.
5:00 PM: Village B&B
Drive ten minutes inland to check in at the 100-year-old Vivenda dos Palhacos, a renovated Portuguese mansion in the picturesque village of Majorda. Borrow a bicycle to explore the town, sun bathe poolside in the tropical garden, or book a massage with the in-house masseur.
Vivenda de Palhacos
South Goa, GA
+91/83/2322-1119
8:00 PM: A Lively Dinner
Martin's Corner is a family-run restaurant with ample Goan charm, where live music fuels an energetic scene that can sometimes turn into a mid-meal dance party. Even better than the celebratory vibe are the succulent specialties like tiger prawns in garlic sauce, masala-fried king crab, and fiery pork vindaloo.
Martin's Corner
69, Binwaddo
Near Hotel Alila Diva
Day 3: A South Goa Adventure
9:00 AM: Fuel Up
Eat a simple breakfast of local fresh fruits and buttered toast washed down with Darjeeling tea or South Indian coffee at Vivenda dos Palhacos—you'll want to save room for breakfast at your next stop. Adequately fueled, it's time to embark on the hour drive south to Palolem Beach, one of the region's less-developed areas where the natural beauty is on show.
10:30 AM: An Educational Pitstop
Pause at Little World, a charmingly ramshackle all-day breakfast café, and order a cup of the specialty, Rajasthani chai. Make sure you ask the owners about their cooking classes, so you can get in the kitchen for a crash course on making some home-style Goan dishes.
Little World
Main Beach Road, Palolem
12:30 PM: Beaches and Backwaters
Head to Palolem Beach, where you can pick your poison: Buy a tropical drink and take advantage of the umbrella-shaded loungers lining the beach; hit the bay on a fishing or dolphin spotting expedition with one of the local fishermen; or head to the north side of the beach, where you can sign up for a boat trip through the backwaters. If hunger strikes, Papillon Palolem on the south side of the beach has standout tandoori chicken and grilled red snapper. After dark, you'll inevitable stumble on one of the impromptu dance parties that the beach is famous for.
5:00 PM: Yoga with a View
If the beach doesn't have you relaxed enough already, check out Harmonic, an eco-friendly wellness center on Patnem Beach that offers Ayurvedic treatments, yoga, and workshops. Visitors can drop in for a class, or stay on the property to enjoy breathtaking views, a delicious brunch, and the center's famous spa.
7:00 PM: Dine and Dance
A short walk from the beach off the main road in Palolem, Café Rhumba is an open-air restaurant with a quaint, relaxed atmosphere. In addition to fantastic fresh seafood served seven ways, from tandoori-grilled to seared and slathered in a peppery citrus sauce, the house specialties include Nepalese-style momos (dumplings). Work off your dinner at one of the aforementioned impromptu beach dance parties before retreating to a cottage at the Art Resort or heading up the road to Agonda to stay in a luxurious coconut plantation-turned-resort, Agonda White Sand.
Café Rhumba
Palolem Beach Main Road
Taj Vivanta Goa
All the rooms in the stylish Taj Vivanta in Old Goa feature great views of the heritage houses in Campal or the lush green banks of the Mandovi River, and you can see the Arabian Sea from the rooftop infinity pool. The property's bar, Tease, is a popular hotspot for celebrity sightings and pours some of the most creative cocktails in the state.
Panjim
Off D.B. Bandodkar Road Panaji, Panjim, GA
+91/83/2663-3636
vivantabytaj.com
Vivenda dos Palhacos
A short walk from the beach, this rustic restored mansion in Majorda—a small fishing village that still maintains a sense of peace and quiet—serves exemplary food poolside or at communal tables in the dining room, an ideal place for meeting fellow travelers. The B&B can arrange guided bicycle tours, horseback riding, yoga, or go-karting, and has complimentary bicycles available for guests to use.
Majorda, GA
+91/83/2322-1119
vivendagoa.com
Art Resort Palolem Beach
Colorful cottages dot the sand at this beachside "art resort," which serves some of the best food on the beach. The resort maintains a young, slightly eccentric vibe with live music and well-mixed cocktails.
Palolem Beach
Palolem, Canacona
+91/96/6598-2344
art-resort-goa.com
Agonda White Sand
Tucked inside a coconut plantation right on Agonda beach, Agonda White Sand's private cottages are both luxurious and quiet, and just steps from a high-quality restaurant and bar.
Near Cross, Dhawalkhazan
Agonda, Goa
+91/08/32/264-7049
agondawhitesand.com
Planning an Authentic Trip
When it comes to getting the most out of a place, whether on vacation or reporting a story, we seek out people who know their stuff to guide us and give us a glimpse of the true heart of the place they call home.
Practical Travel
A trip to India is guaranteed to be filled with unforgettable experiences and flavors, but there are certain things you should know before you go to make the most of your trip. Here's our advice on how to get there smoothly and hit the ground running once you land.
Best Guide Books
Traveling to India takes a bit of planning, which is why we've rounded up the best guide books and apps to help you navigate this vast and varied country.