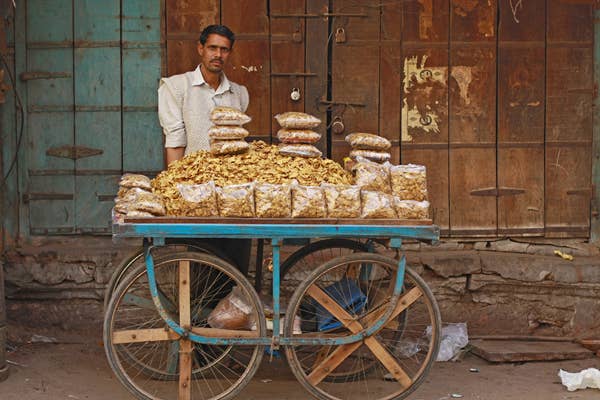 Travel
Travel Guide: Gujarat, India
Called the "Jewel of the West," the state of Gujarat is well known for its spectacular coastline and beaches, holy temples, wildlife sanctuaries, and, last but not least, delicious vegetarian food. While famous for many different type of cuisines such as kathiyawadi, kuttchi, and surti, it is the thali—a meal of various dishes composed in a compartmentalized tray—that holds iconic status. Even if you're typically an omnivore, you're bound to fall in love with the distinct local vegetarian dishes that combine sweet, salty, and spicy flavors all at once, often made rich with the free-wheeling use of ghee (clarified butter).
—Gautam Popat, a tour guide with Kensington Tours
Swati Snacks
This must-try snack joint in Ahmedabad offers Gujarati street foods in the comfort of a home-style restaurant. Try the dal dhokli—whole wheat roti, Indian flatbread made with high-protein atta flour, simmered in a traditional Gujarati dal—a popular comfort food of the region. Swati Snacks is conveniently located near the bustling Law Garden, so you can easily spend a whole afternoon or evening in the area.
Near Thakorbhai Hall, Law Garden,
Ahmedabad, Gujarat 380006
Rua Travessa De Revolucao
+91/79/2640-5900
swatisnacks.com
New Lucky Restaurant
New Lucky café is rightly famous for its milky tea and maska (special buttered buns), but it's perhaps even better-known for the odd decor: A handful of coffins stand inside the restaurant, left over from a land acquisition of an old Muslim graveyard next door. The owner believes the cemetery gives the café good luck, and its patrons don't seem to mind dining among the dead.
Opposite City College, Lal Darwaja, Lal Darwaja,
Ahmedabad, Gujarat 380001
+91/79/2550-5033
Agashiye
The House of MG Hotel's upscale, open-air terrace restaurant—agashiye means "terrace" in Gujarati—serves authentic Gujarati thalis that change daily based on the season but typically consist of roti, sabzi, and dal or kadhi. The ambience and excellent service make Agashiye a standout.
The House Of MG, Sidi Saiyed Jali
Lal Darwaja, Ahmedabad
+91/79/2550-6946
houseofmg.com
Patel Ice Cream
This homemade churned ice cream joint near the Calico Dome is a popular hangout for local youths. Try Patel's unique flavors, such as mausambi, a sweet lime ice cream, or badam pista kesar (BPK), a lassi-inspired dessert featuring pistachios, almonds, cardamom, and saffron leaves.
Opposite Sports Club, Stadium Circle, Navrangpura,
Ahmedabad, Gujarat 380014
+91/79/2642-6124
Zoraba the Buddha (OSHO)
Located in Mandvi, a city in the Kutch district, Osho serves some of the best Kutch cuisine—known for its simple yet flavorful vegetarian dishes—in the area. The unlimited Gujarati thali lacks a menu, but includes a wide variety of satisfying dishes that make it worth the hunt for the rather inconspicuous restaurant, located on the first floor of an old building right at the entrance of Bhid gate of Mandvi. After filling yourself up, be sure to visit the nearby Vijay Vilas Palace, where visitors can enjoy views of the sea from the grand domed terrace.
1st fl, Osho Hotel, Bhid Gate, Mandvi, Gujarat
Vijay Vilas Palace and Mandvi Beach
Surrounded by lush greenery, this well-maintained palace offers stunning views of Mandvi from its terrace and a gallery of original paintings, photos, and furnished rooms to explore on the ground floor. After visiting the palace estate, head over to the private Mandvi Beach, which stretches across two kilometers of white sand adjacent to blue waters. For a small fee, you can enter the beach to take a quick swim in the sea and relax in air-conditioned tent accommodations along the coast.
Vijay Vilas Palace Road, Kutch, Gujarat
Champaner-Pavagadh Archaeological Park
This UNESCO World Heritage Site near the city of Baroda is well worth a visit. Hire a guide to explain the history behind the stunning architecture that dots the landscape: Chalcolithic sites, a hill fortress of an early Hindu capital, and remains of the 16th-century capital of the state of Gujarat. The Kalika Mata Temple on top of Pavagadh Hill is considered a very important shrine and attracts many pilgrims throughout the year.
Rani Ki Vav
Another UNESCO World Heritage Site, Rani Ki Vav is an intricately constructed, seven-story-deep step well, designed in the Maru-Gurjara architectural style as an inverted temple celebrating the sanctity of water. It contains more than 500 principle sculptures and over a thousand minor ones, combining religious, mythological, literary, and secular imagery.
Mohan Nagar Socity
Samalpati, Gujarat 384265
Forest of Sasan Gir (Gir Forest National Park)
Considered one of the most important protected areas in Asia, this forest and wildlife sanctuary is the only place in the world where you can see beautiful Asiatic lions. If you're lucky, you may also spot Asiatic wild donkeys, hyenas, Gir foxes, pygmy woodpeckers, brown fish owls, and other uncommon animals. The sanctuary is open to the public from October 16 to June 15 every year, so plan accordingly.
Follow Kodinar-Dhari Hwy/GJ SH 33 until you reach the park
Great Raan of Kutch
This impressive expanse of packed, crusted white salt—reputed to be the world's largest salt desert—is an unforgettable place from which to watch the sun rise or set, so keep timing in mind when planning your visit. You'll need to secure a permit before going, which you can get at Bhirandiyara village or Bhuj City.
Thar Desert, Kutch District, Bhuj*
Law Garden Night Market
This lively evening market boasts a vibrant array of goods to bring home as gifts and souvenirs: Traditional clothing like dupattas and delicate chaniya cholis, jewelry, cotton kurtas, bedspreads, embroidered throws, shoes, and more. While shopping, don't forget to pause and enjoy the abundant street food at vendors that line the market—try pineapple sandwiches stuffed with pineapple, pineapple jam, butter, cheese, and refreshing mango kulfi from Asharfi Kulfi, or Gujarati pizza from the popular Jasuben Pizza nearby.
Manek Chowk
Vegetable market by morning, this busy square transforms into a jewelry market—the second largest in India—by afternoon, when you can browse through antique baubles, ready-made clothing, and vibrantly colored fabric. Stay into the evening for the market's third transition into a street-food hub around 8 or 9 p.m.
Manek Chowk, Khadia, Ahmedabad, Gujarat
The House of MG
This boutique heritage hotel in Ahmedabad is built in and around the stunning house of a 1920s textile magnate. Thanks to a few modern upgrades, the property now combines old-world charm with all the sleek luxuries a modern visitor expects, and then some. The hotel houses two restaurants—The Green House, an outdoor café, and Agashiye, a beautiful rooftop restaurant—that offer reliably delicious food and an appreciated respite from the noise and dust of the bustling city, albeit at an expensive cost. Other amenities include the Lotus Pool, a unique "swim and dine" spot where guests can order a variety of Indian and international snacks while enjoying the elevated pool. But most important, surrounding The House of MG are numerous historic monuments such as the Gandhi Ashram, the residence of Mahatma Ghandi in the 1920s, and Sarkhej Roza, a complex of elegantly designed monuments including a medieval mosque and palatial pavilions.
Opposite Sidi Saiyad Jali, Lal Darwaja
Ahmedabad 380001, Gujarat
+91/79/2550-6946
houseofmg.com
Infinity Resort Rann of Kutch
Located in the village of Nani Aral, close to a dormant volcano called Dhinodar, Infinity Resort provides a peaceful and luxurious home-away-from-home, safely secluded from the hectic city. The resort's somewhat remote location can make traveling to tourist attractions difficult. However, the spacious tented rooms, well-tended pool, made-to-order meals and beautiful greenery provide equally valuable quiet relaxation. In the winter, evening bonfires light up the campfire pavilion, where you can enjoy cultural shows and star-gaze in the open-air entertainment area.
Khatau Wadil, Nani Aral, Nakhtrana
Bhuj, Nakhtarana
+91/22/6146-6420
infinityresorts.com*
Planning an Authentic Trip
When it comes to getting the most out of a place, whether on vacation or reporting a story, we seek out people who know their stuff to guide us and give us a glimpse of the true heart of the place they call home.
Practical Travel
A trip to India is guaranteed to be filled with unforgettable experiences and flavors, but there are certain things you should know before you go to make the most of your trip. Here's our advice on how to get there smoothly and hit the ground running once you land.
Best Guide Books
Traveling to India takes a bit of planning, which is why we've rounded up the best guide books and apps to help you navigate this vast and varied country.