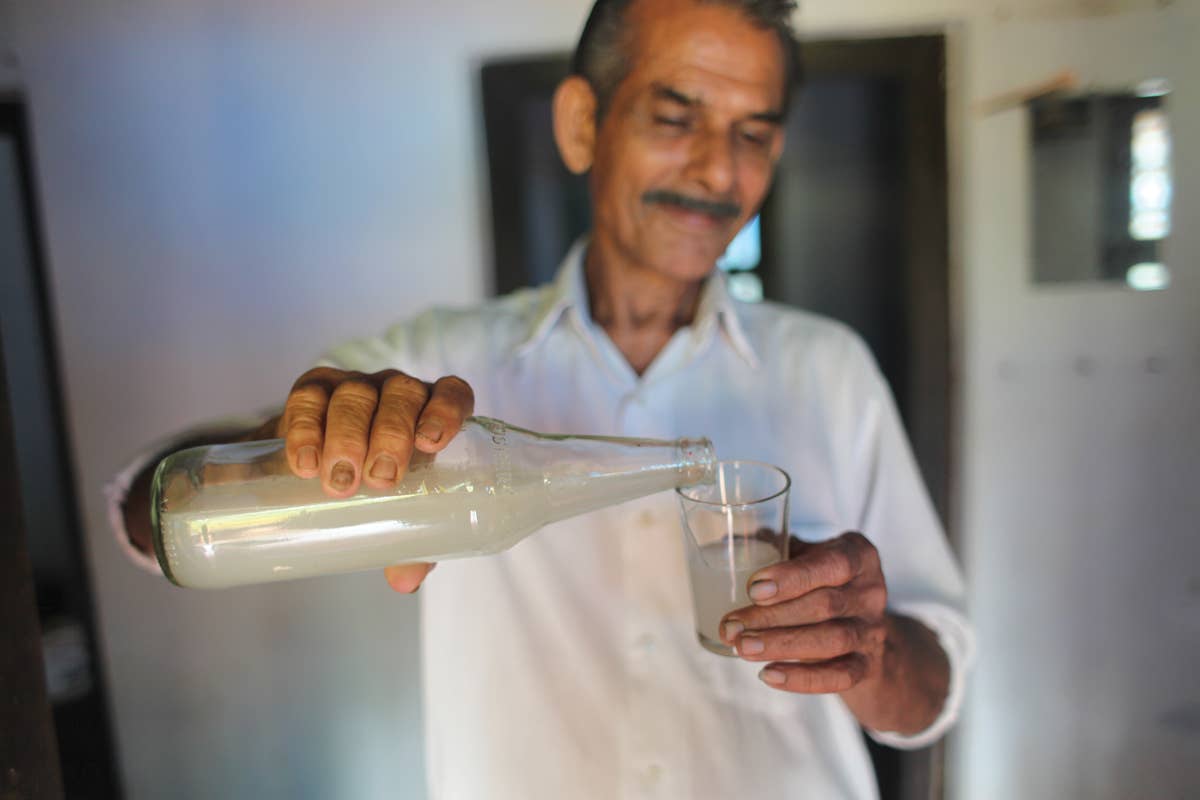 Travel
Travel Itinerary: Kerala, India
The state of Kerala is one of India's most popular domestic tourist destinations thanks to its natural beauty: beaches, backwaters, and the rolling green hills of its tea and spice plantations. So, a visit here involves a certain amount of dodging large tour groups. But I found that to be easy enough, and worth it for the intriguing history and culture in Kochi, the state's largest city, not to mention some of the most beautiful vistas I've ever seen—and, of course, terrific food. Favorite dishes include a lot of coconut—Kerala means "land of coconuts" in the local language—and abundant fish, but some of the best food I ate was simple, home-style vegetarian at a hotel retreat in the hills (more on that below). Visitors to the state tend to follow a standard itinerary, arriving in Kochi, then moving on to the hill station of Munnar, and finally overnighting on a houseboat in the sleepy river and canals of Alleppey (or Kochi-Allepey-Munnar). With limited time, this is the perfect program to follow.
Day 1: Sightseeing in Kochi
10:00 AM: Admire the Churches
Kerala is one of the most Christian states in India, and the St. Francis Church is one of the earliest built by Europeans in the subcontinent. Its pale yellow, wedding-cake facade is definitely worth a photo. Continue a few blocks to Santa Cruz Cathedral, even more impressive with its Gothic-style towers and colorfully painted interior.
St. Francis Church
Church Street, between Parade Road and Bastion Street
+91/48/4221-7505
Santa Cruz Cathedral
Parade and K.B. Jacobs Roads
+91/48/4221-5799
11:00 AM: Temple Time
Next, take an auto-rickshaw to the only remaining synagogue of seven originally established by the community of Jewish traders who settled here in the 16th century. The beautiful temple features Chinese floor tiles and Belgian chandeliers, though no photos are permitted. The synagogue is located in the bluntly named "Jew Town," which houses the handful of remaining members of the city's Jewish community and offers a few on-theme souvenirs for sale (e.g., dish towels embroidered with the Star of David) in addition to Kashmiri textiles and other goods sold all over tourist India. Note that the synagogue shutters from noon to 3:00 p.m. and is closed completely on Fridays and Saturdays.
Pardesi Synagogue
Synagogue Lane, Kappalandimukku, Mattancherry
+91/47/1232-1132
12:15 PM: Rice to Remember
Other regions in India might be better known for biryani, but this aromatic rice dish (thought to have originated in Persia) is popular all over the subcontinent. The version at Kayee's was a revelation to me—each grain of rice was cooked perfectly to be separate and fluffy, so it's easy to do as the locals do and scoop up bites by bringing together the thumb and fingers of your right hand in a sort of scoop-pinch motion. I ordered the mutton version on a fellow diner's recommendation and the chunks of meat studding my rice tasted of cinnamon and clove—appropriate in a state revered for its spice farms. The accompanying chopped red onion added welcome acidity to each bite.
Kayee's Biryani
Durbur Hall Road, Mattancherry
+91/48/4222-6080
1:30 PM: Royally Historic
Take Bazaar Road to get to your next stop, Dutch Palace, and you'll wander past many interesting shops selling things like spices and antiques. "Dutch Palace" is a bit of a misnomer, since this place was built in the 16th century by the Portuguese as a gift to Kochi's rajas (royalty)—though the Dutch did add on to it later. At any rate, the exhibits inside the two-story, not-very-palace-like building give a fascinating look at Kochi's royal history, with old photos, a red palanquin, and mannequins modeling bygone royal costumes. There are some murals installed by the rajas that are supposed to be mythologically important, but I found the evidence of glamorous royals past to be much more exciting.
Dutch Palace
Jew Town Road, Moulana Azad Rodd, Jew Town End, Kappalandimukku, Mattancherry
3:30 PM: Treat Yourself
Kerala is known for Ayurveda, a system of Hindu traditional medicine, and spa treatments are affordable enough here that I found myself indulging every few days—don't feel guilty about doing the same. I loved the therapeutic effects of Kalari-style massage—it targets ligaments and the areas between muscles much more than other massage styles. While it hurt slightly at the time, I felt more firm and flexible afterward. This studio is no-frills (you lie on a plain wooden table), but you don't need any; the ascetic surroundings suggest this is a treatment more than an indulgence—it's definitely both.
Agastya Ayurveda Massage Centre
1/365, 1st Floor, Toms Old Mansion, Princess Street
+91/92/4973-3677
6:30 PM: Fishing Nets and a Fish Market Dinner
Head down around sunset to scope Kochi's famous Chinese Fishing Nets—not quite as exciting as the guidebooks indicate, but a first step toward an exciting seafood dinner. After admiring the nets, get to business: There's a market along the water here selling the day's fresh catch of seafood—negotiate hard. Expect to be approached by employees of the various food stalls along Tower Road nearby, urging you to allow them to cook your dinner—negotiate hard for that, too. I was very satisfied at Cafe Cuba, where the cook turned my crab haul into a delicious curry I couldn't stop spooning over rice. The only drawback is that Kochi's alcohol laws forbid these restaurants from offering cold beer, which would be the ultimate cap on the experience.
Chinese Fishing Nets
In the water near Vasco da Gama Square
8:30 AM: Wake Up to Home Cooking
If you've checked into one of the homestays Kochi is known for (essentially just a B&B), breakfast should be included in the reasonable room rate, as it is at Greenwoods Bethlehem, and it should be darn good. On the shaded rooftop dining area at Greenwoods Bethlehem, I dug into Keralan banana fritters and housemade idli (a savory breakfast cake) served with a spicy green chutney one morning, then excellent chapati and daal the next.
Greenwoods Bethlehem
Kurisingai XI236A, Bishop Joseph Kureethara Road South End
+91/48/4324-7791
greenwoodsbethlehem.com
9:30 AM: Drive to Munnar
Your guesthouse or any travel agent can arrange a taxi to Munnar, or you can take an air-conditioned tourist bus (or even the local bus) from nearby Ernakulam, but if you'd like to do a lot of sightseeing in Munnar, it's better to hire a car and driver for a few days. The cost is not astronomical.
12:00 PM: Spot of Toddy
En route, ask your driver to stop at a toddy shop for lunch. If he laughs and says he knows a nice suitable restaurant instead, insist. Toddy shops, which are essentially bars that specialize in the local coconut liquor, can be grimy and populated only by local men, but they're known for serving Kerala's best affordable lunches. For a few dollars you'll get rice with several vegetable curries and maybe one fish curry—often with unlimited refills on the rice and veggies. My toddy shop lunch in the Kerala town of Thekkady was one of the best meals I ate in the region. The toddy itself (an optional accompaniment) was lightly sweet, effervescent, and only mildly boozy.
2:00 PM: Check-in and Hike in the Hills
Be sure to call and let the kind folks at Kaivalyam know exactly when you're coming, as they have to drive a jeep up the steep access road to collect guests at the top (normal cars and taxis can't make it). Once you check in, it's time to explore the beautiful hills on which the hotel is situated, which happen to be a spice farm. By this time you'll have missed the farm tour and walk to the incredibly beautiful waterfall that's typically offered in the morning—one reason a single night here is definitely not enough—but the kind owner Harish Chawda should be happy to point you in that direction or offer another suggestion, such as a tea plantation walk.
Kaivalyam
Moolakada, Pallivasal, Munnar
+91/48/6523-2628
5:00 PM: Tranquil Vistas
Part of the point of being somewhere this gorgeous and relaxing is to chill out and take it in. So grab a book, or whatever suits your fancy, and point yourself toward a green view—you won't be sorry. I wish I'd stayed at Kaivalyam (which feels luxurious but is astoundingly affordable) more than two nights to get further into the place's tranquil and relaxing vibe. The town of Munnar itself isn't much to see; you're better off holing up in the lush green hills to explore spice farms and natural features (especially if, as I was, you're worn out from traveling around India).
7:00 PM: No Meat, No Problem
Once installed in Kaivalyam's comfortable, airy dining room, you're in for a treat. The daily-changing menu is strictly vegetarian and no alcohol is served, but you'll be so content and relaxed that you won't miss it. Homestyle dishes might include sautéed potato and spinach (a Kerala specialty), eggplant masala, and paneer paratha—all of it extremely fresh and delicious.
Day 3: On the Water in Alleppey
7:00 AM: Salute the Sun
It's worth waking up early to hear the birds and head down to the open-air yoga pavilion for a practice that amps up as the sun's rays get stronger. Chawda is a yoga instructor and can lead a class for any level (my friend Shawn and I were the only participants the morning we took part, and he tailored the class so that Shawn, a beginner, and I, an intermediate, could both enjoy it).
8:15 AM: Look Forward to Breakfast
Breakfast is included in room rates here, and it's truly a treat. Unlike at lunch and dinner, there's no menu—you simply get the offerings of the day, always in generous portions. I enjoyed a platter of fruit from the farm followed by a rich channa masala accompanied by appam (a South Indian rice-and-coconut pancake) one morning, and cilantro puri with sambar and a separate dish of peanuts the next.
9:15 AM: Off to Alleppey
Take advantage of one of Kerala's more unique accommodation options and book a houseboat stay in Alleppey; arrange for your driver or taxi to pick you up early in order to make it to your houseboat by midday for lunch on board. The drive in this direction—down the hills past tea plantations and quaint roadside stands—is so picturesque I kept insisting we stop so I could whip out my camera.
12:00 PM: All Aboard
Meet up with your houseboat captain and crew wherever the boat is moored. Shawn and I had a travel agent arrange our boat, and it turned out to be a cute one-bedroom affair complete with a captain and a cook (who made all of our meals in a tiny galley that made even New York City kitchens look huge). Come evening, they slept on shore when we docked for the night. Lunch on the boat was a delicious spread of cabbage with coconut, sambar, rice, fried karameen (a small local fish that's eaten whole), green beans, and several chutneys.
2:30 PM: Hit the Fish Market
Dinner should be included in your boat's rate, but if you want something special, like crab, lobster, or a certain fish from the surrounding waters, ask the captain to stop at a fish market. You'll have to jump ashore to inspect the wares—bargain to avoid getting overcharged. This is also a good time to pick up other sundries you might need, plus snacks and sodas. Beer is tougher, since alcohol laws are a bit strict—it's better to buy that on the drive, if possible.
3:00 PM: Life on the Water
Grab a comfortable perch and take in the scene on the backwaters—boats putting by, ducks paddling along, picturesque palm trees, and colorful houses begging to be photographed. You'll likely be offered the chance (for an extra charge) to go cruising on the smaller channels in a canoe—this is more than worth the price for the glimpse of everyday life along the banks: people relaxing, bathing, transporting goods, and washing clothes. Don't forget to bring some money in case you want to buy a coconut to quench your thirst, or a snack.
7:00 PM: Seafood Feed
Enjoy dinner on your boat. During my stay, our boat's cook made us a tasty crab curry with the seafood we'd bought that afternoon, accompanied by a creamy diced beet salad—another typical Keralan dish—and the region's popular large-grained rice. After dinner, I relaxed in the sitting area, listening to the peaceful water sounds, until the bugs became too much and it was necessary to retreat into our sealed-off, air-conditioned bedroom.
Green Woods Bethlehem
This large, rambling house set amid an overgrown tropical garden is one of many homestay (B&B) options in Kochi, but it stands out for the kindness of the owners, married couple Ashley and Sheeba. Rooms are simply furnished, with attached bathrooms; breakfast is reliably delicious. If you give Sheeba some notice, she can arrange an evening cooking demonstration on the roof, followed by dinner.
Kurisingai 11/236A, Bishop Joseph Kureethara Road South End, Kochi
+91/48/4324-7791
greenwoodsbethlehem.com
Kaivaly AM Retreat
This pure vegetarian (no meat, no alcohol, but dairy is okay) yoga retreat also functions as a normal hotel (or, if you are inclined, you can book longer, yoga-centric stays). Meals are generously portioned and include some of the best food I ate in India. Owner Harish Chawda is extremely kind (as is the rest of the staff) and he leads daily yoga classes for no extra charge. Rooms have luxurious touches like in-room coffee and tea and patios overlooking the surrounding spice plantation—there's also the option to stay in one of several treehouses.
Moolakada, Pallivasal, Munnar, 685 612
+91/48/6523-2628
kaivalyamretreat.com
Alleppey Houseboats
These boats were once used to transport goods to the hard-to-reach communities nestled in the area's backwaters, but now they have been converted into single- or double-story tourist boats, with kitchens, working bathrooms (often including showers), and one or more bedrooms that can be air-conditioned at night. Generally a houseboat stay includes meals. You can book through a reputable travel agent, or consult TripAdvisor for highly rated outfitters such as Kerala Houseboats.
Planning an Authentic Trip
When it comes to getting the most out of a place, whether on vacation or reporting a story, we seek out people who know their stuff to guide us and give us a glimpse of the true heart of the place they call home.
Practical Travel
A trip to India is guaranteed to be filled with unforgettable experiences and flavors, but there are certain things you should know before you go to make the most of your trip. Here's our advice on how to get there smoothly and hit the ground running once you land.
Best Guide Books
Traveling to India takes a bit of planning, which is why we've rounded up the best guide books and apps to help you navigate this vast and varied country.