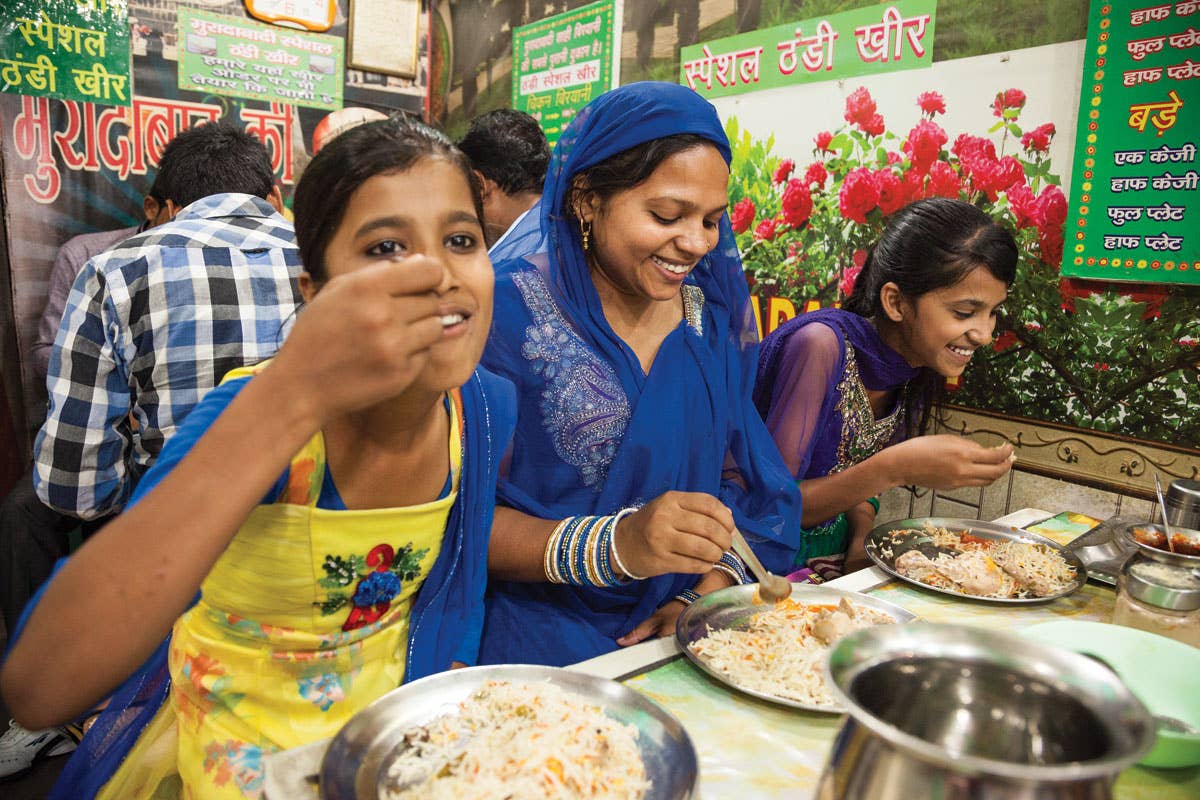 Travel
Travel Guide: New Delhi, India
Delhi has been home to people from all walks of life for centuries. The treasured capital of the nation, the city has learned to preserve its cultural history, appreciate diversity, and create a spirit of its own. The same can be said of its food, as I discovered when I first left home and desperately missed my mother's cooking. I started to explore the bylanes and back alleys of Delhi, or, as the lovers of this city like to call it, "Dilli," in search of an alternative to the traditional Indian meal I had grown up on. Away from the posh restaurants with flashy hordes and over-priced international cuisine, I found food that truly embodied the spirit of Delhi: Through years of cultural interaction, many spots have opened that not only offer a taste of authentic cooking, but are now considered landmarks on Delhi's culinary map. Such establishments—along with their well-guarded recipes—have been handed down through generations and continue to express the community identity. To explore the food of Delhi is to get to know its people.
—Anubhav Sapra, founder, Delhi Food Walks
Indian Accent at The Manor
When he opened Indian Accent in 2009, chef Manish Mehrota single-handedly reinvented India's fine dining scene with his own cutting-edge take on Indian fusion. Order the chef's tasting menu, where you might find Chilean spareribs with dried mango or foie gras–stuffed galawat with strawberry-chile chutney.
77 Friends Colony, New Delhi
indianaccent.com
Varq at The Taj Mahal New Delhi
Taking Indian food to the next level, this fusion restaurant is one of the best in the city. Fantastic service and beautiful décor complement inventive recipes. Expect dishes like truffle-Camembert naan and Bengali style mustard prawns served with coriander rice and poppy seed curry.
1 Mansingh Road, New Delhi
tajhotels.com
Chaina Ram
Every local foodie will direct you to this 113-year-old sweet shop run by a fourth-generation Sindhi family. Try its famous karachi halwa—a unique blend of ghee and spices that appears to sparkle.
Shop 6499, Fateh Puri Chowk, New Delhi
Sethi Juice
For an afternoon snack, stop by Sethi Juice for a lassi or dahi bhalla, a deep-fried fritter made from potato or lentils that is soaked in yogurt and served with tangy chutneys or masalas.
Shop 11/35B, Block 11, Talik Nagar, New Delhi
Khan Chacha
Beginning as a tiny corner shop, Khan Chacha has expanded into a full-fledged restaurant serving Delhi's best mutton kebab rolls, khan chachas. Visit at off-peak hours to avoid long lines.
Flat 50, 1/F, Khan Market, New Delhi
Khandani Pakode Wala
This pakode shop has been around for 40 years, making some of the best of these crispy, fried fritters in the city, served with secret masala filling and tangy, spicy chutney. The long line extending past the door will let you know you're in the right place.
Between the Bhikaji Cama flyover and the Sarojini Nagar crossing on the Ring Road, New Delhi
Rajinder da Dhaba
For traditional North Indian food at a modest price, this kebab stand is the spot. The indoor section has air-conditioning, but the real experience is found out on the street, where skewer-wielding cooks labor away at an outdoor tandoor, drawing a crowd hungry for their famous seekh (minced meat with spices) and galouti (minced meat with chana dal) kebabs.
AB 14, Safdarjung, Enclave Market, New Delhi
Muradabadi Shahi
Seek out this biryani shop when strolling through the Muslim enclave of Nizamuddin. Simply spiced and amply studded with meats, the Muradabadi version is served with a tangy tomato chutney and a side of chaat masala to spice things up.
58-A Babli gate Dargah Hazrat
Second biryani shop from the left, Nizamuddin, Delhi
Khari Baoli
Cox & Kings offers a wonderful tour of this wholesale spice market, the biggest in Asia. Wander the stalls, which are rich in color and flavors, from baby saffron to all kinds of spices, nuts, herbs, rice and tea. This street in Old Delhi is a treat for the senses. It has been operating since the 17th century and remains just as lively as it probably was back then.
Khari Baoli Road, New Delhi coxandkings.com
Kensington Tours
To get a history lesson and a local's knowledge, book a private guided tour with Kensington Tours. There are many options available, from a visit to the place where Buddha first taught the Dharma to offering fire to the Hindu deities in an Aarti ceremony, exploring the Hindu and Jain temples of the UNESCO World Heritage site in Khajuraho, and visiting the ancient ghost city of Fatehpur Sikri.
Langar at Gurudwara Bangla Sahib Sikh Temple
Punjabi for "free kitchen," Langar is funded by wealthy members of the community. Volunteers cook, serve, and clean for peace of mind and as a spiritual practice. The Gurudwara Bangla Sahib Sikh Temple, built in 1783, has been feeding residents of Delhi since 1935. The temple serves nearly 10,000 meals a day, feeding dal, chapati, and sweets to groups of 500 to 600 at a time.
Ashoka Road, Hunaman Road Area, Connaught Place, New Delhi
The National Gallery of Modern Art
An extraordinary collection of modern and contemporary Indian art, this museum is a work of art in itself. The museum aims to acquire and preserve works of art from 1857 onward. With both permanent and non-permanent collections, NGMA is the perfect place to spend a leisurely afternoon.
Jaipur House, India Gate, New Delhi
Khan Market
Established in 1951, Khan Market specializes in high-end goods from saris to cookware. Pick up souvenirs like books and textiles from Sarita Handa's beautiful shop, and jewelry at one of the many boutiques.
Humayun Road, Pandara Flats, India Gate, New Delhi
Mehar Chand and Sons
Established in 1917, Mehar Chand and Sons provides spices and teas as well as excellent expertise and guidance. The educated owners will teach you how to use various spices, and their products make wonderful souvenirs.
6535-36, Khari Baoli, Next to Fatehpuri Mosque
Dublin
If whiskey is your thing, be sure to check out Dublin, home of the largest selection of single malts in Delhi. This Irish-themed pub also boasts a counter exclusively devoted to fine wines and—of course—an impressive collection of Irish beer.
ITC Maurya Sheraton, Diplomat Enclave, New Delhi itchotels.in
Rick's at The Taj Mahal New Delhi
Named after Rick Blaine, the mysterious café owner in Casbalanca, this urban lounge is renowned for its innovative cocktails and great music—from jazz and blues to retro dance music. Try a cilantro and orange margarita made with orange juice, coriander leaves, fresh lime, Don Julio Blanco, and a splash of honey water, or stick with classics like the old fashioned.
1 Mansingh Road, New Delhi tajhotels.com
Red Monkey
For a much more casual vibe, head to Red Monkey, a tiny neighborhood bar that draws a crowd every night of the week. Order the nimbupani—vodka lemonade with a twist—or go for a classic Bloody Mary—one of the best in Delhi.
47 Defence Colony Market, Defence Colony, New Delhi
Taj Mahal New Delhi
This 5-star hotel located in the heart of New Delhi embodies the height of luxury, with spacious rooms, white-glove service, and sweeping views of the city. Swim in the sprawling outdoor pool and be sure to enjoy a memorable meal at Varq.
1 Mansingh Road, New Delhi tajhotels.com
Taj Palace New Delhi
Situated on six acres of Delhi's diplomatic enclave, the elegant Taj Palace features sleek décor and a host of amenities and dining options.
Sardar Patel Marg, Diplomatic Enclave tajhotels.com
The Lodhi
Calm, peaceful, and stylish, the Lodhi excels in attention to detail. The modern architecture is a stand-out in Delhi (you can even book dinner at the restaurant in a glass-walled room perched on the water). Make sure you ask the concierge to book you a personalized tour or excursion, and rejuvenate in the hammam upon your return.
Lodhi Road, New Delhi thelodhi.com
Planning an Authentic Trip
When it comes to getting the most out of a place, whether on vacation or reporting a story, we seek out people who know their stuff to guide us and give us a glimpse of the true heart of the place they call home.
Practical Travel
A trip to India is guaranteed to be filled with unforgettable experiences and flavors, but there are certain things you should know before you go to make the most of your trip. Here's our advice on how to get there smoothly and hit the ground running once you land.
Best Guide Books
Traveling to India takes a bit of planning, which is why we've rounded up the best guide books and apps to help you navigate this vast and varied country.