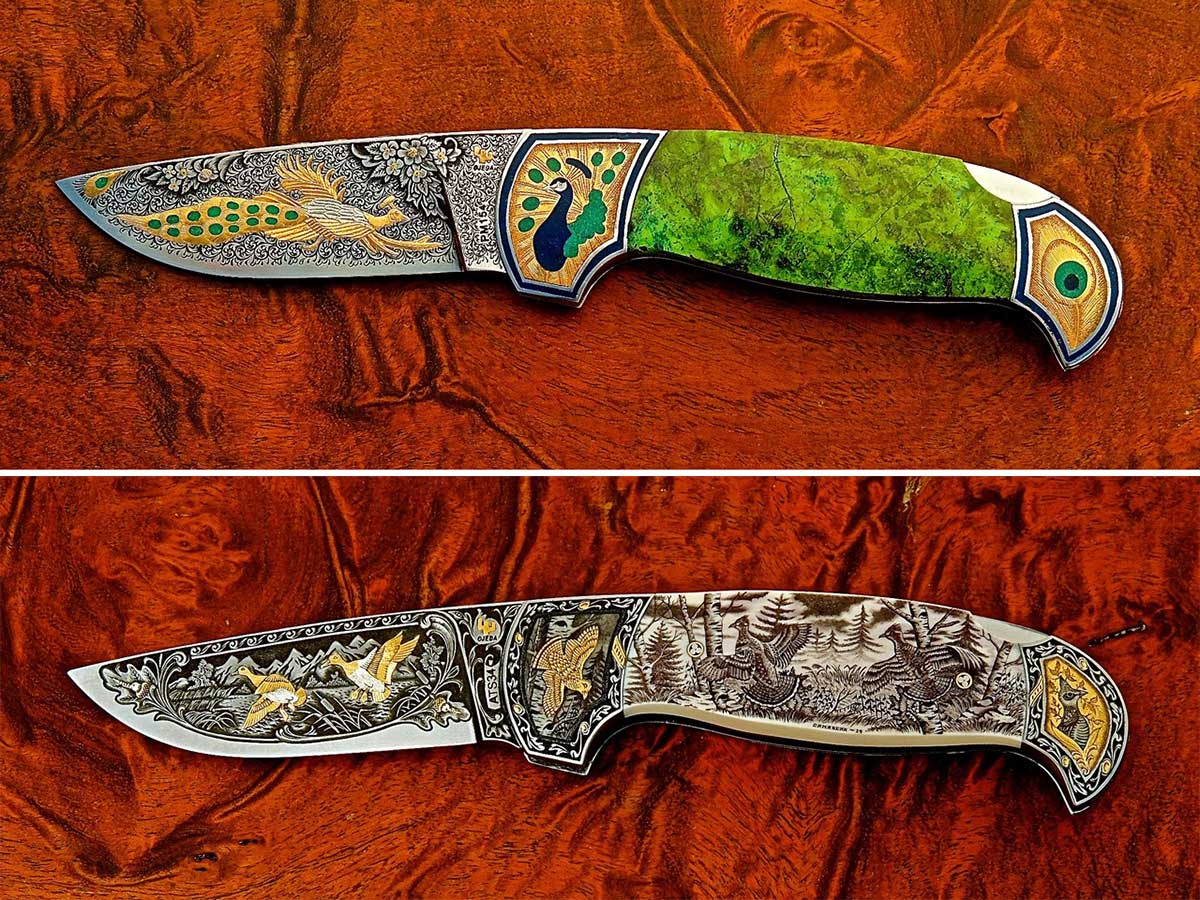 Travel
A Family of Knife Makers in Mexico Turns Out Perfect Kitchen Souvenirs
On the outskirts of Guadalajara, a 13th-generation blacksmith and his family are creating kitchen knives that double as works of art
Outside the Cuchillos Ojeda workshop entrance lies a six-foot-high pile of discarded stainless steel. Inside the building, a tiny knife factory in the town of Sayula, Mexico, a small group of men work on whirring machines. Nearly every surface is stacked with knives in various stages of creation, including cocobolo wood, red deer antlers, and buffalo horns waiting to become future handles.
If a mad scientist were in charge of running a knife factory, it would look a little something like Cuchillos Ojeda. Presiding over the whimsical workshop is 87-year-old founder Don José Ojeda Larios, who launched the company almost 50 years ago. Many of his knives feature precious stones like lapis lazuli, jade, mother of pearl, or turquoise, painstakingly sourced from nations across the globe, and some incorporate even rarer materials such as fossilized mammoth tusks. Though the company keeps a small online shop, knife collectors and chefs know that you have to take a trip to the otherwise sleepy town of Sayula to see and purchase the latest of their intricate, artistic designs. (Guadalajara, the nearest city, is a two-hour drive away, and mostly features stores selling more conventional Japanese- or European-style knives). According to Don José, Cuchillos Ojeda is one of the few—if not the only—companies in Mexico making knives this ornate and high-performing. Of course, they're doing it all by hand.
Ojeda comes from 12 generations of blacksmiths that date back to the 1500s, when Sayula was first established by the Spaniards. "The town was founded by a cousin of the conquistador Hernán Cortés," says Don Josesito, as he's affectionately known to the locals. "He brought artisans to serve him, including carpenters and blacksmiths. [My ancestor] Juan Ojeda was one of them."
Hundreds of years later, Don José learned the trade of knife-making from his uncle, and before his 10th birthday, he had already produced daggers and other small knives of his own. He left school as a teenager and spent the subsequent years at his family's workshop, where he whittled away at design goals, like how to make a .22-caliber rifle from scratch. (He achieved it.) In his early twenties, looking for a way to "work less and earn more," Ojeda Larios says, he began manufacturing automatic and semiautomatic weapons as his full-time job. This lasted until his contract with Mexico's Secretariat of National Defense expired in 1970. And that's when Cuchillos Ojeda was born.
"When I was doing the weapons, I kept making knives once in a while so I wouldn't forget how," he says. "During this time, I also learned about a lot of different materials, and I liked converting them into knives that looked like works of art."
Today, the business is a family affair. The bulk of knife production is handled by a few employees and Don José's two sons, José and Rafael, both of whom he personally trained. "The most beautiful thing is being a father and teacher to my sons," he says. When not in school, his three grandsons also put in time at the workshop. And at the Cuchillos Ojeda storefront around the block, various relatives by both blood and marriage are tasked with selling a wide array of products. These might include a 15.5-centimeter Japanese-style chef's knife with a cocobolo wood handle (about U.S.$47), a set of eight table knives with animals etched on the blades ($24), or an engraved pocket knife with a handle that combines camel bone, buffalo horn, and wood ($295). Other options for sale are instruments for carving, filleting, and even hunting. Should you want your name inscribed or a specific design, they also do custom commissions, which can take up to 30 days to create.
Don José's children helped move the business forward, switching the main material from carbon steel to stainless and damask steel, and expediting the process. While explaining the process from start to finish, the young José reveals that each knife, after being measured, cut, and tempered in the workshop, now gets sharpened at a separate nearby facility before coming back to be polished and engraved.
These days, Don José doesn't work the machines anymore, but he's a constant presence in the workshop, where he carefully oversees the close-knit team as they help carry on his ancestral legacy. He's never been one to dwell on the details of the business, poring over facts and figures with worry, but he's still driven by the same artistic vision. When asked how many knives they produce and sell per month, he responded, "I don't even know how many—but that doesn't interest me as much. I'm just interested in having fun."