The Best Kitchen Knives Are the Ultimate Sous Chefs
These blades will sharpen your skills, from chopping vegetables to butchering chickens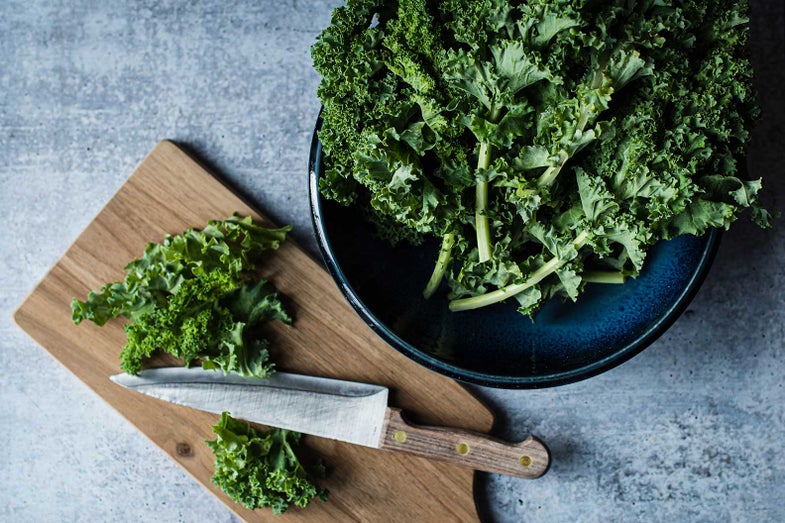 We may earn revenue from the products available on this page and participate in affiliate programs.
There are many tasks in the kitchen that require both good skills and good knives, from butchering fish and whole animals or chopping vegetables to carving a turkey at Thanksgiving dinner. The best kitchen knives will ensure that no matter your skill level, you're starting out on the right foot.
Selecting the knives for your home kitchen will depend on a number of factors: how often you cook, your skill level, preferred cuisine, budget. Will you be hacking apart chickens and sides of beef? Skillfully dicing brunoise vegetables for classic French dishes? Or simply preparing dinner each night? There's also an aesthetic quality to consider: Knives can be both beautiful and functional, with a variety of blade and handle materials to suit the personality of the person wielding them.
"The right tool for the job is key and depending on how detail-oriented you want to be with your cooking, might influence what you would choose, " says Josh Donald, co-owner of San Francisco's Bernal Cutlery. "There is no empirically 'this is the best knife' for one person's style of cooking." Personal preference will always be a strong driver when choosing knives, but quality, brand, and style are a good place to start.
Our Top Picks
Blade Length: 8 inches | Brand: Shun | Handle Material: Birch pakkawood
Pros
---
Smooth birch pakkawood handle
Beautiful damascus-style blade texture
Holds its edge longer than others in the category
Cons
---
Thin blade edge could nick with heavy use
Why we chose it: An excellent all-purpose knife that's as beautiful as it is functional.
This knife is a true gem in the kitchen. Useful for chopping larger vegetables like a butternut squash, which requires length and leverage to cut through, and for evenly slicing delicate items like fish. The blade's "hornet's nest" pattern helps it stand out in a crowd, and the high-carbon, high-chromium stainless steel edges are hand-sharpened to 16 degrees for durability and easy maintenance. Details like an embossed end cap on the handle cement this knife's position as an all-around kitchen star.
Related: The Best Chef's Knives for Every Type of Cook
Blade Length: 7 ½ inches | Brand: Misen | Handle Material: Birch pakkawood
Pros
---
Comfortable handle
High-carbon steel blade
Cons
---
Delicate knife edge could chip
Why we chose it: Misen's santoku beats out more established knife brands with a high carbon-to-steel ratio that keeps it sharper longer; plus, it's stain resistant. 
At 7 ½ inches, Misen's Santoku is slightly longer than others in this category, giving it a similar feel to a traditional chef's knife. Its sloped bolster provides more control when cutting and performing delicate tasks, and its mix of carbon and stainless steel puts it directly in the middle of the durability of German and Japanese knives. The company also offers a 60-day test period, plus free returns, and a lifetime guarantee that makes investing in nice knives a less daunting proposition. It's an investment, but one with a little more wiggle room to branch out in the future.
Related: Best Santoku Knives
Blade Length: 3 ½ inches | Brand: Wüsthof | Handle Material: Birch pakkawood
Pros
---
Does not stain easily, despite high-carbon steel
Blade maintains edge
Versatile in the kitchen
Why we chose it: This paring knife easily executes kitchen tasks that require more nuance than a hefty chef's knife.
Sturdy and classic, Wüsthof's high-carbon steel gives all of the brand's knives tough, durable blades. This paring knife is no exception, combining delicate maneuverability with lasting sharpness. It is forged of tempered and hardened steel with a 14-degree blade that makes it easy to maintain. Use it for peeling tough vegetables, coring tomatoes, or any number of detailed jobs. 
Related: Best Paring Knives
Blade Length: 9 inches | Brand: Shun | Handle Material: Textured polymer blend
Pros
---
Strong serrated blade
Beautiful blade design
Handy mid-size length
Why we chose it: The tough serrated blade stands up to thick crusts, hard vegetables, and more. 
Shun is known for its super durable, lightweight blades that keep their edge over time. The Sora bread knife's wide, low-frequency serrations provide a smooth cut through even the toughest artisanal bread crusts. The serrations, which are angled front and back, make it a good choice for cutting through tough veggies like winter squash, too, as well as delicate-skinned items like tomatoes or peaches.
Related: Best Bread Knives
Blade Length: 10 ¼ inches | Brand: Mac | Handle Material: Pakkawood 
Pros
---
Cost effective
Easy to clean
Durable handle material
Why we chose it: Same high quality as more popular knife brands, but with greater staying power and a reasonable price tag. 
Although they may be a lesser-known brand as far as the slicing scene goes, chef Kieron Hales of Zingerman's Cornman Farms swears by Mac Knives. And for carving, you can't go wrong with the MKS-105 model. Why? Hales lists hardened steel (high-carbon chrome Molybdenum steel, to be exact), a Japanese angle cut, and the ability to retain a sharp edge longer than most blades he's used as the main reasons. "They all also feature an incredibly comfortable handle and tang, which makes it easy to use during long kitchen shifts," he shares (which means at-home tasks will be a breeze). 
Related: Best Carving/Slicer
Blade Length: 5 ¾ inches | Brand: KitchenAid | Handle Material: Soft grip plastic
Pros
---
Comes with plastic blade guard
Sharp blades are versatile
Cons
---
Does not disassemble for cleaning
Why we chose it: Shears that are versatile and sharp enough to snip through the bones of a chicken or bunches of herbs while remaining comfortable to handle. 
Sharp and practically-sized for daily use, these shears do it all in the kitchen. They're made from heavy-duty stainless steel that's rust resistant, even through the endless washes that will result from cutting open packages of ground beef and spatchcocking chickens. The soft-grip handle saves your hands from stress, and the selection of bright colors is an added bonus.
Related: Best Kitchen Shears
Blade Length: Varied | Brand: Victorniox | Handle Material: Plastic
Pros
---
Excellent selection of knives
Sturdy, easy-to-clean handles
Minimalist wooden block
Cons
---
Utilitarian handle material
Why we chose it: The maker of the original Swiss army knife is still producing all-in-one knife solutions— like this 9-piece block that covers all the bases. 
For those who appreciate a full range of options, a knife set is a good way to go from zero to 60. Victorinox's practical set includes paring, chef's, utility, boning, and bread knives, plus kitchen shears and a honing steel, all stored in a sturdy wood block. While the handles of these knives are simple black plastic, they have proven to be a very durable option for heavy use.
Related: Best Kitchen Shears
How We Chose These Products
Every chef or home cook has their own preference in terms of style and weight. But despite the subjective nature of knives, there are certain standards of quality and versatility that can be universally applied. To choose our favorites, we used our own experience in professional kitchens and recommendations from trusted professionals — both chefs and knife experts. Reputation is always important, with legacy brands like Shun, Wüsthof, and Victorinox delivering consistent, reliable options.
Features to Keep in Mind When Shopping for Kitchen Knives 
Western vs. Japanese Knives 
The two major styles of knives are delineated by region: Western knives—which include French, German, and American knives—and Japanese knives. "Japanese steel is going to be a harder, higher carbon content material, which means it will hold an edge longer, and have a bit narrower range of utility," says Donald. "A lot of people use a Western chef's knife for things like breaking down a chicken. Japanese knives tend to be one-purpose knives, like fish, vegetables, or meat." 
King prefers Eastern knives in her own kitchen. "The difference is often in the handles, angle of the blade, type of steel," she says. "Knives are very personal and it really comes down to what feels right in your hand. Consider the comfort of the handle, the maintenance of the blade, and your skill level." She adds that Eastern knives require whetstone sharpening, versus Western ones, which use oil stones.
Weight
The weight of knives varies by style, maker, blade, and handle material. Ultimately, how heavy your knife is remains a matter of preference, at least when it comes to a multi-purpose chef or santoku knife. Heavier knives, typically Western style, tend to "fall" more easily, meaning that the weight of the knife itself aids in making clean, easy cuts. Heavier knives work better for tougher tasks, such as cutting through bone and sinew, while lighter knives are better suited for smaller, more delicate tasks like peeling, mincing, and dicing. 
Size 
Chef knives typically range from 6 to 12 inches. "Most people end up right in the middle with an 8-inch chef knife," says Donald. Home cooks should consider their storage space, countertops, and cutting board size, and what they'll be using their knife for. When Matt Horn, pitmaster of Oakland's Horn BBQ, isn't using his 12-inch slicer at the restaurant, he prefers a smaller blade. "My favorite knife is the Wüsthof 6-inch chef knife," says Horn. "It has a nice feel to it, a nice weight, and it's extremely versatile. I find myself really relying on that knife." 
Maintenance 
When investing in high-quality knives (or any knife, really), maintenance is key to keeping it in good shape. The first rule of knife club: Never, ever put your knife in the dishwasher, no matter what the manufacturer says. "There are some that will be damaged faster than others, but all knives will get destroyed in the dishwasher," says Donald. "Handles will be ruined and edges will be dulled. Stainless steel is still a metal that can corrode in hot, caustic water." And, keeping the knife edge sharp is paramount. "If you're going to invest in a fancy, premium knife, do take the time to learn how to maintain it," says King. "If you aren't sure how to maintain the edge yourself, outsource to an artisan knife store that can help you sharpen it."
Ask the Experts
Q: What's the best way to sharpen my kitchen knife? 
Many knife shops, including Bernal Cutlery and Williams-Sonoma, offer sharpening services for customers by mail, which is a great option for novices. But Donald recommends learning to sharpen knives at home, using a whetstone or oil stone. This involves running the blade of the knife across a gritted stone at a specific angle to sharpen it. "Using a sharpening machine can cause irregularities in the shape of the edge, and could affect how well it comes into contact with the cutting board," says Donald. "You can get better at sharpening, but a machine never will." 
Q: Do I need to sharpen my kitchen knife every week? 
Definitely not. In fact, your knives should be fine with a professional sharpening just one or two times a year, depending on how often they're used. Each time a knife is sharpened, metal is removed from the blade, decreasing its size over time; sharpening it too much will more quickly whittle down the blade of your favorite knife. Honing your knife with a honing steel—a tool used to realign the knife's blade—after every two to three uses will keep the edge straight, without removing metal to create a new edge. To keep your knives sharp, do not use glass or bamboo cutting boards, says Donald, as those surfaces will dull blades more quickly and cause knives to require more frequent sharpening. 
Q: How do I store my knives?
A magnetic knife strip is an easy way to keep knives within reach and safely stored. An in-drawer knife dock works well for various sizes of knives, and keeps them from taking up valuable counter space. Similarly, knife guards are an easy way to safely store sharp knives in a drawer. For those with ample counter space and the desire for a full set, a knife block is a good option. Above all, ensure that your knives have a designated home with their blades covered at all times to prevent accidents (and dulling your blade on random kitchen implements rolling around in your drawers). 
Q: What is the most important knife?
A chef's knife is the true workhorse of the kitchen, and should be the first consideration when building your block. All knives are subject to personal taste, but a chef's knife should feel like an extension of your arm in the kitchen, with the weight, grip, and maneuverability that works best for you. Second in command is a paring knife for smaller, more detailed tasks like coring tomatoes, peeling vegetables, and other tasks requiring precision. Chef Melissa King, winner of Top Chef All-Stars, Season 17, counts these two knives as the most important to have on hand. "You can accomplish most tasks with just a chef's knife and a paring knife," King says. Meanwhile, a traditional Japanese santoku knife falls somewhere in between the larger, straight chef's knife and a smaller paring knife. It has a flat cutting edge and rounded curve at the tip, making it a multi-purpose blade for cutting both meat and vegetables.  
Q: Should I buy a set?
As for choosing between a few sturdy knives and a complete set, it depends on how many people in the household will be using the knives, and for what purpose. "We typically don't sell sets" says Donald. "Every now and then we'll get something but very very rarely because we typically are of the mind to have somebody focus on what they're really going to use the most, which is a chef's knife and a utility or paring knife. I think that putting the bulk of your knife budget in the knife that you're going to pick up and use most is really important."
Our Take
The best kitchen knives are chosen with usage in mind, so consider what you'd like to accomplish in the kitchen when making a big purchase. A solid, all-purpose knife like the Shun Hikari and a classic Wüsthof paring knife is a great starting place for someone looking to build up their collection over time.