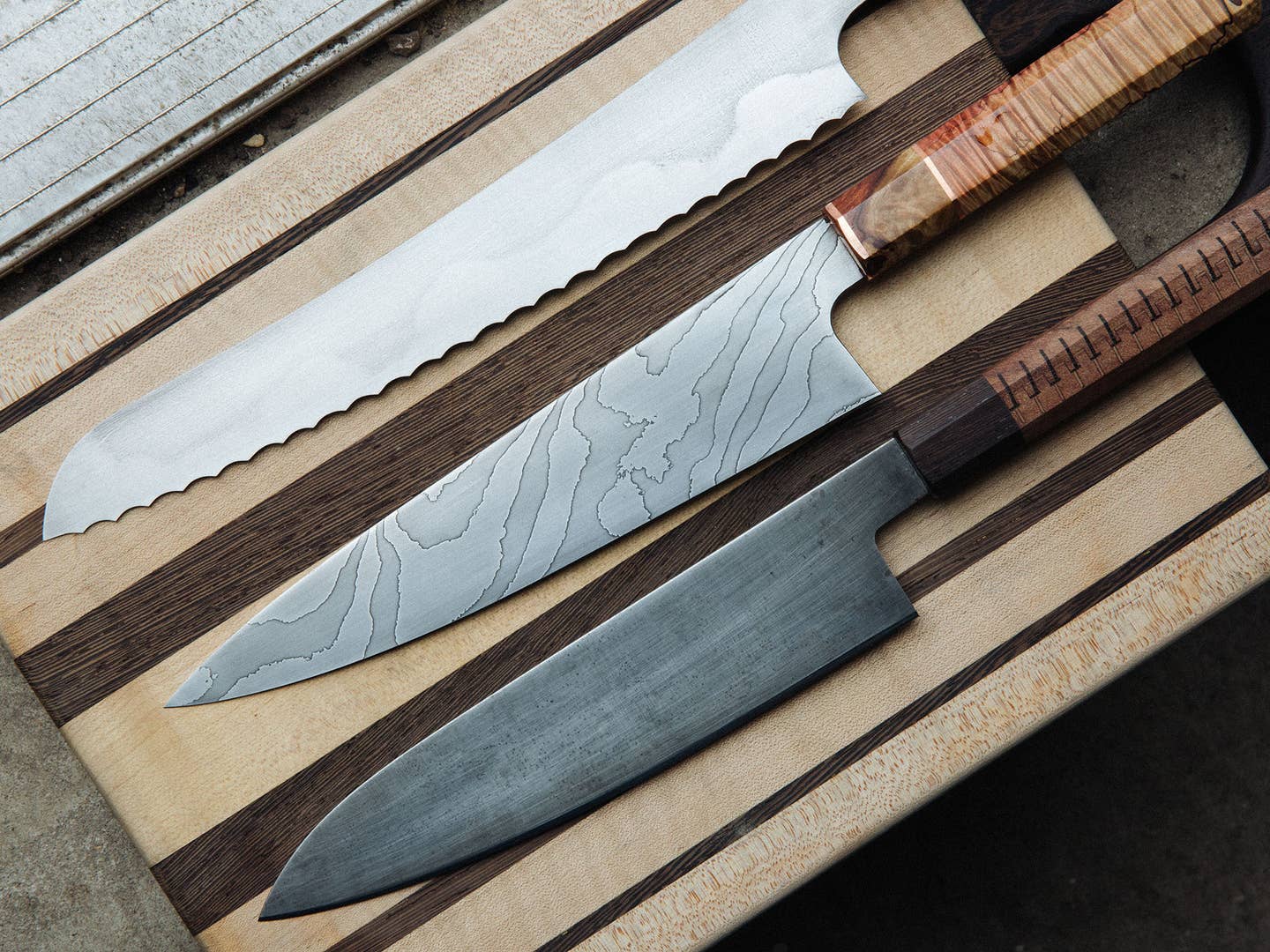 Shopping & Reviews
These Are Some of America's Most Gorgeous Knives
Inside Isaiah Schroeder Knifeworks, a Madison studio forging seriously beautiful blades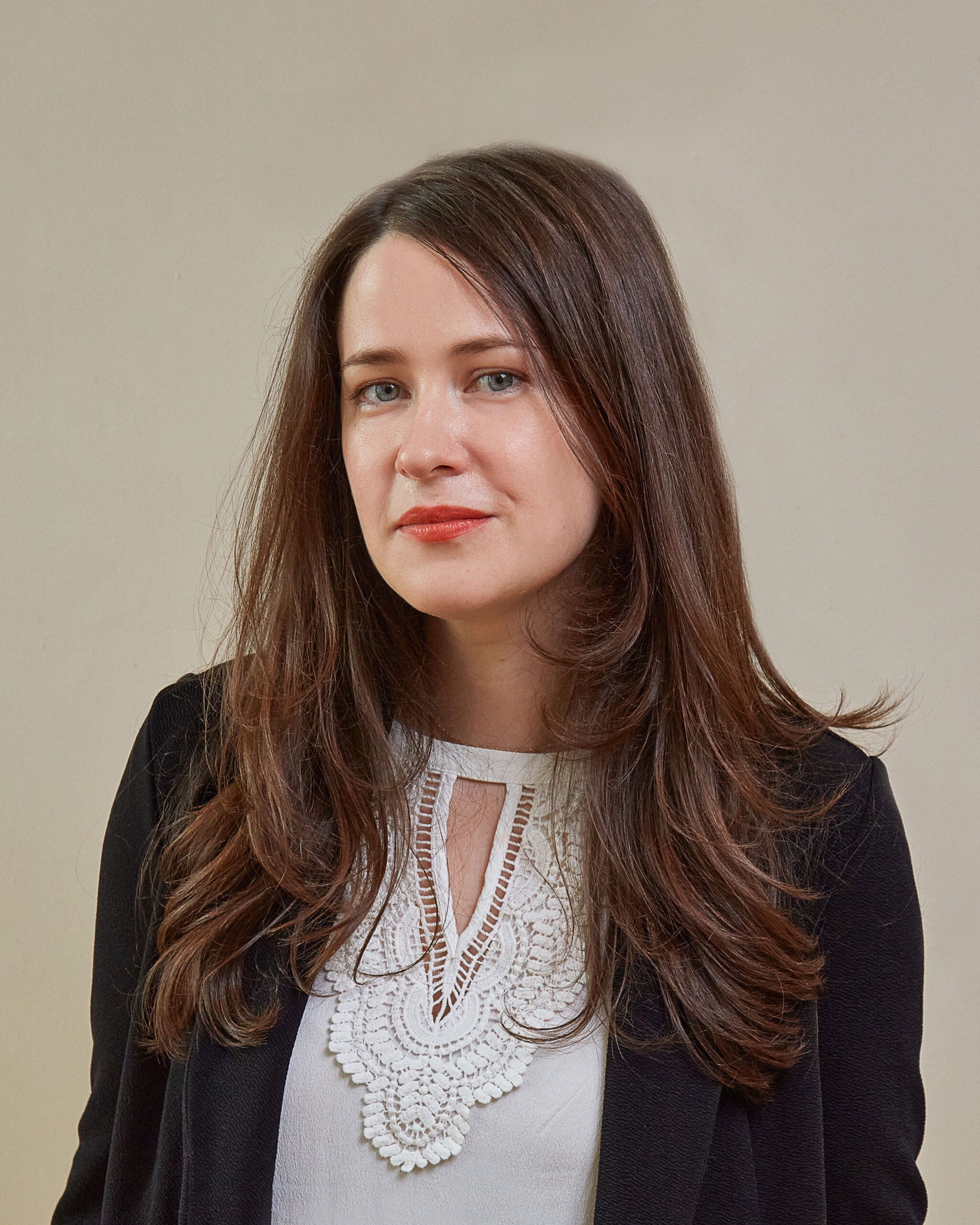 ---
From the landlocked state of Wisconsin, Isaiah Schroeder might seem like an unlikely source for sushi knifes, but this bearded bladesmith comes from a long line of Midwestern craftspeople. His father and grandfather were upholsterers and Isaiah learned the basics of woodworking from his grandma. He was making his living as a furniture- and cabinet-maker in Madison, Wisconsin when he got his first order for a custom knife handle. And at Isaiah Schroeder Knifeworks in Madison, he's making some world-class knives with beautifully embellished hilts that gleam like gems.
Before delving into knives, Schroeder studied jewelry-making, blacksmithing, welding, stone carving, and sculpture. "I wanted to equip myself with as much technical knowledge as I could," he explains, "so that any ideas I wanted to express in my work wouldn't be limited by that."
As word of his skill and craftsmanship got around, he started getting more and more knife handle commissions. In time he grew curious about the metalworking side of knives and he realized that "making a knife can use all the skills I had been learning and would let me create beautiful and functional objects just like I wanted to do with furniture." He set out to teach himself the basics of bladesmithing through, of all places, Youtube tutorials.
Fast forward only two years later: The Madison knifemaker now produces some of the most covetable knives in America. Schroeder's flashy handles are still a huge selling point; he works primarily with rare and tropical woods that have been stabilized with colorful resin, rendering them extremely durable and waterproof. Then he incorporates decorative elements like mother of pearl, petrified bone, unusual metals, and inlaying to create some of the most distinctive knife hilts we've seen. When I visited his studio, he was fitting a handle with a shiny strip of swirled nickel and copper made from hammered quarters.
Some chefs chose to send their favorite blades to Schroeder for an updated handle or for a custom-fitted wooden "saya"—a protective sheath inspired by traditional Japanese sword coverings—but he also hand-forges a variety of Japanese- and European-style blades.
Schroeder's high roller clients opt for the deluxe option: after perfecting simpler styles of bladesmithing, he studied pattern welding, a time consuming and labor-intensive forging method that yields striking "watery" patterns similar medieval Damascus, or "wootz" swords. The traditional practice was used by the Celts as far back as the 2nd and 3rd centuries and it has all but completely died out today: multiple layers of steel are hammered together to create a single piece, heated to malleability, then twisted. The coiled rod is hammered back out into a thin sheet, cut to shape, and polished into a blade. After treating the blade with ferric chloride acid to reveal the steel's swirled layers, and neutralizing in a base solution, he gives it a final dip in strong coffee to enhance the pattern's contrast.
Schroeder typically uses nine layers of steel per chef's knife; a single blade takes about a week to complete and can easily tip past the thousand dollar point with an elaborately designed handle. A handful of Madison-area vendors sell Schroeder's products, but the bulk of his sales are made to order, often for culinary professionals that are looking for a serious blade with style.