Culture
Italy's Little-Known Trick for Using Up Leftover Dried Pasta
Embrace life's chaos by combining a variety of pasta shapes, sizes, and textures in this comforting Neapolitan stew.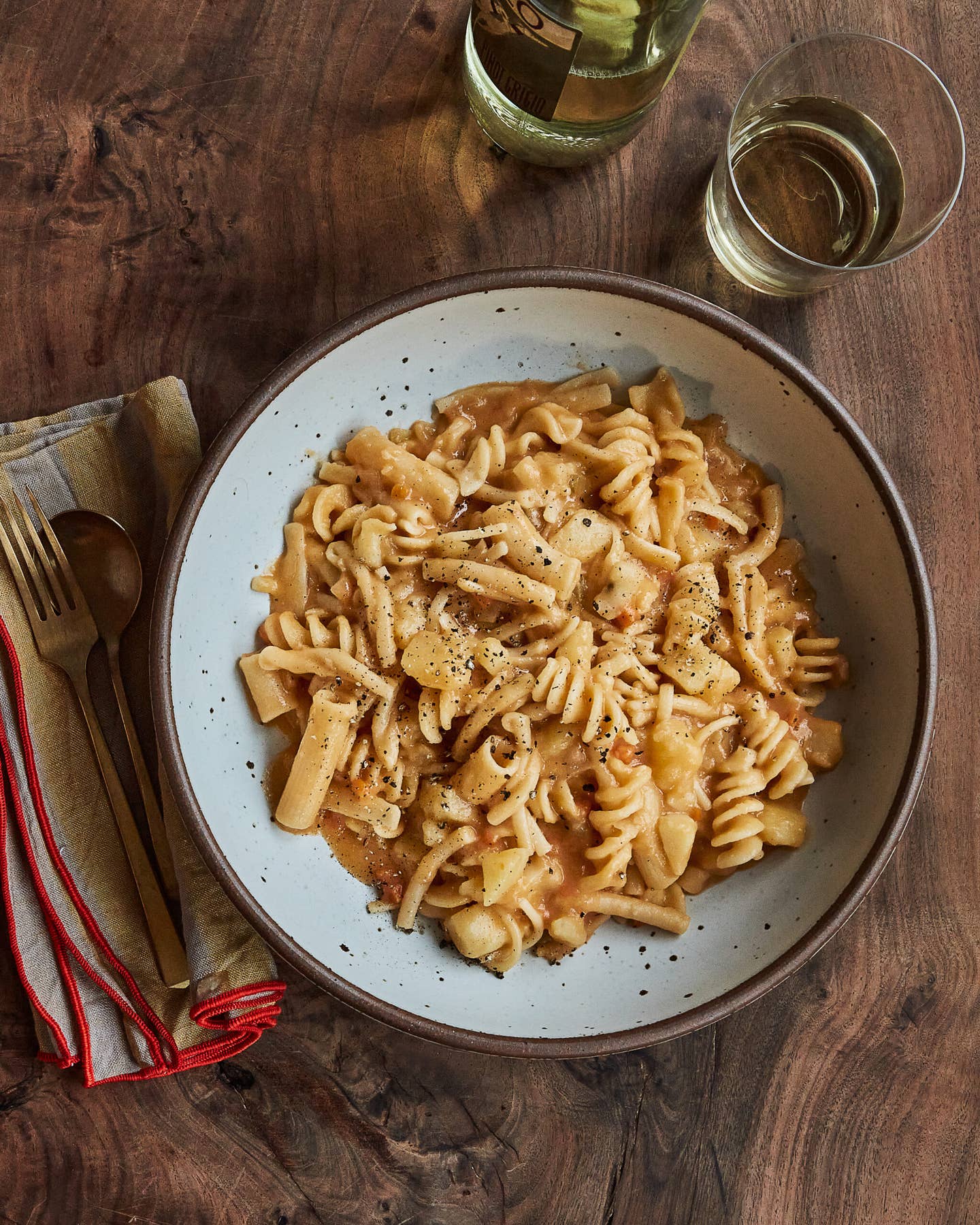 Welcome to Parla's Pastas, a column by the Rome-based, New York Times best-selling cookbook author Katie Parla, whose latest title is Food of the Italian Islands. Get ready for a carb-driven journey through the trattorias of Rome, the rural reaches of Campania, the kitchens of Sicily (her ancestral homeland), and beyond. Fire up a pot of water, and andiamo!
When you go to Italy, the world capital of pasta and pizza, you expect to be inundated by carbs. But it may come as a surprise to find multiple carbs packed into a single dish: bread crumbs sprinkled over spaghetti, breaded and fried rice balls, or—my favorite—pasta, patate, e provola.
Pasta with potatoes and provolone cheese, like many Italian comfort foods, starts with a soffritto—garlic, carrot, celery, and onion gently fried in olive oil—which lends a sweet and vegetal depth to the dish. Then, in go the potatoes, followed by vegetable broth and pasta mista corta (more on that in a minute), which cook together to create a marriage of starches further bonded by a healthy dose of grated provolone.
I first encountered pasta, patate e provola at Cibi Cotti, a stall in the back corner of Naples' Mergellina Market whose name translates simply to "cooked foods," a testament to its no-nonsense approach to Neapolitan classics. Their rendition of the dish is all about pasta mista corta, a mixture of small pasta shapes with roots in working class cooking: In the past, when most pasta was sold by weight, budget-conscious patrons would take home the assorted bits left at the bottom of the barrel, resulting in a potpourri of shapes. Pasta mista corta remains so central to Neapolitan cuisine that to this day, companies sell bags of the mixed assortment to satisfy people's nostalgia.
When I'm not in Naples, I channel that city's practical knowhow and use a mix of whatever assorted pasta bits are kicking around my pantry. As opposed to boiling the pasta in water, I let it absorb the flavors of the soffritto and stock (for the food nerds among us, this method is called pasta minestrata), resulting in a creamy dish that epitomizes not only Neapolitans' penchant for comfort food but also their admirable pragmatism in the kitchen.