Culture
The Crispy, Crackly Pasta Dish Neapolitans Make Every Lent
Meet frittata di scammaro, a pantry pinch hitter studded with anchovies, raisins, and pine nuts.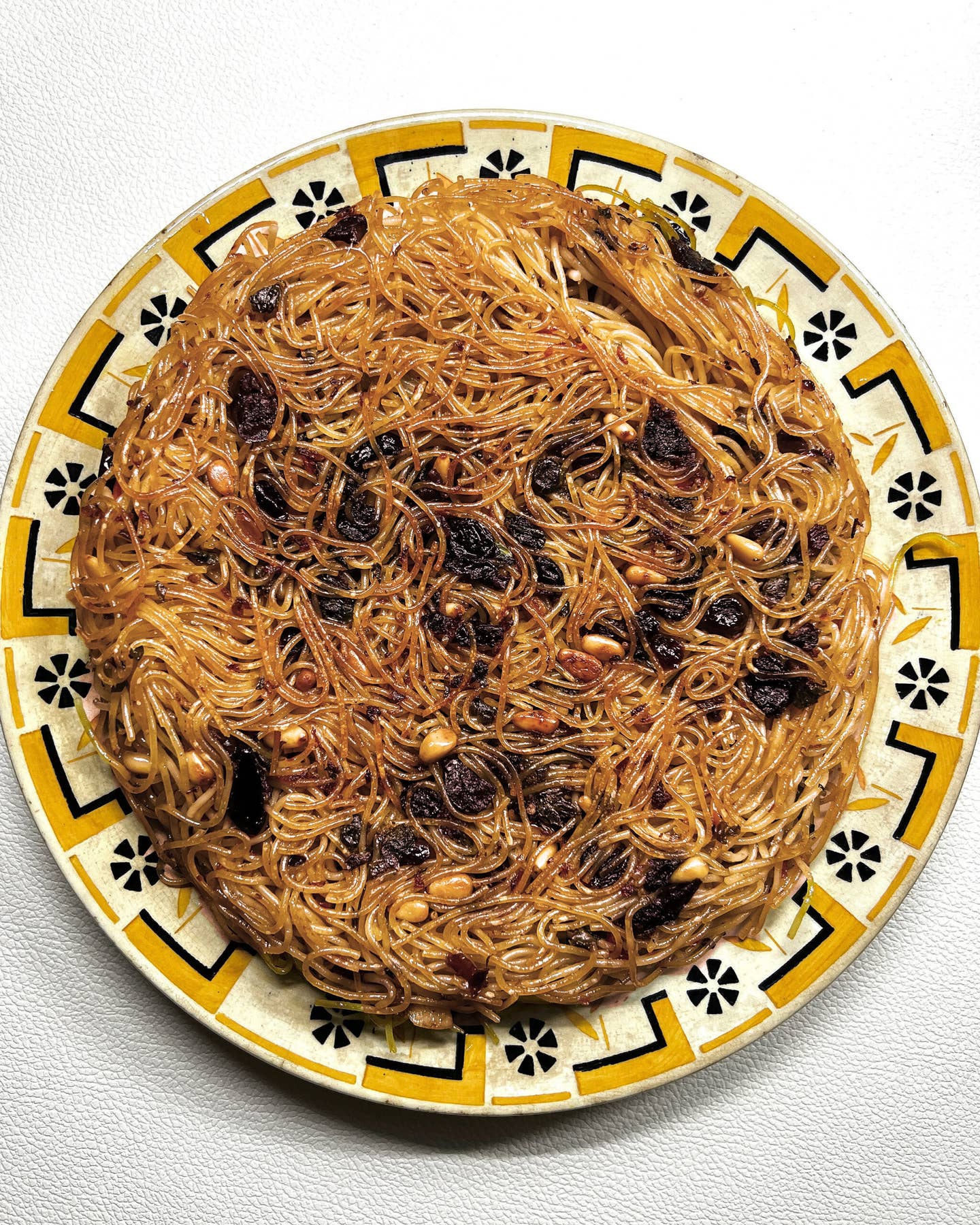 Welcome to Parla's Pastas, a column by the Rome-based, New York Times best-selling cookbook author Katie Parla, whose latest title is Food of the Italian Islands. Get ready for a carb-driven journey through the trattorias of Rome, the rural reaches of Campania, the kitchens of Sicily (her ancestral homeland), and beyond. Fire up a pot of water, and andiamo!
For centuries, Catholics in Naples have been devising delicious ways to get around Lenten dietary restrictions on meat. A case in point is frittata di scammaro, a pan-fried pasta dish studded with anchovies, olives, capers, raisins, and pine nuts. It's so crisp you can slice it into wedges and eat it out of hand, as Neapolitans often do.
You might be wondering, where are the eggs? A frittata is generally a baked omelet of sorts—think quiche without the cream or crust. But frittata di scammaro (SCA-ma-ro) relies on the pasta's starch rather than eggs to bind it all together.
Compared to Naples' other famous fried pasta dishes—like frittatine, broken bits of bucatini suspended in bechamel brimming with ham and cheese cubes, or frittata di spaghetti, a pasta omelet—scammaro sounds relatively light. And it is. In fact, scammaro is Neapolitan dialect for "lean," precisely the genre of food the Catholic church mandated during Lent and other days of fasting.
I don't get to Naples as often as I'd like, but Da Corrado, a cheese and wine stall in Rome's Testaccio Market, makes a damn near perfect version. I love pulling up a chair and cutting into the crispy exterior—this is one of the few times cutting long pasta strands isn't frowned upon in Italy. A few capers or pine nuts inevitably break free from their nest, tumbling down onto the plastic plate.
Corrado's version is a tomato-tinted riff on the first-ever recorded recipe, published in the 19th-century Cucina Teorico-Pratica, by Ippolito Cavalcanti, Duke of Buonvicino (and all-around great name-haver). I love the tomato—it adds a touch of tang—but the results will be just as stellar if you omit it.
In spite of living a mile from the Vatican and having been baptized (to appease my Catholic grandparents), I don't have much of a relationship with the Church. But I do worship at the altar of flavor—hence my devotion to frittata di scammaro. If only we could all eat as well as fasting Neapolitans.