Recipes
Eggless Pasta Frittata with Anchovies, Raisins, and Pine Nuts
Our new favorite Italian finger food is frittata di scammaro, a crunchy, garlicky fried spaghetti dish from Naples.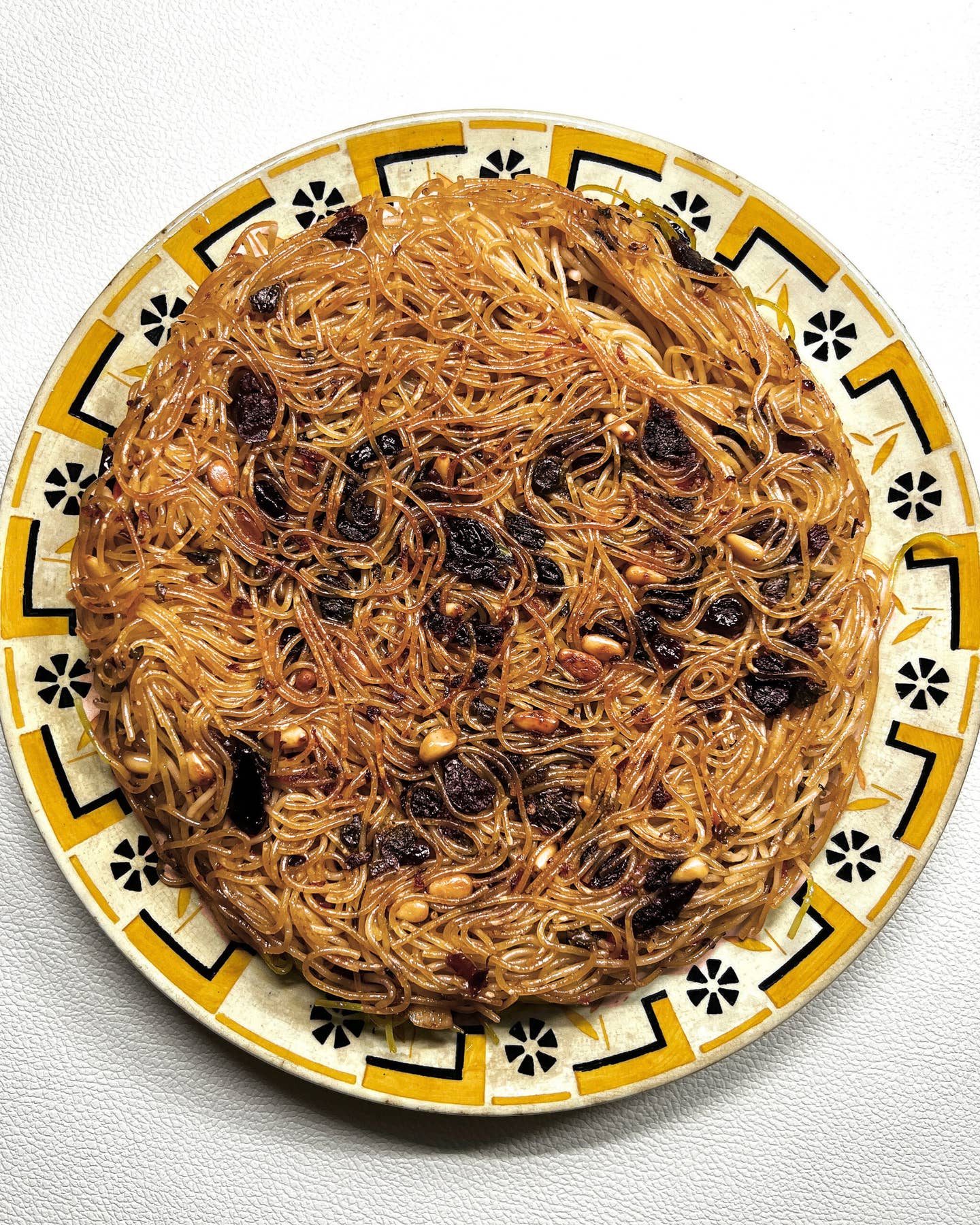 Welcome to Parla's Pastas, a column by the Rome-based, New York Times best-selling cookbook author Katie Parla with traditional and inspired recipes from Italy's 20 regions. Get ready for a carb-driven journey through the trattorias of Rome, the kitchens of Sicily (her ancestral homeland), rural Campania, and beyond. Fire up a pot of water, and andiamo!
Scammaro (SCA-ma-ro) is the anti-frittata frittata: crispy, crackly, and conspicuously eggless. An old-school staple of Lenten tables in southern Italy, this frittata di scammaro recipe makes a simple—and phenomenally flavorful—pantry-based meal year round.
Ingredients
¼ cup plus 3 Tbsp. extra-virgin olive oil, divided
2 garlic cloves, lightly smashed with the side of a knife
3 anchovy fillets, rinsed
1 large ripe tomato, grated, or ¼ cup good-quality tomato purée (such as Mutti)
¼ cup Gaeta olives, rinsed, pitted, and roughly chopped, or substitute Kalamata olives
3 Tbsp. raisins, soaked in hot water for 15 minutes and drained
3 Tbsp. salt-cured capers, soaked in cold water for 5 minutes, drained, and rinsed
2 Tbsp. pine nuts
2 tsp. coarsely chopped parsley leaves, plus more for garnish
Sea salt
12 oz. vermicelli pasta, or thin spaghetti
Instructions
Step 1
To a 10-inch nonstick skillet set over medium heat, add 3 tablespoons of the oil and the garlic and cook, stirring occasionally, until fragrant and golden, about 3 minutes. Add the anchovies and cook until they dissolve, about 2 minutes. Turn the heat to medium-high, add the tomato, and cook until reduced slightly, about 4 minutes. Add the olives, raisins, capers, and pine nuts and cook for 2 minutes more. Turn off the heat and discard the garlic.
Step 2
Bring a large pot of generously salted water to a boil. Add the pasta and cook until just beyond al dente, about 4 minutes (use the recommended cooking time on the package).
Step 3
Drain the pasta and return it to the pot.
Add the tomato mixture and parsley and toss well to combine. (Do not clean the skillet.)
Step 4
To the empty skillet, add 3 more tablespoons of the oil and turn the heat to high. When it's shimmering and hot, add the pasta. Use a spoon to flatten the top. Cook, undisturbed, for 2 minutes, then turn the heat to medium and continue to cook until the pasta has set and the bottom is deep golden brown, about 9 minutes more.
Step 5
Place a plate over the frittata and flip the pan upside down. Slide it back into the pan, uncooked-side down, and pour the remaining tablespoon of oil around the edge of the frittata. Brown on the other side, about 12 minutes more.
Step 6
To serve, slide the frittata onto a plate and garnish with parsley. Allow to cool slightly before cutting into wedges.