Travel
Lunch At This Iconic New Orleans Restaurant Includes a Fried Chicken Avalanche
Dining at Dooky Chase with the equally legendary Jessica B. Harris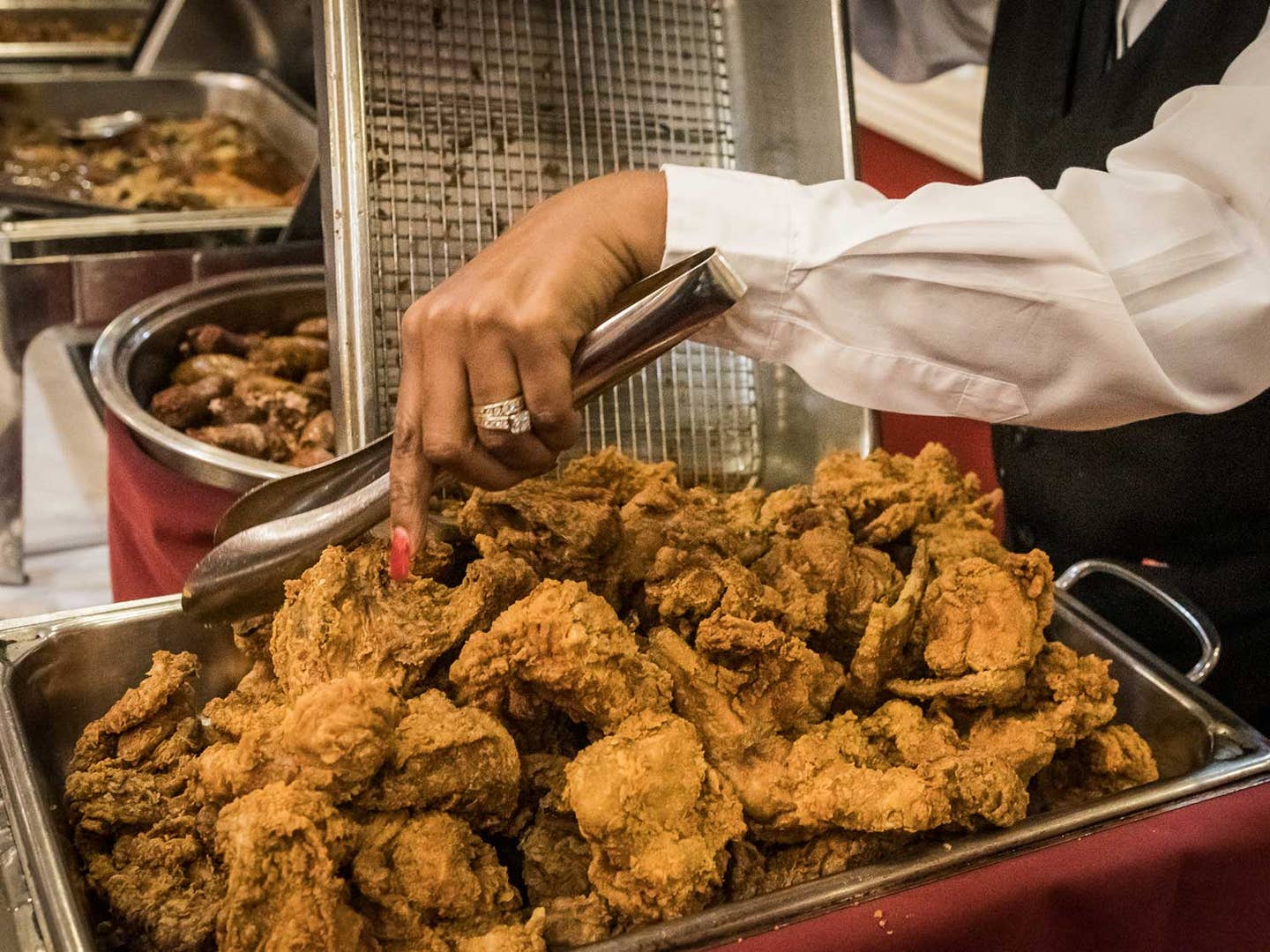 In all my visits to the fabled dining room at Dooky Chase, I had never seen the avalanche.
Over the course of nearly twenty years, I've taken my fair share of trips to the midday buffet line, slurped my way through gallons of sublime crab soup, and even seen the room packed to the rafters for Ms. Chase's legendary Holy Thursday lunch service. But in all my time at table, I don't remember witnessing the simple-yet-glorious act of refilling the warming pans with a piping hot batch of golden-brown, freshly fried chicken.
I happened to be walking the length of the buffet—taking a quick survey of the day's offerings—when I saw a deep stainless tub emerge from the kitchen, piled high with a flock's worth of Leah Chase's trademark fried chicken. After a few seconds of wrangling, the runner lined up the two pans edge-to-edge and tipped one edge of the kitchen pan to the ceiling in a slow, steady motion.
The next few seconds shifted into slow motion as I watched a batch of New Orleans' finest foodstuffs tumble onto the lunch line. The front-of-house attendant guided the slide of Platonically perfect poultry with quick tong-work, making sure the tumbling thighs spread out in a more-or-less even layer while keeping wayward wings from bouncing onto the burgundy tablecloth. Bits of crust flaked off during the transfer and clicked into the serving pan, and when the last mahogany brown drumstick settled into place, time shifted back to normal speed. The whole process took maybe fifteen seconds, but felt like twenty minutes of poetic poultry in motion.
I somehow managed to keep my salivation within the bounds of civilized folk. Barely.
When I snapped out of my trance, I made quick note of the offerings of the day—baked pork chops, red beans and rice, corn maque choux, hot sausage chunks in a silver terrine—and sat down to wait for the Good Doctor.
A lunch date with Dr. Jessica B. Harris—author, food historian and all-around force of nature—is a treat under normal circumstances, but dining with her at Dooky Chase (the restaurant that Ms. Leah has run daily since 1941, named for her late husband) is one of life's great joys. During the last few decades, Dr. Harris has become a fixture on the New Orleans food scene through scholarship and steady presence, despite maintaining a primary residence in Bed-Stuy, Brooklyn. Since retiring from Queens College last year, she's been spending more time at her place in the Faubourg Marigny, a short cab ride from Dooky's dining room.
And it being January 2nd, it would be the perfect time for a belated New Year celebration and a quick audience with Ms. Leah, just a few days before her birthday on January 6th—known locally as Twelfth Night, and the official kickoff for Carnival and Mardi Gras season. Festivities, well wishes, good conversation—nothing better to kick off 2019.
With a few minutes to kill before Jessica's arrival, I tucked into my copy of The Dooky Chase Cookbook to distract me from my newly-ignited fried chicken obsession. This next month, I knew I'd be spending quality time with Ms. Chase's stories and recipes, so I decided to do a quick matching of text and space.
Paging through the chapter heads, I could spot printed renditions of artwork around the dining room—Richard Thomas' drawing of trumpet kids (Breads and Breakfast Foods, p.19–20), Rock Teacher by Windston Falgout (stained glass piece, p. 97) among others. Ms. Chase's African-American art collection, gathered over a lifetime, makes selective appearances in between recipes and remembrances, but to see the walls brimming with varied color, style, and history is nothing short of amazing.
I listen to the the dining room's friendly clatter and peruse the recipes for her red beans (p. 169), pork chops with sauteed onions (p. 106) and, of course, the obsession-worthy fried chicken (p. 154). With each page, i found myself leaning slightly closer to the buffet tables.
And just on time, Dr. Harris arrives in all her workaday glory. At once charismatic, stately, and commanding, Jessica sweeps into the room with greetings to everyone on staff and a jingle of silver bracelets. Once she enters, the room feels that much more like home.
We settle in and give the laminated menu a perfunctory glance—because we're just gonna go for the buffet, right? It's common sense. I did a quick avalanche flashback and almost lunged.
The Good Doctor looks over the menu and makes a few suggestions, just as I'm about to sprint to the tower of empty serving plates.
"The buffet is fine," she says in a tone that implies a qualifying clause, "but I like to order off the menu to get the hottest chicken."
This stunned me a bit, because... you know... the avalanche.
"I'll order the chicken and red beans," she said. "I'll share. You should get the Shrimp Clemenceau. It's one of her classics. I'd love to eat it, but i have a seafood allergy." Shrug.
And with that, it was settled. Instead of making several runs at the long line of Creole amazement, I'd settle into a single bowl of Clemenceau—garlicky Louisiana shrimp sauteed in butter with brabant potatoes, peas, and mushrooms (p.70).
What followed was an hour of New Year catch-up conversation, savory New Orleans goodness and a couple glasses of wine to ring in 2019. The Clemenceau was amazing as promised (soon to become a shrimp season staple at my house), and The Good Doctor, in all her wisdom, probably saved me from eating myself into a fried chicken coma. Inspired by her restraint and elegance, I ate a single crispy, perfect thigh as I watched other diners return for second, third and fourth helpings. Each time, they wobbled back to the table in mid-swoon sporting ridiculous smiles on their faces.
It being the New Year zone, all the regular staff came by to wish Dr. Harris happy holidays—both the ones recently past and Carnival soon to come. Ms. Chase's daughter, right hand, and sometimes-gatekeeper Stella came to the table for a chat, informing us that her mother wasn't in the kitchen that day. Instead, she was spending time with the last bits of family who had traveled in for the festive season.
"Well, we hate to miss her, but tell her we came by," Jessica said. "And wish her a happy birthday."
Hugs all around, a few more sips of wine, and then we were out into the wet, swampy cold of a New Orleans winter.
We'd be back soon enough, and made plans to return before the reserved ruckus of Holy Thursday. It being Ms. Leah's birthday month, it seems like the sensible thing to do.
And next time, I'll be there for the avalanche—and a long nap afterwards.