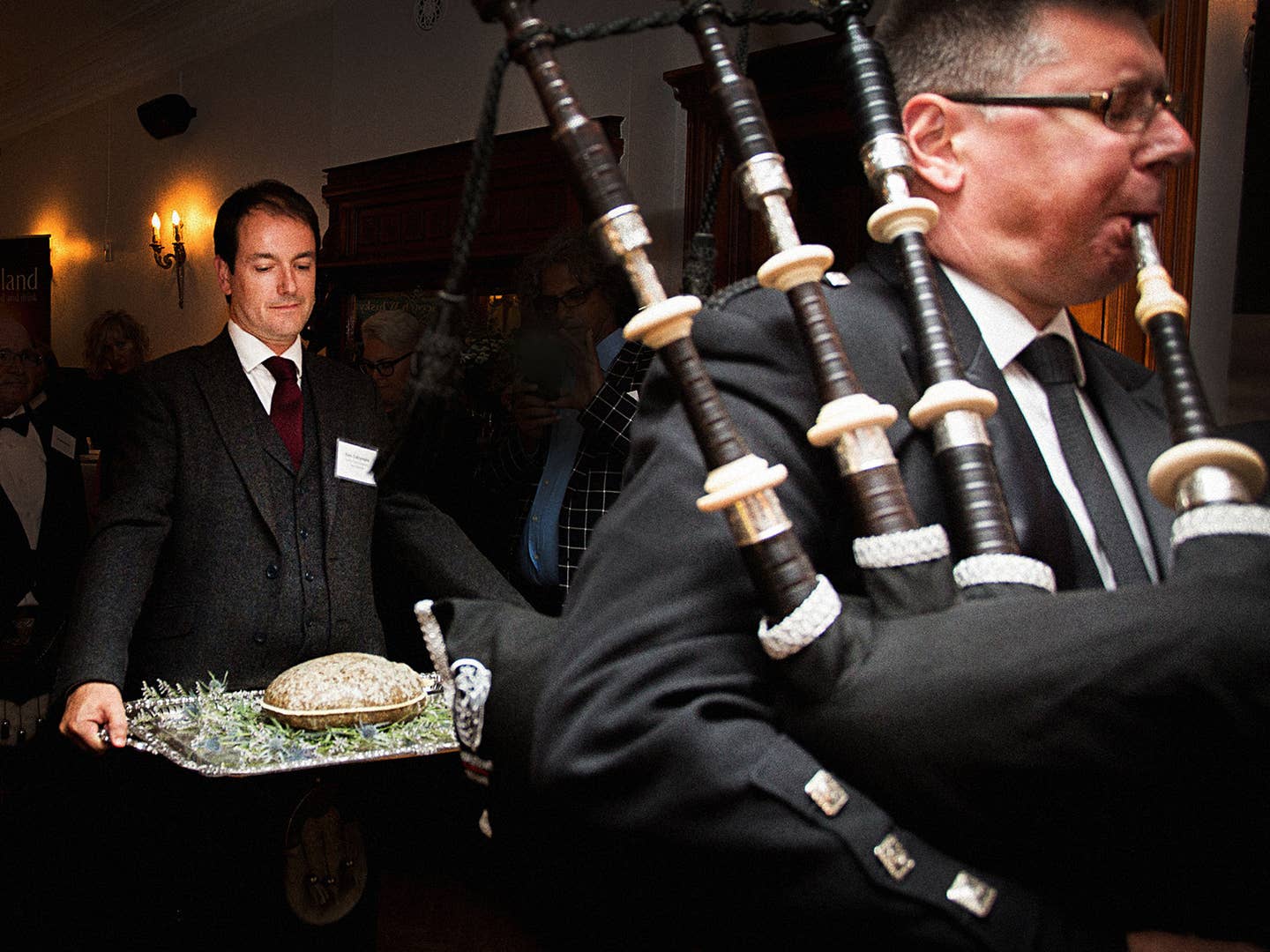 Culture
The Case for Eating More Haggis
Thanks to a handful of enterprising chefs, Scotland's national dish has evolved from an 18th-century farmer's supper into a modern, Michelin star-rated meal
Do I really have to eat that?
For anyone with a delicate disposition, this is the standard response when presented with a warm, fragrant spoonful of haggis. And who could blame them?
Haggis is a massive sausage-shaped concoction made of lamb or calf offal which has been boiled in the animal's stomach and combined with oatmeal, spices, and suet. According to Scottish tradition, it's best served beside mashed neeps and tatties (turnips and potatoes), with a dram of single-malt whiskey to wash it down. And, as Scottish poet Robert Burns waxed in his famous "Address to a Haggis" in 1786, it wouldn't be a proper haggis unless it's been theatrically sliced open with a sword or dagger for the full "glorious, gushing" effect.
It was then that haggis became Scotland's national dish, a glorification of the act of eating your own kill after the hunt—which in itself dates back to the earliest civilizations. Yet, haggis is a specific rendering of this ritual, and has been considered quintessentially Scottish ever since Burns first "addressed" it.
Living as an 18th-century sheep farmer in the highlands, as Burns did, was a game of survival, in which wasting any part of your flock was unthinkable. Such highlanders were early nose-to-tailers who fed their families with entrails long before the "zero-waste" food trend became a thing. Since then, the ceremony of eating haggis has been fêted and festooned annually on Burns' birthday like the coronation of a British royal. It's also a humble daily dish; you can't travel five miles in Scotland without finding haggis on a menu.
But why has this so-called "great chieftain o' the pudding race" endured? The short answer is: It's bloody delicious—when done right. And modern Scottish cooks are finding new ways to make it even more enticing.
Traversing this small but dramatically raw and rugged country, it's difficult to find even one Scot who doesn't express a deep-seated affection for their special sausage. "I absolutely love haggis. It's a cornerstone of Scottish culture, and it's just such a fantastic staple," says Richard Dalgleish, the Edinburgh born-and-bred executive sous chef at the five-star resort Gleneagles in Auchterarder. Now 36, he's been eating haggis since he was a boy. "The quality comes down to the ingredients."
Dalgleish makes Scottish lamb-based haggis, with the lungs attached to the heart (also known as plucks and flight), because, he explains, the lungs prevent fat from binding to the meat and oatmeal. "I also like to put a bit of lamb shoulder, to make it a bit more meaty," he adds.
It all sounds positively primitive. But the richness and complexity of flavors of his dish would likely exceed most modern chef's expectations. At the very least, it's quite popular with Gleneagles' guests, who are paying luxury prices and expect culinary excellence.
The trick, Dalgleish says, is making it look nice: "Presentation is tricky at the best of times, but we do it very simply. We mold spiced haggis into a ring—white pepper is a must—and quenelle the neeps and tatties, forcing them into a compact football shape. Finally, we garnish it with diced carrots and baby leek."
Even non-chefs express similar sentiments, often linked to a sense of patriotism. "I love a haggis in celebration, because I'm a cultural champion for Scottish things," says Lucille Brown, a Glaswegian mother of two, who is pursuing her Ph.D. at Glasgow University. Every year, she hosts a haggis party for friends and family on St. Andrews Day, Scotland's national holiday in in November. "After studying abroad, I became more possessive of my identity, and haggis is an identity thing. I don't untangle it from Scottishness," adds Brown. Where she lives, haggis is an everyday breakfast dish served alongside black pudding in most inns and pubs. To entice timid visitors, Brown says: "You know, it's just a big sausage, and you don't even eat the case!"
The love for haggis has only been growing, too: Just this June, restaurants in Scotland received more plaudits than ever before at the National Restaurant Awards ceremony in London. Scottish chef Tom Kitchin notably put haggis on the tables of his polished, modern restaurant The Kitchin in 2007 and was awarded a Michelin star that same year. He's often given credit for "elevating" the dish, and has opened four more restaurants since.
"When we first opened, I was trying to think of dishes that reflected our heritage. Haggis is traditionally served in such a stodgy, heavy way. If you eat a plate, you can't move for a week!" says Kitchin, lighthearted and still dizzy from being named one of the U.K.'s "Best Restaurateurs" at the National Restaurant Awards. "So, my idea was to make it lighter and more dynamic, by pickling the turnips, creating acidity to cut through the richness. Then, I mandolin-sliced the potatoes very thin, shaped them into pancake-sized circles, and fried them in clarified butter to give a more crispy texture."
In the summer, Kitchin lightens things up and recasts the recipe as haggis-stuffed cannelloni in a delicate vegetable broth. At his sister restaurant Castle Terrace in Edinburgh, haggis hides in a wee-sized, potato souffle canapé, which pops up when you fry it. It's a clever take, and far more approachable for noncommittal types who'd sooner go for a bite rather than a bowl.
Since Kitchin started shaking up tradition, haggis has been enjoying a heyday in the most competitive kitchens in Glasgow, Edinburgh, and beyond, receiving prime placement on menus at places like the Witchery, the Flying Stag, and Gleneagles.
Though the recipes sometimes vary in the choice of offal (rabbit or beef instead of lamb)—what they each have in common is sophisticated plating. To accomplish it, after the haggis has been cooked and the bag cut open, the mixture is rolled into cylinders, allowing for nearly any shape or size the chef fancies.
Haggis is still not without its controversy, though. Most Americans have never tasted the dish because it is illegal to import. Haggis has been banned in the United States since 1971, when the United States Department of Agriculture (USDA) issued this rule: "Livestock lungs shall not be saved for use as human food." Trouble is, lamb lung is what gives haggis its trademark texture. Without it, haggis clumps together like dog food in a can. American misconceptions of what's in haggis—and what it tastes like—are basically down to the USDA ban, which isn't expected to lift any time soon. But in 2017, Scotland started exporting haggis to Canada for the first time in almost 50 years, thanks to a new recipe by Macsween of Edinburgh that met Canadian regulations. Needless to say, the humble haggis has been well received.
Whether it's served on a silver platter, announced by kilt-wearing bagpipers, or simply served beside your eggs, haggis is a wonderful window into Scottish culture. A mythology was built around it for a reason, and one doesn't need to be fluent in Gaelic to understand it.
It's a farmer's dish, warm and hearty—like a well-earned, clove-spiced reward after a long day of hard labor. It's also a symbol of Scottish pride because, for many years, full bellies meant another day surviving a never-ending battle with the English. And it's clear that old wounds still linger, despite being part of the United Kingdom today. So, when you're offered haggis by a Scot, it's meaningful. It's an invitation into their world. If you're totally put off by the nature of the ingredients, you've kind of missed the point.