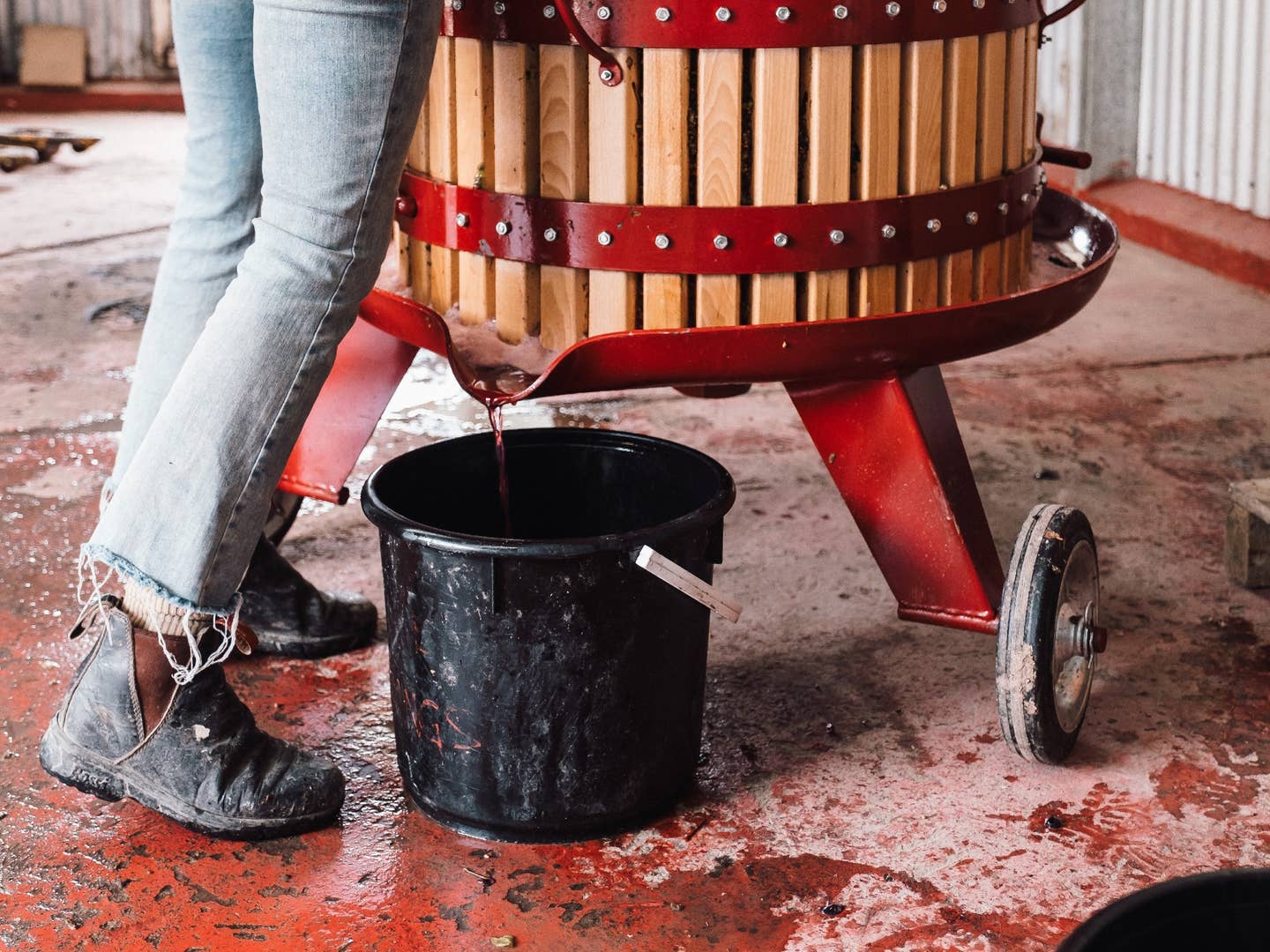 Drinks
At This Australian Winery, Making Pét-Nat Is Not a Spectator Sport
In an excerpt from her new memoir, Rachel Signer shares a glimpse into the (very) hands-on process.
In an excerpt from her new book, You Had Me At Pet-Nat: A Wine-Soaked Memoir, Rachel Signer traces her journey on how leaving New York and following an obsession for natural wine led her to meet her future partner (aka "Wildman"), set up a new life on a farm in South Australia (by way of Paris), and learn the beauty—and many, many intricacies—of making wine the old-school way, including her very own bottles of pét-nat. The founder and publisher of Pipette magazine also shares her favorite bottles of the moment here.
PFFFFFFFFFZZZZZZZZZZ. Wildman popped the crown cap off another bottle and put its neck through a hole in the large plastic bin. Excess wine foamed out, bringing with it chunks of naturally occurring crystalline deposits known as tartrates, and lees made of dead yeasts and grape skins that had accumulated in the bottle while it rested, upside down, over the past few months. Now, the disgorged bottle was only three-fourths full—it surprised me that so much wine was lost during this process.

"It will be worth it," Wildman reassured me. And I agreed—having opened a few non-disgorged sparkling wines before, I could attest that they too often sprayed everywhere. Better to lose the wine here and present customers with a properly finished wine that wouldn't fizz in their face.

Swaying to the beat of "Hot Stuff," partly to stay warm and partly to keep my energy up, I tilted a bottle of the same sparkling wine into the recently disgorged bottles, topping them back up one by one, then capping them manually on a table. That day we'd repeat this with 200 bottles of my pét-nat—a pink wine I'd made at the start of vintage from blending separately fermented chardonnay and pinot noir.
"Well, I feel stupid," I said. Wildman looked at me quizzically. "If you only knew," I said, reaching for another bottle to pop open, "how many explanatory articles I've written that introduce pét-nat as the 'simpler, easier' version of champagne."

It was true, of course, that the fancy French stuff was made with two fermentations, while pét-nat had only one. But as I was learning, that didn't make the latter any easier, especially given that we did all of the work by hand, rather than with machine-operated riddlers and disgorgers, as many Champagne houses use.

The challenge began with carefully timing the bottling of the wines. Pét-nat is generally made by bottling wine with a tiny amount of residual sugar, so that bubbles occur as a result of fermentation finishing. In my case, I'd been so busy working the basket press and picking in the vineyards that my pinot and chardonnay had fermented dry over the course of a month. So we had added some fresh Gamay juice before bottling, to help fermentation restart. Wildman made the calculations carefully, using a textbook from his student days to determine the exact number of liters we should add. For his wines, he'd been more on top of the timing and had bottled them with sweetness. Either method was fine to us—it was pét-nat regardless. Natural wine was a world without definitions, anyway.
For many who adore natural wine, pét-nat is the heart and song of our movement, something we rely on to set a cheery mood amongst friends or kick off a weekend gathering. A chilled, cloudy, low-alcohol bottle of pét-nat is the bad boy in a leather jacket, while a bottle of champagne is more like a woman in a Chanel suit with pearls. Of course, there are plenty of champagne grower-producers who actually do farm and vinify entirely by hand and whose wines can display some very unique aspects. They operate quite differently than large champagne "houses," which purchase fruit from all over the region and more or less use a recipe to make their sparklings. But pét-nat is the natural wine movement's darling because it refuses to be dressed up.
Back in the day, the folklore goes, in 16th-century Southern France, the first sparkling wines happened largely by accident when producers in the town of Limoux bottled their young juice before it had finished fermentation. Bottling wine was a rare thing then (it was served directly from the cask). In the cases where a wine wasn't yet dry, its residual sugar might be converted to carbon dioxide—in other words, bubbles—if fermentation restarted once it had been bottled. Although it happened accidentally at first, that approach was adopted as an intentional way of making sparkling wine and became known as méthode ancestrale, or the "ancestral method," in contrast to the method developed in Champagne in the 19th century. The Champagne method involves bottling still, dry wine with added yeast and sugar to kickstart a secondary fermentation and aging it extensively in a cellar so that the sparkling wine develops complexity. Today, some wines labeled méthode ancestrale achieve fizziness by arresting fermentation through temperature control or adding sulfur before bottling, when the process is then allowed to resume. Generally, both méthode ancestrale and Champagne wines are disgorged, meaning they are opened to allow for tartrates and yeasts to spill out, before refilling and sealing with a cork.

Pét-nat may or may not be disgorged. If it is disgorged, it's usually not resealed with a cork—a regular crown cap will do. The specific term pét-nat and its natural wine ideology came about in the 1990s, with credit going specifically to Christian Chaussard, who made wine in Vouvray until he passed away in a tractor accident in 2012. In Vouvray, the main variety is Chenin Blanc, which can produce a sweet wine if harvested late. Sometime in the late '90s, Chaussard bottled one Chenin Blanc wine with a touch of residual sugar, and he either did not add sulfites or added very little to arrest fermentation—therefore, the wine kept going in bottle and became fizzy. Instead of tossing out the wine, which he found quite enjoyable, Chaussard called it a pétillant-naturel, a natural sparkling, and referenced the méthode ancestrale as an example of its historical occurrence. Pét-nat, therefore, is a perfectly postmodern thing in that it's made with an irreverent eye to a modern ancestor. It stands apart from méthode ancestrale wines in that no added yeasts or preservatives may be used—it should be 100 percent grapes-only.