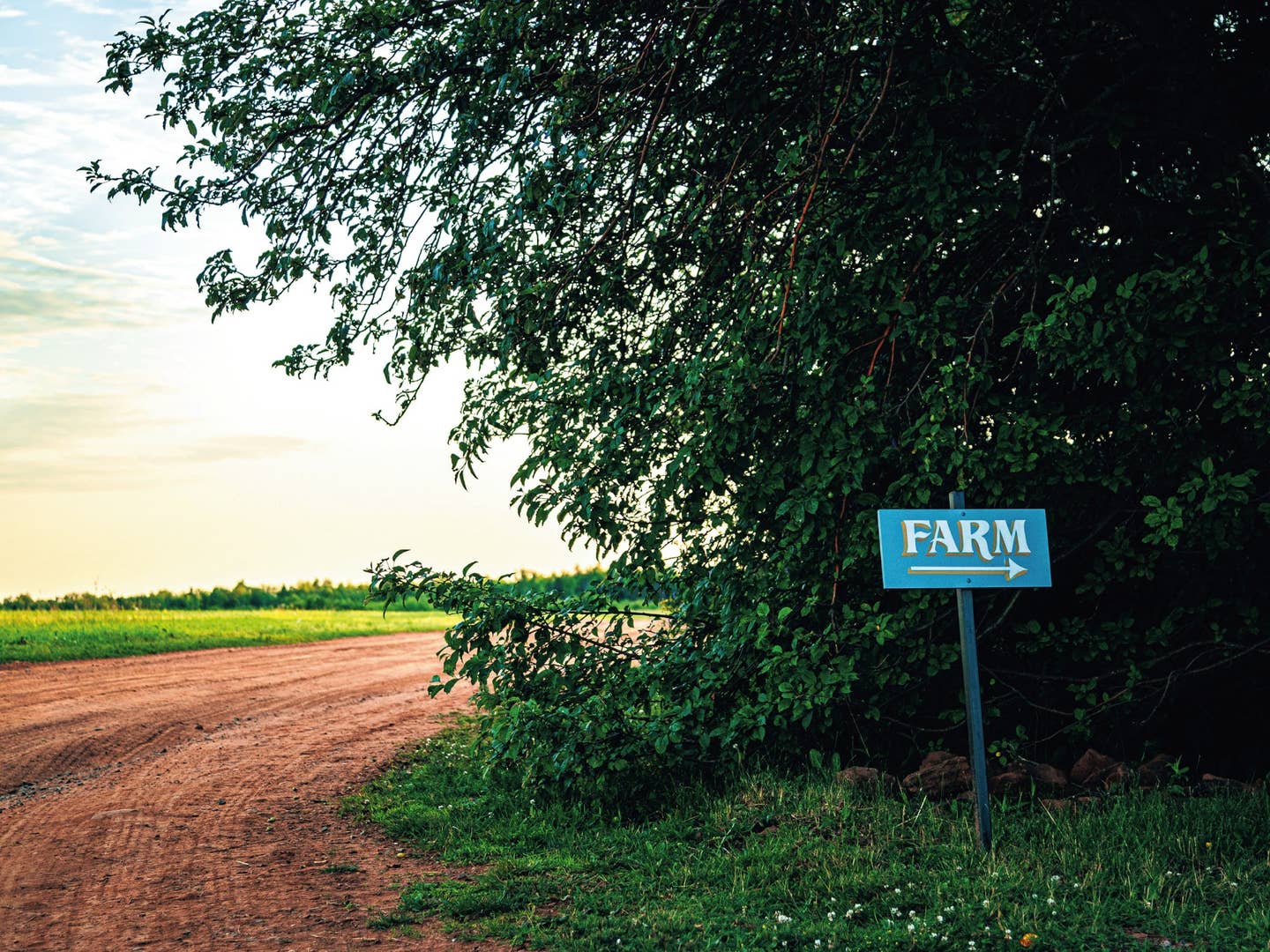 Culture
This Canadian Chef's Coastal Cooking Perfectly Distills Late Summer Flavor
In his new book, PEI-based Michael Smith shares the spark of an idea that led to his now famed fire-side cuisine.
Fortune, Prince Edward Island, has long been a community of hard-working farmers, fisherfolk, and colourful artists nestled around Bay Fortune and the picturesque Fortune River near the eastern tip of the island. In the late 1800s the river was legendary for some of the very best sport fishing in North America. Word reached Broadway, which shut down in the summer before air conditioning was invented. Hordes of out-of-work artists thought a seaside retreat was worth a long journey, so a summer colony of sorts formed along the bay overlooking the Northumberland Strait towards the Atlantic Ocean beyond. In 1910, playwright Elmer Harris was a Broadway legend when he built his cottage on the island. He was careful to include a guest wing for his entourage who would stay for months at a time. A tall tower was built to support a large water tank to create water pressure for his modern plumbing. Over the years that tower became a local landmark.
Several owners and decades later, The Inn at Bay Fortune welcomed its first guests in 1989. It has been open ever since, from May to October each year. In 1992, I was a Culinary Institute of America grad and an apprentice chef in one of the finest French restaurants in New York City. My time in a few fine-dining temples in London and New York had already ignited my passion for great ingredients, but I sensed there was more. I wanted to "meet some farmers and plant a garden." I had no idea what those words really meant when I bet the farm, loaded my old jeep to the scuppers, and headed for a remote island.
I discovered a paradise. A multi-hued bright green patchwork of flavours, fertile soil, fresh ingredients both familiar and obscure, world-class fresh fish, passionate farmers, and a network of farmers' markets. I arrived at the Inn at Bay Fortune for the property's fourth season. As the new chef, I immediately established an herb garden and a small specialty vegetable plot. I tracked down and used in my menus every single ingredient produced on the island, and our experimental kitchen gained an international reputation for regionally inspired cooking. We helped ignite a respect for the ingredients of the island that endures in its many restaurants today.
In 2015, with my wife, Chastity, we debuted the newly imagined property as proprietors, and I returned to my roots as a chef. We spent a long winter renovating and building the FireWorks, imagining what kind of restaurant we'd like to be. The first two broad brushstrokes were easy: let's grow what we serve and let's cook it all with live fire. Who wouldn't want to go to a place like that? The last idea was scary, though. We didn't want to create a normal fine-dining restaurant and be tied to the rules of the à la carte world I had left behind. If we were going to farm, the harvest of the day had to lead the way.
Gradually my idea formed for a shared feast: let's seat everybody together at the same time for a once-a-night communal meal. Nobody got it. I barely got it. I'd never heard of such a place. There was nowhere to go and see how they did it. All I had was my gut feeling that all the family meals I had cooked for so many years meant something. I didn't sleep a lot that winter, and it didn't help when word leaked on the front page of our local newspaper what we were up to. Our first phone call was from a long-time guest cancelling reservations and berating us for ruining what had made the inn special. "Strangers sitting with strangers," they harrumphed. "Imagine!" But we stuck to our guns and somehow opened on time.
Our first night of service was a blur as we discovered all the things we didn't know yet. At the end of the night, though, I knew one thing for sure. Our guests were having the time of their lives. It was a great big raucous kitchen party. They were getting along fabulously. Something was happening that was much bigger than farm-fresh food and live-fire cooking.
Now, as a restaurant with its own farm—encompassing eight fertile acres, multiple herb gardens, various permanent farm beds, five greenhouses, and a small orchard—we are naturally focused on flavour. Because our ingredients are harvested perfectly ripe and served impeccably fresh, they taste amazing. Our harvest is not chemically encouraged or picked underripe so it can survive a long trip to market. Nevertheless, there's a lot more to learn about flavour and a lot more to a farm than just its harvest.
People are drawn to fires. Drying wood for years and tending a fire for many hours for mere moments of flavour seems perfectly natural. Calm and quiet is found in the flames, because to harness fire requires absolute focus. Hours flash by in seconds. You have to be present—for safety, of course, but also for the active creation and control of heat. There are so many constant variables that you have to pay attention. It's hard work, but it's tremendously rewarding. And you smell really good.
This intro has been edited and condensed from the original.

Excerpted from Farm, Fire & Feast: Recipes from the Inn at Bay Fortune by Michael Smith. Copyright © 2021 Michael Smith. Photography by Al Douglas. Published by Penguin Canada®, a division of Penguin Random House Canada Limited. Reproduced by arrangement with the Publisher. All rights reserved.