Recipes
Bacon-Beer Mussels with Fire Toast
A beach camp classic that tastes just as flavorful when made at home (star gazing optional).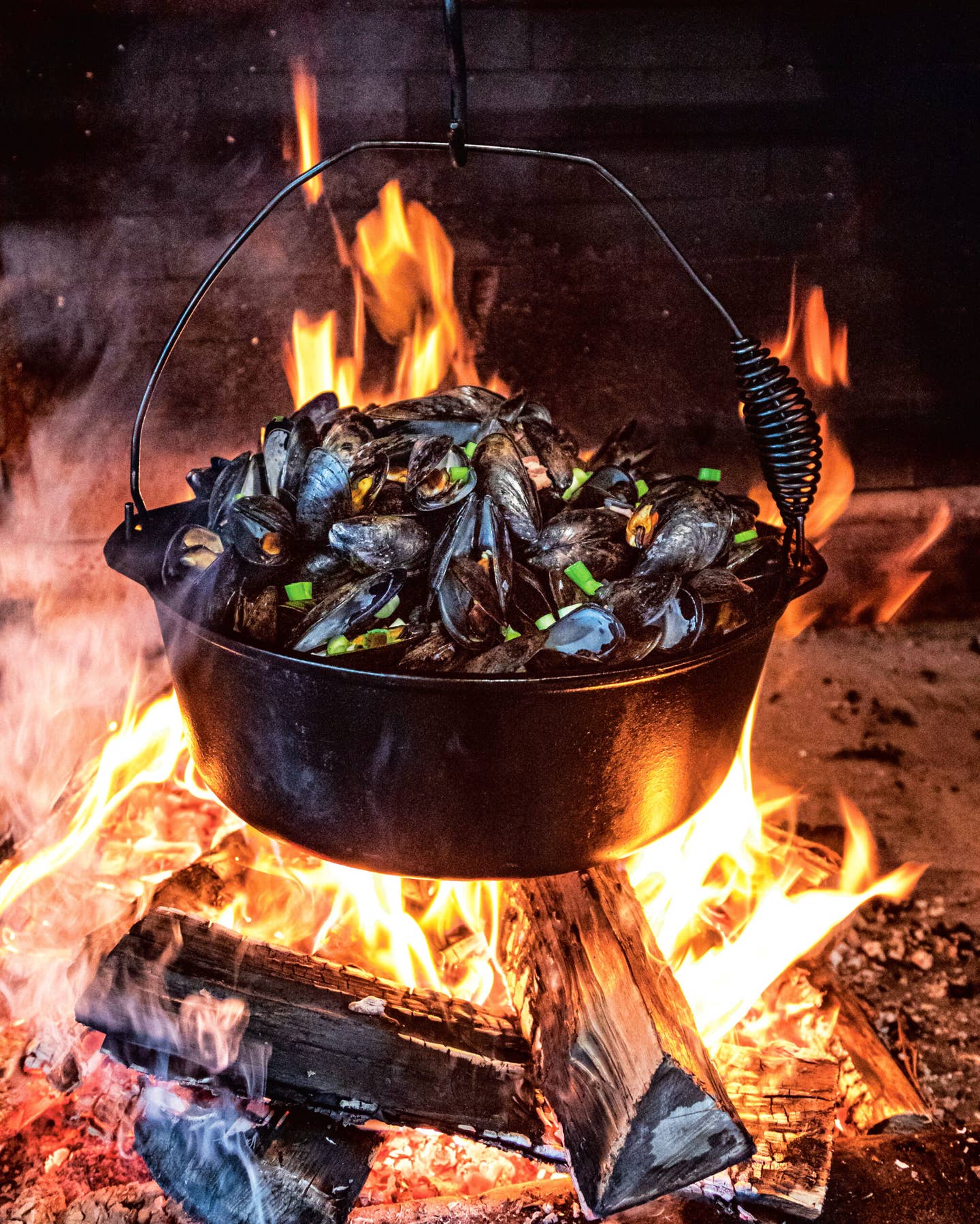 This campfire favorite is a spectacular way to show how tasty (and easy to cook) mussels are. Prince Edward Island is blessed with a thriving cultured-mussel fishery. Since this particular shellfish travels so well, about 99 percent of them head off-island, some no doubt to a store near you. Guests at the Inn at Bay Fortune enjoy the mussels that stay behind in big batches meant to be shared. Sop up the savory broth like they do, with delicious rustic bread transformed by fire-toasting. At the inn, chef Michael Smith steams these mussels in cast-iron cauldrons over a live fire, but the results are equally good over any heat source.
This recipe is adapted from Farm, Fire & Feast: Recipes from the Inn at Bay Fortune by Michael Smith. Copyright © 2021 Michael Smith. Photography by Al Douglas. Published by Penguin Canada®, a division of Penguin Random House Canada Limited. Reproduced by arrangement with the Publisher. All rights reserved.
Ingredients
For the mussels:
4–6 thick bacon slices, cut crosswise into thin strips
1 large yellow onion, finely chopped
10 garlic cloves, thinly sliced
One 12-oz. bottle of your favorite beer or a large glass of red or white wine
A few sprigs fresh thyme, rosemary, tarragon, or oregano
1 tsp. hot sauce
5 lb. fresh mussels, rinsed well and beards removed
A handful of fresh chives or a few green onions, thinly sliced
For the fire toast:
1 loaf of your favorite rustic bread, cut into thick slices
¼ cups extra-virgin olive oil
1-2 garlic cloves, peeled
Instructions
Step 1
Cook the mussels: Build and tend an aromatic fire in your backyard, or preheat a grill to cook with medium-high heat. (Alternatively, use your indoor stove.)
Step 2
To a large pot over medium-high heat, add the bacon and a splash of water and cook, stirring frequently, until sizzling, brown, and crispy, 3–5 minutes. Add the onion and garlic and continue cooking, stirring occasionally, just until sizzling and fragrant, 2–4 minutes more. Add the beer, thyme, and hot sauce followed by the mussels. Cover tightly and steam until the mussels open their shells and release their rich, fragrant broth, about 10 minutes. Discard any mussels that did not open.
Step 3
Meanwhile, make the fire toast: Lightly brush both sides of the bread slices with the olive oil and grill, turning once or twice, until lightly charred all over, 2–3 minutes per side. Firmly rub the surface with a whole garlic clove.
Step 4
To serve, transfer the mussels and their broth to a deep serving platter. Sprinkle with chives and serve with fire toast on the side.