Recipes
Ember-Roasted Oysters with Love Butter
Briney, buttery, smokey goodness in snack-size form.
Serves

makes 48

Cook

30 minutes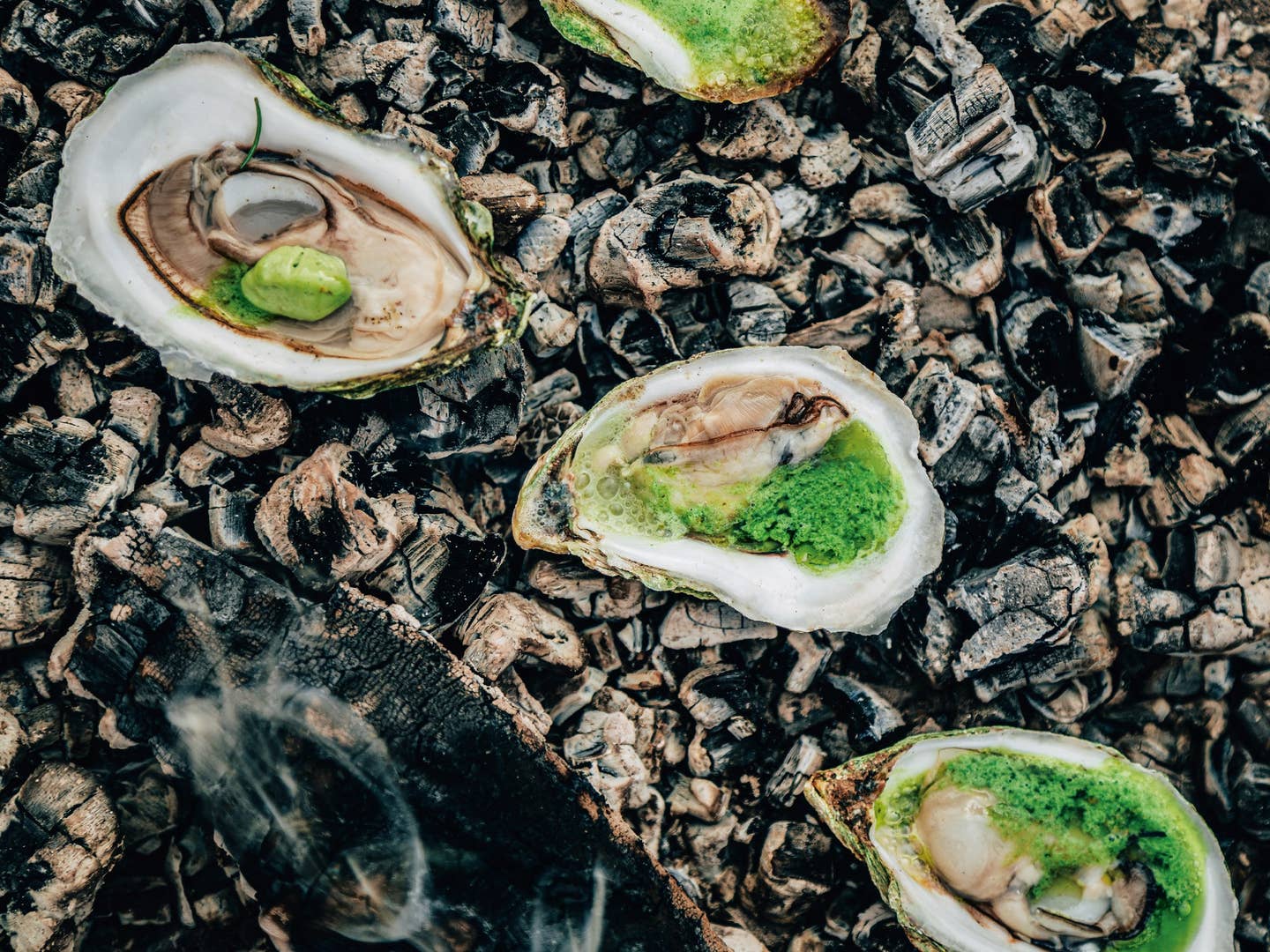 Oysters are always the life of the party. To heat up an extra-special occasion, Canadian chef Michael Smith coaxes a hot wood fire into a warm bed of coals, then roasts local Prince Edward Island oysters directly in the embers. Lovage—a bright green, celery-like herb with sweet anise notes—is a striking addition to the "Love Butter" he adds to the simmering shellfish. If unavailable, substitute scallion greens, fresh tarragon, dill, or even parsley.
This recipe is adapted from Farm, Fire & Feast: Recipes from the Inn at Bay Fortune by Michael Smith. Copyright © 2021 Michael Smith. Photography by Al Douglas. Published by Penguin Canada®, a division of Penguin Random House Canada Limited. Reproduced by arrangement with the Publisher. All rights reserved.
Ingredients
¼ cups loosely packed fresh lovage leaves
16 tbsp. (8 oz.) unsalted butter, softened
48 oysters
Instructions
Step 1
Make the compound butter: Bring a large pot of lightly salted water to a rolling boil. Meanwhile, fill a large bowl with ice water and set a colander in the sink. Remove the boiling water from the heat, then, using a spoon or tongs, quickly plunge the lovage leaves into the hot water, swirling as they brighten and wilt, about 10 seconds. Immediately drain the herbs, discarding their cooking liquid (do not press or squeeze), then transfer to the ice bath, swirling to cool completely, about 30 seconds more. Drain again, without pressing.
Step 2
Transfer the lovage to a blender, add 2 tablespoons of cold water, and purée, scraping down the sides once or twice, to make a bright green, smooth paste. Transfer to a small bowl. Add the butter to the blender and purée, scraping down the sides once or twice, just until smooth. Add the lovage purée and continue blending and scraping until combined. (Do not overblend or the butter will begin to melt and separate.) Scrape into a resealable container and use immediately or refrigerate for up to one month.
Step 3
Build and tend a large wood fire until it subsides into a thick bed of glowing coals. Meanwhile, shuck the oysters, taking special care not to spill their brine. Place the opened oysters on a large platter, using their flat top shells to hold them upright. Top each with a teaspoon or so of the reserved compound butter.
Step 4
Roast the oysters: Using a long pair of tongs, grasp the edge of a shell and nestle the oyster upright into the hot embers.* Repeat until the first dozen oysters are cooking. As soon as the juices simmer gently at the edges (1–2 minutes), remove the oysters from the fire and rest again on their top shells until cool enough to slurp. Repeat with remaining oysters.
*A Safety Note:
What could go wrong? Exploding shells! Forgotten in the fire by a distracted cook. A thicker oyster shell left for too long in a hot bed of coals will eventually dry out and may crack or explode. It's not particularly dangerous, but it is sudden and surprising, and easily avoided by not overcooking the oysters.