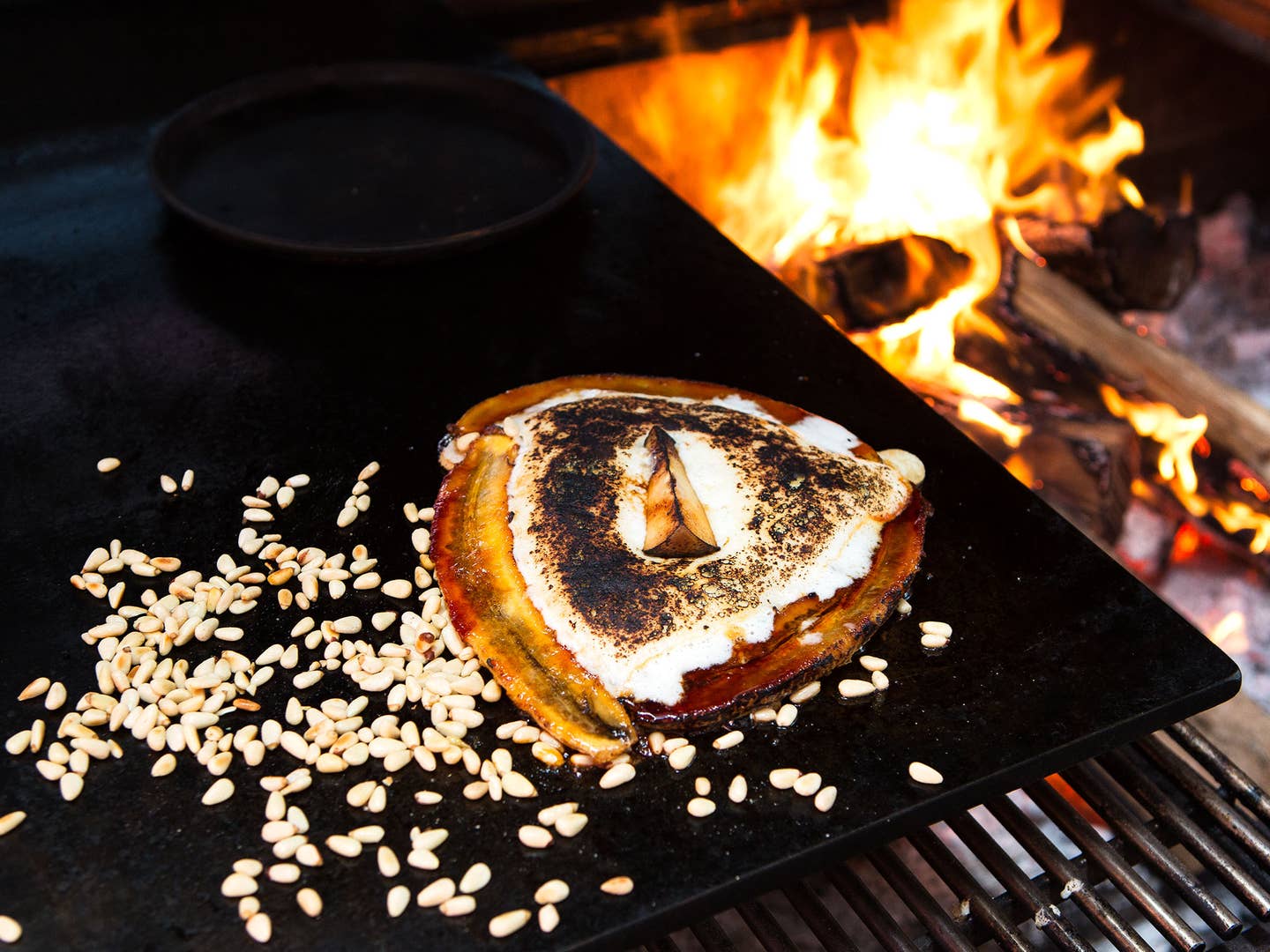 Travel
Francis Mallmann's Case for Burning Your Dessert
The Argentinian missionary of live-fire cooking has some tips for your summer dessert menu. To start: add heat
Desserts made with fire may seem a little outdated—think the flambé craze of the '80s—but Francis Mallmann wants us to set aside our doubts.
"There's this idea that fire is too brutal for desserts, but you can deliciously burn high sugar content fruits that are very ripe," Mallmann says. He's obsessed with scorching peaches, plums, bananas, and pineapples on coals or a griddle, and he regularly uses the tenderness of the fire's ashes to roast a whole watermelon or a bundle of red summer berries. He's also known for grilling a cake after baking it and burning dulce de leche-stuffed pancakes dipped in orange marmalade over a pile of coals.
Before we get to the end, so to speak, we must start at the beginning.
"If I stand up to my thoughts that the true and only reason to eat and drink is to have better conversations, then I should say dessert is very important," Mallmann tells me. "Dessert brings a childhood joy to the table; when courting a lady, dessert brings intimacy; and when signing a contract, desserts bring the last chance of slightly bending with humor the rigid words of the accord."
After fussing with haute French cuisine for two decades, the now 60-year-old firestarter with a passion for open-air cooking stopped the charade at age 40. He reverted to his childhood in the wilds of Patagonia where every basic need in life was met by flame. His career began to revolve around the essence of what was once Argentina's most remote region; the open-fire gospel he learned there became the core of his ethos.
Mallmann sets the scene: "It should be a place outdoors in the comfort of a beautiful shade, with desserts served family-style so guests can go back once again as they please."
I asked Mallmann if he thought applying so much heat to normally light summer desserts was compatible with the sweltering haze of the weather right now. He sees no contradiction, particularly if you have your grill going already. And to cool you off, there's always a dollop of crème fraîche or a scoop of mascarpone.
Here's how Mallmann scorches his dessert.