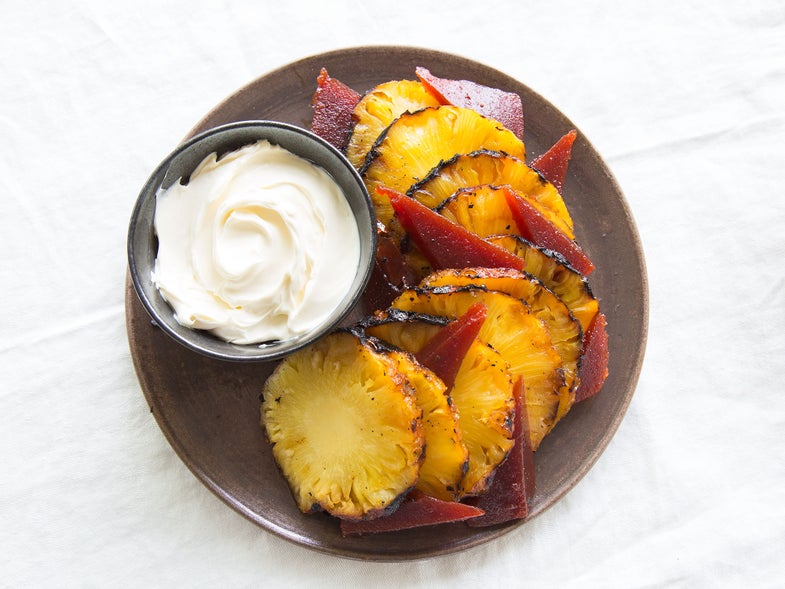 Slow-cooking pineapple whole on the grill concentrates and enriches its flavors while keeping the fruit tasting bright. "The pineapple must be very ripe," Mallmann says. "If not, it's useless. The slower you do it, the better."
Featured In: Francis Mallman's Case For Burning Your Dessert
Four-Hour Pineapple
Slow-cooking pineapple whole on the grill concentrates and enriches its flavors while keeping the fruit tasting bright.
Time: 4 hours, 30 minutes
Ingredients
2 whole very ripe pineapples
3 cups sugar
1 liter Torrontes wine (4 cups plus 3 tablespoons)
2 cups quince marmalade or 2 10-oz. packages quince paste, thinly sliced
2 cups mascarpone cheese
Instructions
Heat a charcoal grill to medium heat, about 350°F. Peel the pineapples, leaving on their leafy crowns.
Combine the wine and sugar in a medium saucepan and set over medium high heat, stirring occasionally to dissolve the sugar.
Plunge the pineapples in the syrup, put them on the grill, and cover. Every half hour for 4 hours, plunge the pineapple back in the syrup and continue cooking, turning occasionally to evenly brown their exterior.
Slice and serve the pineapples with mascarpone and quince preserves.