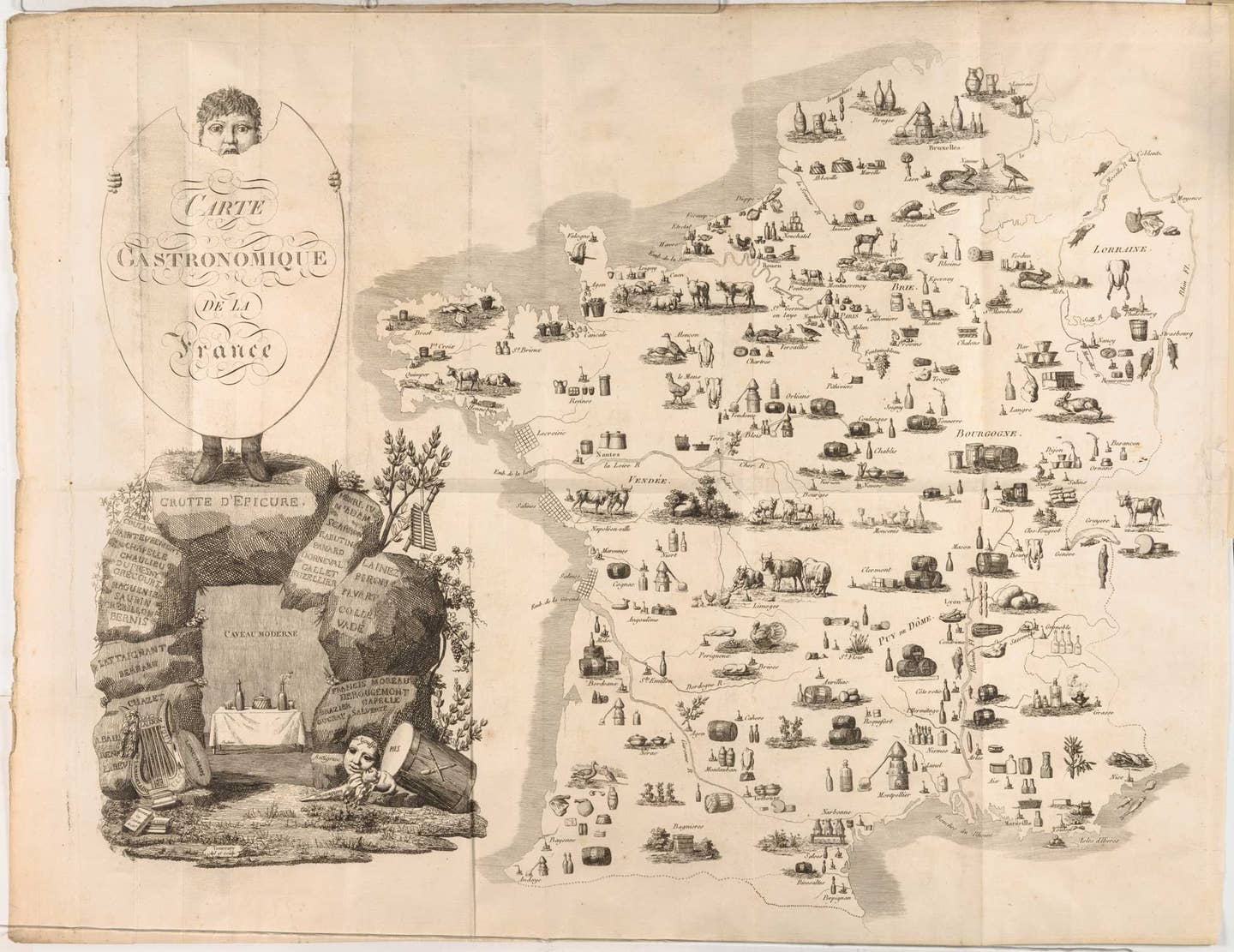 Culture
This 200-Year-Old Map Tells You Where All Your Favorite French Foods Come From
Google maps has nothing on this
Detail-rich printed maps may have fallen out of favor as eyes increasingly shift from paper to screens, but that doesn't mean there aren't still some very very cool maps out there that can't be replicated on Google. Behold: the Gastronomical Map of France, which painstakingly details the origin points of beloved French delicacies, uncovered and explained by Atlas Obscura.
This useful guide was created for the book Cours Gastronomique, written by Charles Louis Cadet de Gassicourt (possibly the illegitimate son of Louis XV, but a totally legitimate writer). But this wasn't just any book; according to Atlas Obscura, "The Cours Gastronomique is dedicated to the Caveau Moderne Society, which saw a group of men get together once a month to enjoy a sumptuous meal, as well as song and wine. This society disappeared and was revived numerous times between 1729 and 1939, and was widely recognized in France and abroad." Sorry ladies, this group was for men only, even though women played a pretty major role in various areas of French cuisine.
The group focused quite a bit on food, since "Cadet de Gassicourt was a fervent believer that the study of food was invaluable to scientific progress. Food was not just a bodily need, but a source of great knowledge for the advancement of society." Amen.
The map shows the major products you can get in France, and exactly where you can get them. Amazingly, although it's over 200 years old, it's still a pretty accurate representation of where to find France's regional products. You can still find roquefort, cognac, and brie in their namesake regions, and Bordeaux's vineyards continue to be a destination for the wine-thirsty.
Of course, it may be more difficult to take full advantage of some of the map's highlights. As Atlas Obscura points out, "modernity has made certain places unfit to continue providing some of these gastronomic products. No one wants Parisian fish taken from the polluted waters of the Seine, and hunting at Versailles has not been a pastime for many years." But even so, it still proves to be a great guide to what cheeses and wines you'll find in various regions. Guess we have to head back to France. Le sigh.