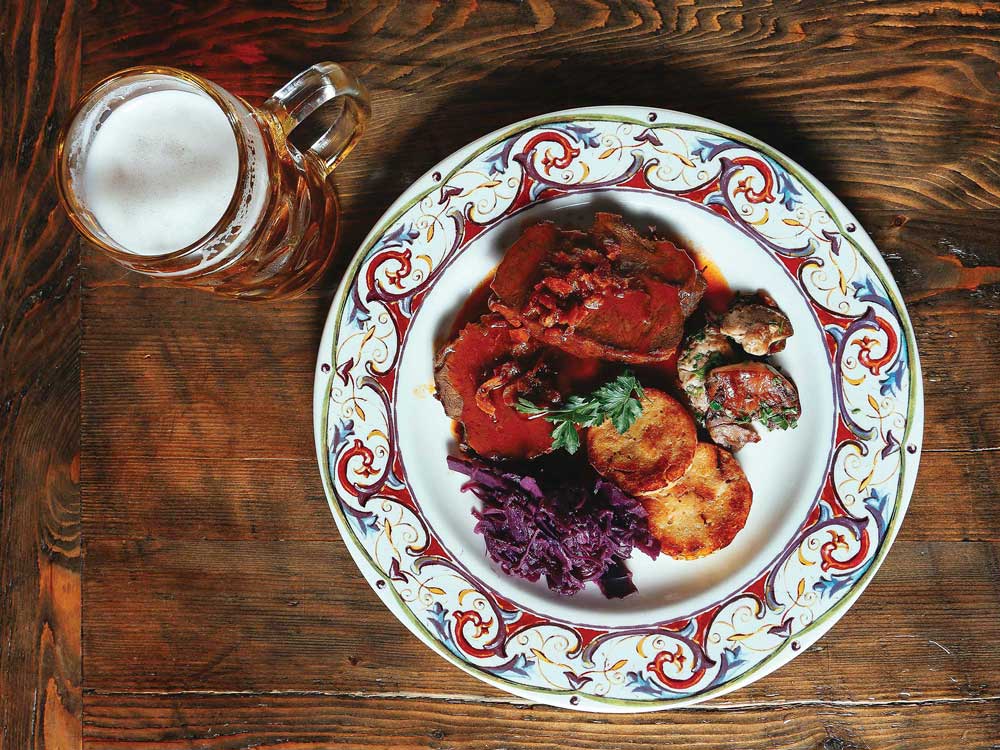 Culture
Mimi Sheraton's Lifelong Love of German Food
The longtime observer of New York's culinary landscape on rouladen, baumkuchen, and other pleasures of German cooking in America
Although I am sure that the first German words I knew were danke and bitte, I doubt that Rouladen, sauerkraut, and marzipan were far behind. Credit for my early fluency goes to one Anna Müller, a Frankfurt-born housekeeper in our Brooklyn home until I was about 7 years old. Cooking was not among her duties, but occasionally she treated us to a specialty she knew we favored. Foremost among them were Rinderrouladen—beef pounded thin, then rolled around bacon strips and minced onions, braised, and finally sauced with aromatic pan juices and sour cream. Anna also prepared sauerkraut to the perfect state she proudly pronounced as "dry but juicy." That was served with various wursts purchased from Trunz, a local German meat shop close to our home and probably the place where I developed an abiding passion for liverwurst in many of its unctuously varied forms. The marzipan came from Königsberg each Christmas as Anna's gift to me. Fitted into a bright red heart-shaped box, the almond paste was baked in the classic Königsberg style to impart a cookielike texture and modify the cloying sweetness that confection otherwise has. The brown glaze on the heart's ruffled edges framed jewel-like dottings of red candied cherries, orange and lemon peels, and glassy, citrine-green angelica. I have often seen it in my dreams.
Having a long history with that lusciously nurturing cuisine, I intermittently missed many of its flavors and textures, not unlike some of the Eastern European-Jewish food that I mainly grew up with: soul-comforting, volcanically hot soups such as cabbage or split pea or cold fruit soups for summer; meats mellowed with softly simmered onion and garlic, the reassuring blush of sweet or smoky paprika, and the airy accents of dill and caraway seeds.
Relief came when I moved to Manhattan in the fall of 1945 and became a frequent shopper in Yorkville, the enclave centered along East 86th Street from Lexington Avenue to First Avenue that was in full flower in the mid 1940s through the 1960s. That long enticing row was lined with the pastry-shop cafés known as Konditoreien, several butcher shops among which the only survivor is Schaller & Weber, and Bremen House, a wonderful upscale grocery palace that featured not only German specialties but French cheeses and pâtés at far below downtown prices. My favorite restaurants were the inexpensive Austro-German Blaue Donau and the elegant Hans Jaeger's, where local Feinschmeckers arranged special dinners in game season.
My pet haunt was Cafe Geiger, frequented during the day by local ladies wearing deep fur felt hats and downing several courses of pastries, a setting that made me feel for all the world as though I were in Frankfurt, the only visible English word being exit. I loved Geiger not only for its best, freshest beef tartare, but for its amazing bakery, the highlights of which were the big, puffy jelly donuts, aka Berliner Pfannkuchen, and the spit-turned batter cake known as Baumkuchen or tree cake. Standing tall, slim, and hollow with crusty ridges, it suggested a tree trunk, and the almond-scented, poundcakelike interior showed toasty rings like the rings of age on a tree trunk cross section. Long gone from New York, delicious Baumkuchen is still turned out year-round at the enticing Lutz Café & Pastry Shop in Chicago. Many of Geiger's other delectables, especially the aromatically spicy Christmas cookies and pungently fragrant Linzer tortes, are now offered by Hans Röckenwagner in his bakery and cafés around Santa Monica, California.
In addition, I frequented many now bygone German and Austrian restaurants outside of Yorkville, most especially the modest Blue Ribbon near Times Square and the convivial Klube's on 23rd Street. But the biggest draw was the venerable Lüchow's on 14th Street, opened in 1882 and close to my Greenwich Village home. I heard my parents talk of it when I was a child and thought it was Chinese but fortunately found out otherwise. That became the place I skimped to afford at Christmastime, when the world's largest decorated indoor tree took center stage and the menu included crisp, golden roast goose served with champagne kraut, to be followed by a rum-scented apple pancake flambéed tableside. Sunday night was celebrity time at Lüchow's, and I once stared in total awe seeing the novelist Edna Ferber in one of the sweeping, large-brimmed felt hats that identified her.
Traveling outside of New York, I always made stops in Chicago at the Berghoff, where I learned to play it safe with wursts on sauerkraut. And when in Milwaukee, I tried to have one meal at Karl Ratzsch's and another at Mader's, both still going strong, by the way.
No surprise then that I welcomed the return of superb Austro-German food when Vienna '79 opened in 1979 on East 79th Street. Operated by Peter Grünauer with Thomas Ferlesch as chef, it introduced a nouvelle style of presentation to reassuringly classic preparations in a smartly urbane, tailored supper club setting. Then the restaurant critic for the New York Times, I awarded it four stars and became a regular until it closed in 1988.
Undoubtedly the biggest breakthrough for Austrian food came to New York in 2000, when Kurt Gutenbrunner opened his stunning modern Viennese restaurant, Wallsé, in a Jugendstil setting.
"I wanted to show Austrian food in a more modern way, a bit lighter and sometimes with nontraditional garnishes, as it was being done then in Vienna," he explained to me recently. With his less formal restaurant downtown, Blaue Gans, which features sausages and a panoply of great crisp schnitzels, and his deliciously old-style fare at Café Sabarsky in the Neue Gallerie, Gutenbrunner, more than any other chef, made Austro-German food relevant to today's innovation-minded audience.
Now, fortunately, there are even more opportunities to have great Austro-German cooking in New York, a testament to the enduring power of its appeal. Grünauer came back last March with Grünauer Bistro, a handsome, tavernlike setting for excellent boiled beef, goulash, and hot and airy Salzburger Nockerl. And even less formal and more lustily authentic is Werkstatt in Brooklyn, where since 2015 Ferlesch has been dishing up puffy dumplings, red cabbage, and sauerbraten. They draw me back to cozy dinners of Rouladen and sauerkraut with Anna, to my native borough.