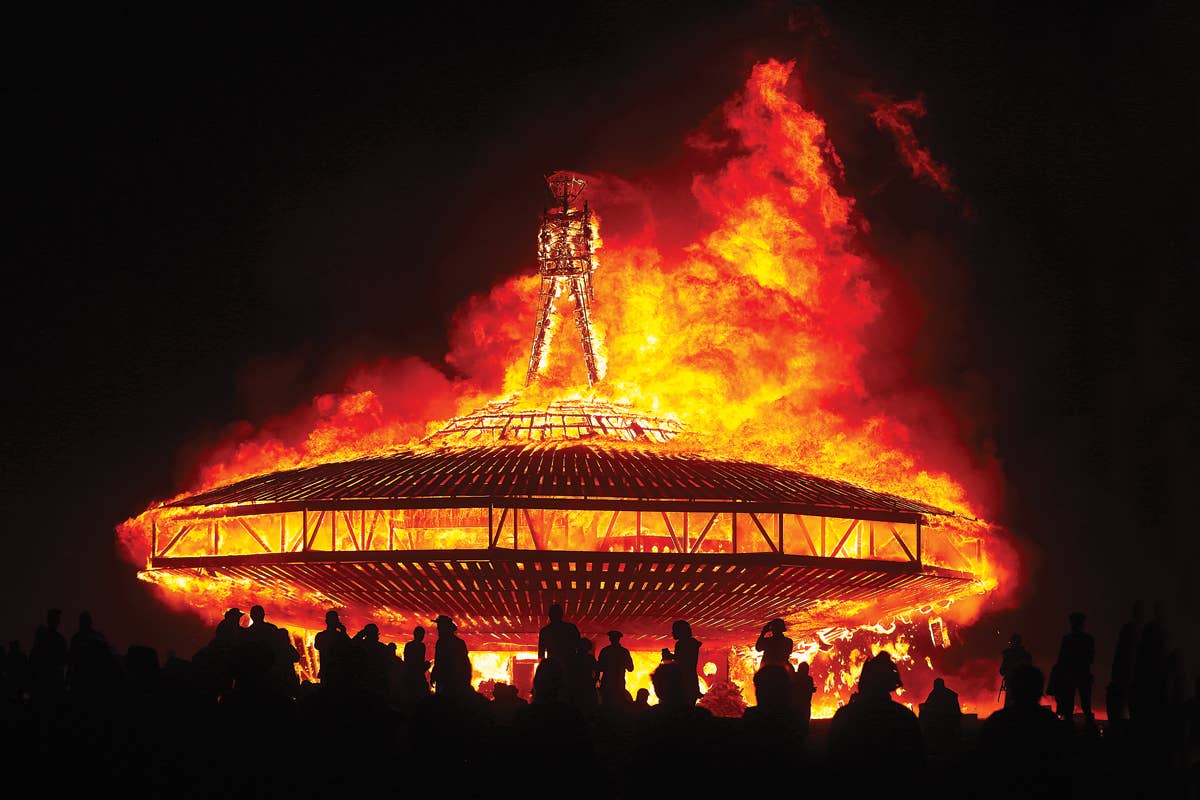 Travel
Fire in the Desert
In desolate northern Nevada, the massive festival Burning Man conjures a weeklong city from thin air, bringing pop-up restaurants, bakeries, and bars to a sandy no-man's-land
Every summer, tens of thousands of "burners" descend on the Black Rock Desert, toting survival supplies for the weeklong performance-art fantasia called Burning Man. Here, across more than 3,500 acres of sand under the relentless August sun, they build massive interactive art installations—a fractal meditation pod made from timber and climbing nets; a fire-breathing dragon that melts down aluminum cans for sculptures; a 21-foot-tall tetrahedron of baseball bats and softballs—and they erect hundreds of themed encampments. At the festival's apex, a 90-foot-tall effigy, The Man, is set ablaze. I've been attending for eight years. Out in the desert, there's no running water or electricity; we bring everything we need in and out: construction cranes, club-quality sound systems, and freezer trucks. Best of all, the whole place runs on a gift economy—no bartering, no buying, only giving—including the "restaurants." I love to explore the culinary camps, where scrappy cooks whip up a bacchanalian spread—North African lamb stew, ice cream frozen on the spot with liquid nitrogen, sushi made from salmon flown to the desert. Festgoers set up countless makeshift cafes, bakeries, and supper clubs where you're free to go in and eat your fill.
Music plays a central role at Burning Man, where revelers like the Mohawked woman at electronic music encampment Distrikt have their choice of dance parties. But camp themes are wide ranging: Last year I came 2,000 miles from my home in New Orleans only to happen upon another French Quarter here. Five hundred people built a fever-dream version from scratch with blue, yellow, and pink pastel facades, and a massive generator powering the enclave. As in the original, food was at the heart of this French Quarter: The Santopalato Supper Club featured a different chef's cooking each night. I traveled there, and everywhere, from my tent using the festival's preferred mode of transportation: a bicycle. It's amazing what you can discover peddling through the dust, like the Pacificana pop-up at Santopalato. Marketing consultant Victoria Davies grilled ginger flank steak and chile-laced sweet-potato cakes over an open fire. Down the street, Darias Jonker and other volunteers at Black Rock Bakery turned out crusty breads from an old airport Cinnabon oven. The efforts of these temporary restaurateurs are astonishing. Yehonatan Koenig, an Israeli-born ad agency director from California, started planning six months out for his special boil dinner, for which he flew in 100 pounds of live crawfish, cooking everything in two 80-quart pots.
Even with room for 68,000, Burning Man sold out last year. It may seem impossible to find anyone or anything in this sprawling temporary "Black Rock City," but it's laid out with street signs in a semicircle around The Man and a central temple. Some camps are mobile, though, setting up off the packed, curving grid of streets in unannounced locations: To find the popular Dust City Diner—a '50s-era greasy spoon run by California artists Michael Brown and David Cole—I biked into the central open sand, searching for its LED sign. At a Formica counter jerry-rigged in a flatbed truck, servers in blond beehive wigs sporting names like Dixie dished out coffee and pancakes on classic blue china. At other eateries, some of my favorite things are the sweets. When you're tussling with sandstorms, you just kind of want a treat—something like Davies' yogurt cake with passion fruit sauce—to keep your spirits lifted and primed for yet another crazy experience on, say, a 30-foot pendulum swing or an animal-shaped art car.