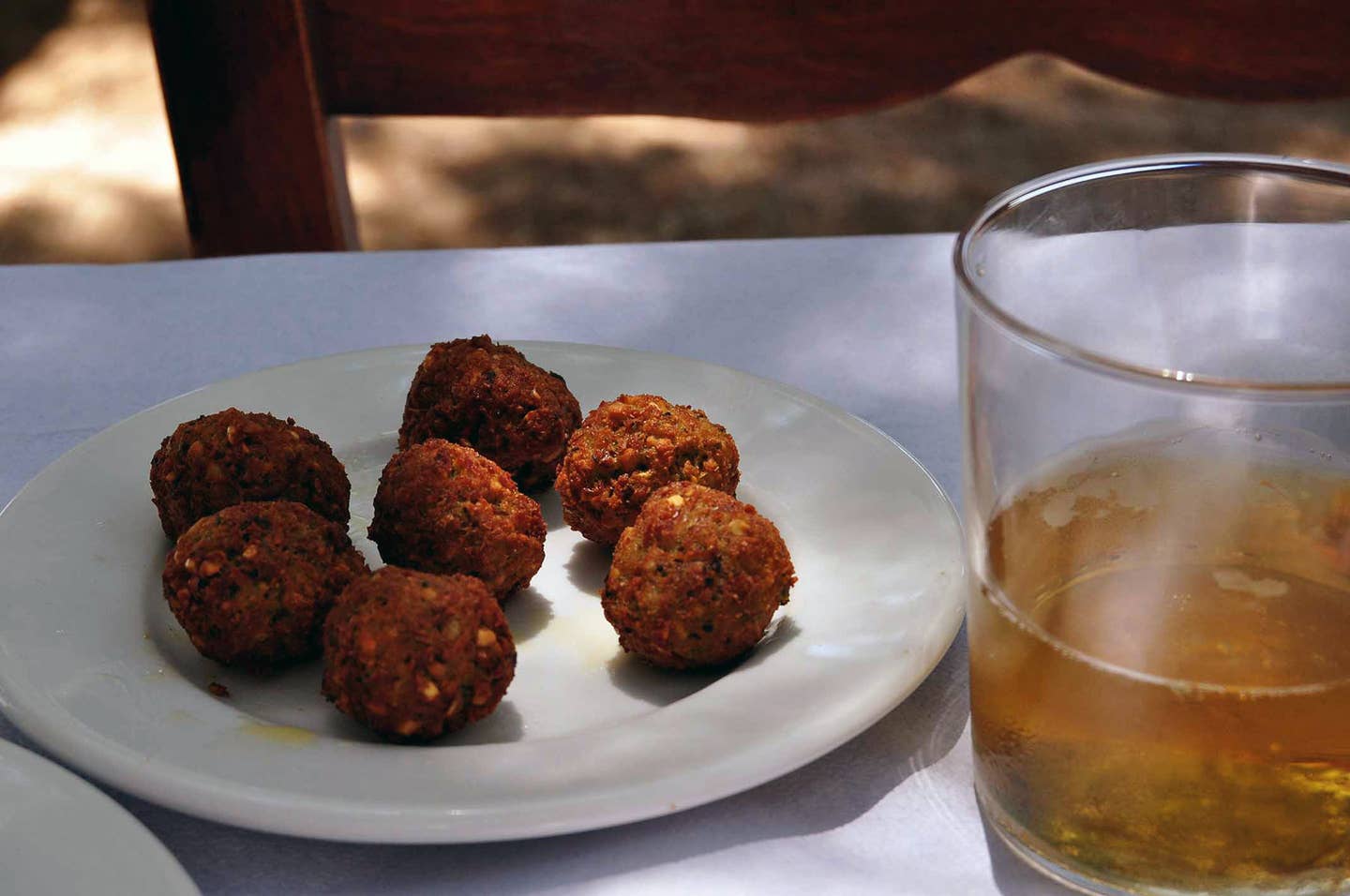 Travel
Nikolaos Tselementes Changed Greek Cuisine Forever—But for Better or Worse?
Exploring the complicated legacy of Greece's first celebrity chef
The Greek language is dizzying in sound and practice, full of intonations and complicated grammar with exception after exception to the okay, generally, this is the rule. Ostensibly, it has a specific word (or five) for everything. Kerasmata is for the treats you serve an unexpected guest who visits you at home—some cookies, perhaps, or a few squares of dark chocolate. Meraki means things done from the heart, with joy and devotion.
But when it comes to the most popular word for cookbook, the name is drawn not from one specific feeling, but from one specific man. "When we tell someone to pass us a cookbook, we say "Dose mou ton tselemente"—a friend tells me one night in Athens, gesturing with the universal sign for "give me." Give me the tselemente. Though there is another word for cookbook—vivlio mageirikis, which literally means "cooking book"—tselemente is the most beloved, historic even. "If you ask someone older for a vivlio mageirikis, they'll just stare at you and say, 'You mean a tselemente?'" says another friend.
The word "tselemente" draws its associations from Nikolaos Tselementes, considered the most influential chef in Greek history. Born in 1878 on the island of Sifnos, Tselementes later studied cooking in Vienna and worked in the U.S. before returning to Greece. In 1932, he published Odigos Mageirikis, the first complete cookbook in Greece, where recipes—up until that point—had typically been handed down orally. The book was a commercial bonanza, so much so that Odigos Mageirikis had 15 official reprints in the decades following.
Though Tselementes was a mainstream success, some saw his recipes as tainted by ingredients and practices that are distinctly not Greek, including the French preparation for dishes like bouillabaisse and béchamel, the idea of canapés, and recommendations to replace olive oil with butter. And by including these recipes in his cookbook, which has been found for decades in seemingly every kitchen and every corner of Greece, Tselementes forever changed the arc of the country's cuisine—but whether that's a good thing or bad thing depends on whom you ask.
Sifnos sits between Milos and Serifos in the Cyclades chain, approximately 80 nautical miles from Piraeus, Athens's most popular port. The sleepy, whitewashed town of Exambela, where Tselementes was born, is today divided by one of the island's major thoroughfares. On one side sits a cluster of houses with a neat church in its folds, steps up from a small field. On the other, homes rise in twists and turns around a maze of small streets and alleys. There is no fast food here, no gym. Exambela, unlike the Chrysopigi Monastery, the soft-sand beaches of Cheronissos and Vathi, or the island's 360 churches—one for nearly every day of the year—is rarely mentioned on any of the Sifnos to-do lists.
And yet. It's from Exambela that annually, the Nikolaos Tselementes Gastronomy Festival begins one of its traditions: a mock wedding procession marrying tradition with history that weaves its way nearly one mile along Exambela's curves to the town square in the nearby village of Artemonas, where the festival has been held each year in September since 2007. It's the most popular event on Sifnos, and representatives from islands from all over Greece come to set up stalls and showcase their local foods, says Giannis Artsis, the mayor of Artemonas and the vice president of the Sifnos Cultural Association, which puts on the festival.
Still, it's Sifnos that has some of the country's strongest food traditions, and it's Sifnos that has a distinct way of cooking many of its dishes. In large part, much of what informs the island's traditional food starts with its soil. It's from this land that red clay has been pulled for centuries, spun and shaped into jars, pots, and cooking vessels. Because Sifnean pottery can withstand high levels of heat, it meant dishes could be shoved directly into wood-burning ovens and left to simmer for six, seven, eight hours. Overnight, even. Revithada—traditional chickpea stew—and mastelo, lamb with wine and dill, were born.
Sifnos has around 2,500 full-time residents, and most of them are intensely proud Tselementes is from the island, from the woman sweeping the halls of the cultural center to the men weighing luggage at the airport. "When people ask us which area in Greece we're from, we say, 'Sifnos—the island where Tselementes originates,'" says a waiter at the family tavern To Kelari, which has been serving traditional Sifnean dishes since 1988. When I asked Maria Menegaki, the chef and owner of Leonidas Restaurant in Kastro, about the festival, she replied with a shrug: "We're proud of Tselementes. What else to say about it?"
For others, there is something more to say. George Narlis, who offers traditional cooking classes at his family farm outside the island's capital of Apollonia, says Tselementes's ideas about Greek cooking changed when Tselementes spent time away from the island—in those kitchens in the U.S., in Europe. And because of this, Narlis, who spent three winters learning traditional recipes with the older women of Sifnos before opening his restaurant, Nus, in Platis Gialos, says it altered the way things had always been done. Small differences, maybe, but still.
"Many of these women would pay a visit to Tselementes when he returned [to Sifnos] for vacation and give him something—some cheese, some tomatoes—and say, 'Give me one recipe.' And he would say, 'Ok, what are you putting inside your revithokeftedes [chickpea balls]? What about revithada?' The women would tell me these stories. We are a small island, and everyone learns from everyone else. So very fast, everything changed," says Narlis.
Narlis isn't alone in his concerns. The first Tselementes-related memory Greek food writer and journalist Aglaia Kremezi has is from her childhood, when she was in the kitchen of her grandmother's house with her aunt. "They were correcting their recipes according to Tselementes, and they had all these feuds between them: 'Shall we make the pastitsio the way Tselementes makes it, with béchamel, or with phyllo, as makaronopita, as it's been made?'" she says.
Since then, Kremezi, who has written multiple cookbooks and runs cooking classes at her home on the island of Kea, has become one of Tselementes's biggest critics. "I heard about how these recipes demoralized the cooks, especially urban Greek cooks. They thought they had to follow his steps and forget the simpler things they used to cook. In the beginning, when I started saying these things [criticisms], people—including my family—would say, 'How dare you say things like that. Tselementes is the best thing that ever happened to Greek cooking.'"
"I don't dispute that he was a talented cook," continues Kremezi, who says she thinks moussaka is Tselementes's best contribution to Greek cooking. "But I don't find his recipes very inspiring. And I don't know how things would have evolved if he wasn't such a big influence."
Lila Karapostoli, the author of Traditional Tastes of the Aegean and founder and culinary manager of the Athens-based cooking school Mathimata Mageirikis, says many of Tselementes's changes were the result of his personal taste.
"Nutrition as a cook's obligation to bring both good taste and health to people, excellent service techniques and manners for housewives, light cooking by avoiding greasiness and over-spiciness are principles continuously mentioned in his book," she says. Karapostoli, who calls Tselementes one of the "first visionary cooks in Greece," says that while she believes he left a great legacy to Greek people by refining some of the country's cooking methods, it had a ricochet effect: because traditional cooking methods were often cast aside, whatever was not registered in books, articles, and research became hard to remember and uncover.
Still, she doesn't blame Tselementes for this. "I always felt that modernity steps on tradition, otherwise the future is not possible," she says. "It is our duty to have recorded, registered, and kept all the traditional elements of our culture and exercise them in our daily lives, so they are not forgotten in the future."
Ilias Mamalakis, one of Greece's foremost culinary experts, who has studied Tselementes, agrees. "People accuse him of distorting tradition, which is wrong," he says. "The kitchen evolves."