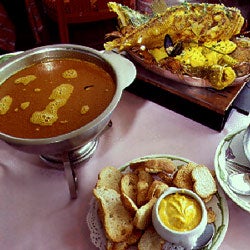 Bouillabaisse
The secrets to making an authentic bouillabaisse are few, but inviolable—use a good variety of fish, and a good fish stock.
Ingredients
1 24" baguette, cut into 1⁄2"-thick slices
7 cloves garlic, peeled; 2 left whole, 5 crushed
1⁄2 cup extra-virgin olive oil
2 medium yellow onions, peeled and sliced
3 sprigs fresh parsley
3 sprigs fresh thyme
1 bay leaf
1⁄4 cup fennel tops or coarsely chopped fennel bulbs
2 lb. new potatoes, peeled and sliced
1 1⁄2 lb. tomatoes, peeled, seeded, and chopped (or left whole if small)
5-6 lb. cleaned assorted fish, whole if small (rascasse, congre, baudroie, saint-pierre, galinette, chapon—or red snapper, sea bass, tilefish, grouper, striped bass, monkfish, halibut, cuttlefish, squid)
16 favouilles (small Mediterranean crabs), optional
16 mussels, scrubbed and debearded
2 1⁄2 qt. <a href="https://www.saveur.com/article/Recipes/Fish-Stock">Fish/ Stock</a>, warm
1 tsp. crumbled saffron threads
1⁄2 cup Pernod
Salt and freshly ground black pepper
<a href="https://www.saveur.com/article/Recipes/Rouille">Rouille</a&gt/;
Instructions
Preheat oven to 350°. Place bread on a cookie sheet and toast until golden, about 10 minutes. Rub with whole garlic while warm. Set aside.
Pour 1⁄4 cup of the oil into a 10–12 quart pot. Add onions, crushed garlic, parsley, thyme, bay leaf, and fennel. Add potatoes, then tomatoes. Add large, whole, and firm fish; then smaller, more delicate fish; then favouilles, if using, and mussels.
Pour in stock and remaining 1⁄4 cup oil. Add saffron and Pernod, season with salt and pepper, and place over high heat: Ingredients will cook as bouillabaisse comes to a boil. Start checking after about 5 minutes and transfer seafood as it cooks, then potatoes, to a platter. (Discard any mussels that do not open.) This can take up to 25 minutes, depending on age of potatoes. Strain soup, and, for the first course, spread rouille on toast, place 3 pieces in each warm soup bowl, and add soup. For the second course, serve a platter of fish and potatoes at room temperature. Moisten with additional soup and add a dollop of rouille, if desired.