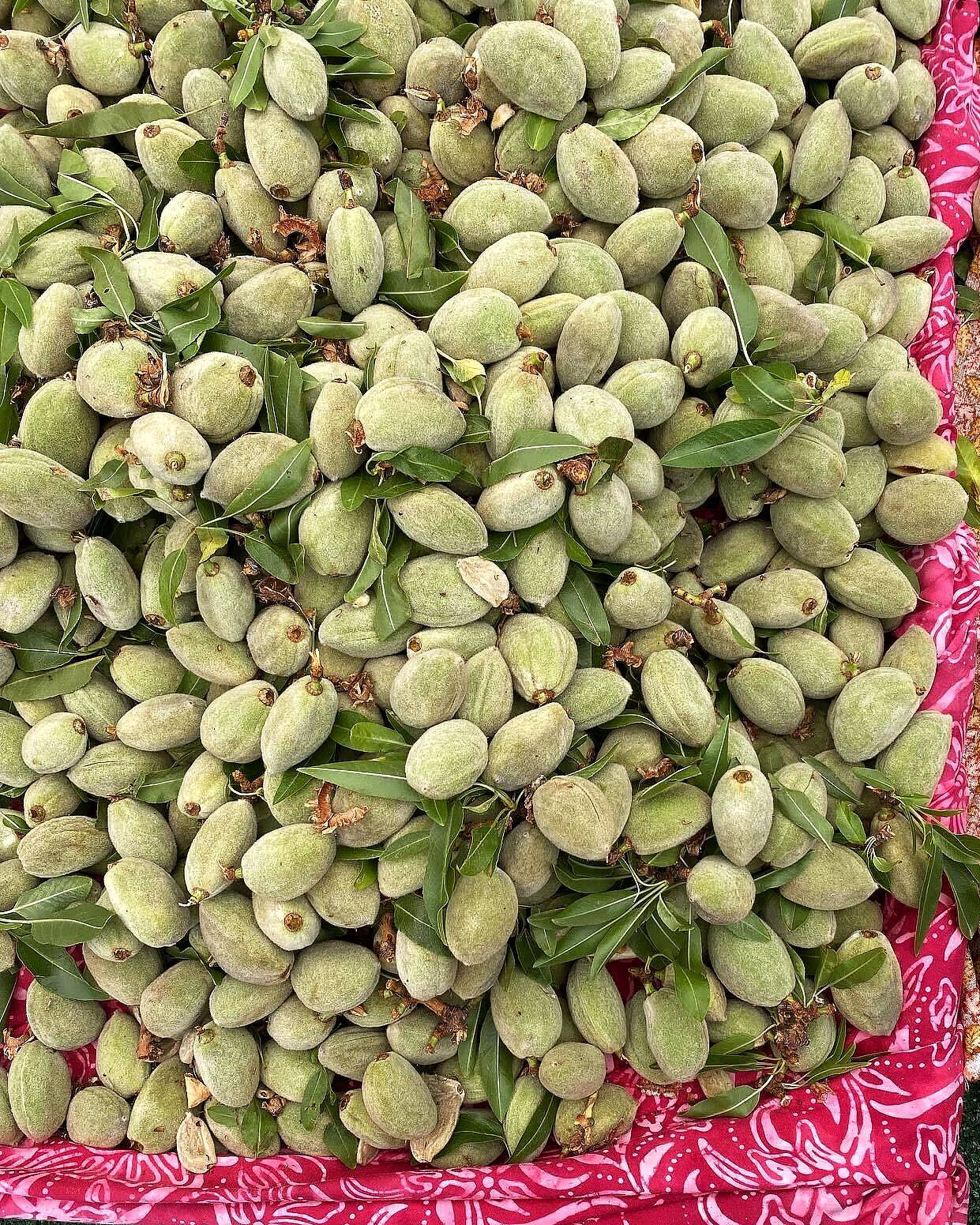 Culture
Green Almonds Are the Super-Seasonal Taste of Spring to Eat Right Now
The tart green pods are only around for a few short weeks. Here's how to cook with them.
Right now I'm relishing all the signs of spring that I can eat. Asparagus and ramps are finally at the local farmers markets, rhubarb is on the way, and I just stumbled upon green almonds yesterday, a sight that perked me up more than any amount of caffeine possibly could.
If you've never had them, green almonds are fuzzy green orbs filled with soft jelly-like skinless almonds—soft and delicately nutty with a wholly different texture than fully mature almonds. When fresh, they can be eaten whole. They're crunchy, tart, and reminiscent of unripe peaches (in a good way!). When the outer layer is removed, the young almonds are delicate, milky, and subtly floral and grassy.
Leave a green almond on the tree and it loses its fuzz, hardens, and turns brown. Crack the hard outer shell and you'll find a conventional, crunchy almond you're likely very familiar with. (Fun fact: Botanically speaking, almonds aren't nuts. They're actually stone fruits, and the almonds we all snack on are the seeds within the stones of the fuzzy green fruit.)
Where to Buy Green Almonds
Green almonds typically pop up at farmers markets and specialty stores in early spring, and only stick around for a few weeks, so they're an extra special treat if you can find them. (Here in New York, they're available at Eataly, Kalustyan's, and Sahadi's.) They can be stored in the fridge for up to three weeks, but you'll want to be sure to taste them as time passes—the longer they sit, the more likely it is their outer husks will harden and turn bitter, in which case you'll need to discard them and only eat the tender stones inside.
Green almonds are super versatile. I love eating them whole, pressed into flaky sea salt. I also love them with cheese and cured meats. You can chop them up and toss them into salads, or make a chunky, pesto-y sauce by mixing them with herbs, garlic chives or green garlic, and olive oil (spoon this over asparagus, eggs, or fish). Pickle them, even!
They're good on sweet things, too. A simple dessert could be some dates, green almonds, and flaky sea salt. Tarts and ice cream can benefit from some chopped green almonds sprinkled on top.
I'm also obsessed with pairing green almonds with ricotta and honeycomb, a tip I picked up from the Ducksoup cookbook (another recent obsession). And one of my all-time favorite ways to eat them is poached in olive oil and showered in fresh dill. I first tried them this way at a restaurant in Istanbul and immediately asked for the recipe, which I've been using ever since.