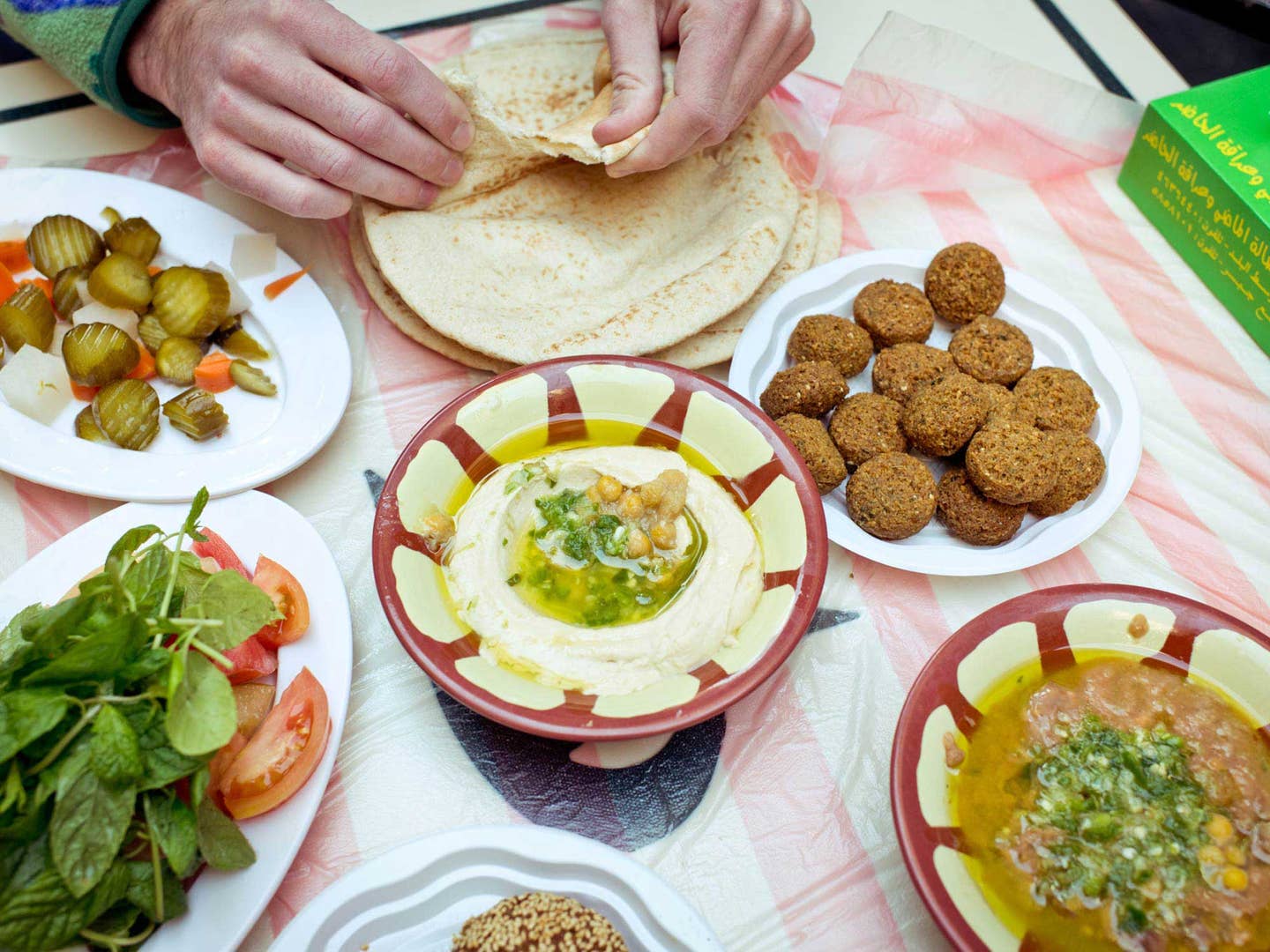 Travel
Everybody Loves Hashem: The Always Busy, Open-Air Jordanian Lunch Spot with No Menus
Tourists and locals alike gather at Hashem in downtown Amman, an unenclosed restaurant where the waiters just guess at how much falafel they think you can eat
On any given afternoon in downtown Amman, there's someone standing outside the awning of Hashem, gawking as a towering tableau of food unfolds in full view, the heady smell of frying falafel having stopped them in their tracks. The 24-hour restaurant is a diner, a tourist destination, perhaps even a heritage site. For decades—almost as long as modern Amman has been modern Amman—Hashem has served Jordanian royals and backpackers alike. It's a one-word reference in Amman; if you're taking a cab into downtown, just saying 'Hashem' works better than an address. Everybody knows Hashem, but unlike most restaurants whose illusory appeal dissolves as their notoriety grows, everybody loves Hashem, and everybody wants to have lunch there.
Hashem doesn't feel like a restaurant. It's an open-air space with plastic tables and chairs, sandwiched between a front room decorated with framed photographs and newspaper clippings, and a counter space with vats of hummus and baba ghanoush for takeaway orders. Seating extends into another space that looks more like a garage than the dining room of one of the most well-known restaurants in the country.
At lunchtime, Hashem is a scene of frenetic energy: Waiters stride through the haphazardly placed tables, turning out falafel onto plates, doling out hummus into takeaway containers and bowls. Eating lunch at Hashem means trusting in its history and reputation: There are no menus. They serve only the basics: hummus, falafel, fuul, a spicy dish of fava beans and in recent years, they've added French fries, baba ghanoush, falafel sandwiches, and fatteh, chickpeas in yogurt sauce There are also no serving sizes, and no price lists.
People place their orders: "Sahan falafel, fuul, hummus, batata," (a plate of falafel, fuul, hummus, fries) to servers who take no notes and ask no questions. With a look, the server simply sizes up the diners, gauging their appetites—perhaps with a knowledge honed from serving people 24 hours a day, seven days a week—and with just one trip manages to provide enough hummus and freshly fried, crisp falafel that one rarely needs to ask for seconds.
Hashem deftly balances its position as both tourist trap and beloved local hangout, perhaps because it makes no concessions to anyone: Everyone gets treated and served exactly the same.
Servers keep an eye on the entrance and the rapidly filling tables as the diners flood in: a family of six, young teenagers flush with independence, a group of tourists, wide-eyed and wrapped in long scarves. Seating is limited, yet Hashem rarely turns people away. Chairs are crammed up against the kitchen, outside under umbrellas, next to the front room with a view of the vats, squeezed into any available nook. The servers lay out a plastic sheet on the table, then place in quick succession: paper place mats, a basket of bread, a plate of mint leaves and onions, a bowl of shatta, chili sauce, salt. He comes back with the distinctively patterned clay bowls of hummus and fuul, and a plastic plate of falafel.
"Shai?" he asks, hailing a guy delegated to toting trays of tea around the space. Plastic cups filled with hot black tea are deposited on the table to be drunk with the torn mint leaves and heaped spoons of sugar.
"Sahha," he says—bon appetit—and rushes to the next table.
He comes back almost as soon as the table's finished eating. He takes away the bowls, then sweeps the entire plastic mat off, crumbs, cups, and all, clearing the spot for the next group looking for lunch, lured in by the smell of falafel.