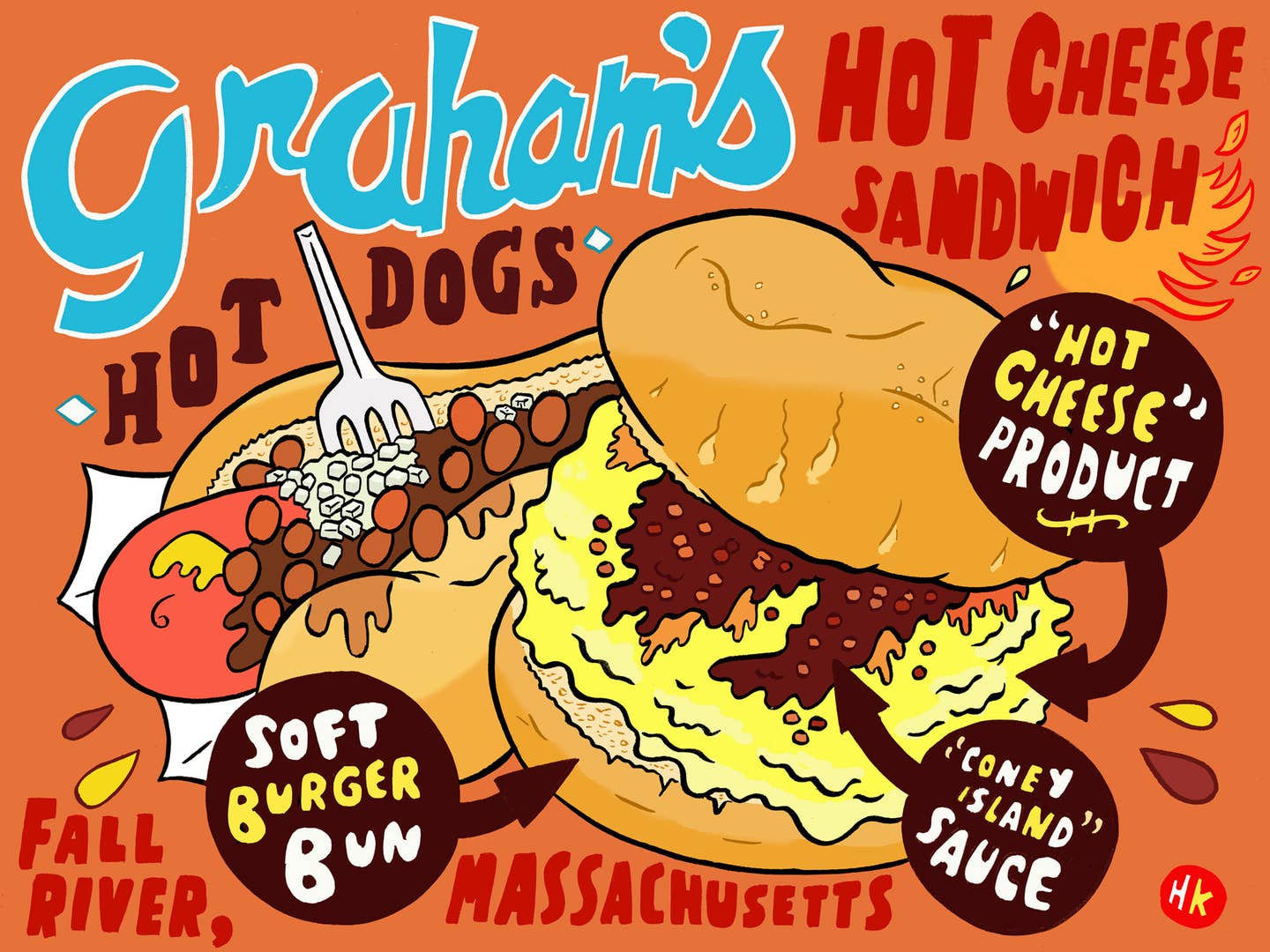 Travel
Every Small Town Should Have a Hot Cheese Sandwich Joint
No, not a grilled cheese—this salty, gooey cheese spread on a bun, hot dog, or french fries only comes from one small town, and Graham's is the place to get it
Welcome to Hawk's Illustrated America, a monthly series following illustrator Hawk Krall's journeys through the back roads of the U.S. in search of our country's most obscure and delicious regional specialties.
Fall River, Massachusetts is food mecca of sorts, but not in the way you may expect. There are no sleek coffee shops or modern-rustic restaurants in this sleepy, somewhat rundown fishing village. But there is a wealth of hyperlocal delicacies: chow mein sandwiches, chourico rolls, hot weiners, "marinated" hamburgers, Syrian meat pies, and linguica bakery pizza.
Even in this culinary twilight zone, where American lunch counter cuisine mixes with New England seafood and influences from China, Greece, Portugal, and the Middle East, one particular oddball dish stands out: the legendary hot cheese sandwich.
Know this: A hot cheese sandwich is not a grilled cheese, as the bread is not toasted in a pan. Nor is it a cheese sandwich as you and I know it. Here in Fall River, "hot cheese" is a custardy, semi-liquid product that looks a little like scrambled eggs. Said product then gets placed on a burger bun and handed over to you. It's delicious, and Graham's Hot Dogs is the place to get it.
"People think it's mashed potatoes," laughs owner Linda Seidl, who runs Graham's with her son. "The base is a sharp cheddar cheese. That's all I can tell you!" It's served like a hamburger, on a soft bun, topped with either Coney Island-style meat sauce or a combination of mustard, onions, and relish.
Imagine sharp, salty cheese grits without the grits, maybe fortified with a little whipped cream or butter for structure, and you can appreciate the beauty of hot cheese, or "chopped cheddar" in Fall River lingo. It's satisfyingly oozy but doesn't run all over the place, and it's firm enough to support toppings usually ladled over a hot dog.
Graham's also spoons the cheese goo over hand-cut fries along with their Coney sauce, and offers it as a topping on burgers and hot dogs. But the classic hot cheese sandwich—the original formulation, the way god intended you to eat it—is by far the most popular. It's one of the top sellers on the menu, and the one that draws fans from all over. "It's most popular with older people," Linda explains, "usually with just mustard, onions and relish."
Today in Fall River, Graham's is a hot cheese legend, but it isn't the originator of the concept. "We stole it," Linda says with a laugh. "There used to be hot cheese carts all over downtown that sold the sandwich," and it became a staple of every Coney-style hot dog shop in the area, of which there are many. Linda laments that only four or five decades-old hot dog joints remain. Still, most towns way larger than Fall River would be lucky to have one.
Graham's opened in 1962, by the original Graham who started with a menu of Fall River standards like Coney dogs, fried seafood (still popular, especially during Lent), chourico, baked beans, and of course the hot cheese. Linda's in-laws bought the business two years later (it's unclear what happened to Graham) and it's been in the same family for decades. It's a funky little place with old photos of JFK and cats on the wall, and a line of classroom-style desks for solo diners alongside some tables. The hot dog grill sits in the sidewalk-facing window to draw in passers by.
There's more to the place than hot cheese. The Coney dog is good; getting it topped with the baked beans is better. True to Fall River's multicultural melting pot, Graham's also does a dog made of local Portuguese sausage that you can get chopped with fries. There's also something called a whimpy burger—another semi-forgotten Fall River specialty that consists of a marinated burger patty that's braised for hours with onions and gravy until it's fall-apart tender. Almost everything at Graham's is homemade.
You could spend a week's worth of meals eating your way through Graham, appreciating delicious regional spins on hot dogs and burgers. But there's nothing like their glorious hot cheese anywhere else on Earth. Try it with relish, try it with Coney sauce, try it on some fries. Just don't pass by Fall River without experiencing the magic of hot cheese.
Hawk Krall is an artist, illustrator, and former line cook with a lifelong obsession for unique regional cuisine, whose work can be seen in magazines, newspapers, galleries, and restaurants all over the world. He focuses on editorial illustration, streetscapes, and pop-art style food paintings.