How to Eat Your Way Through Chicago Like a Chef
This year's James Beard award-nominated chefs share their must-visit restaurants in the Windy City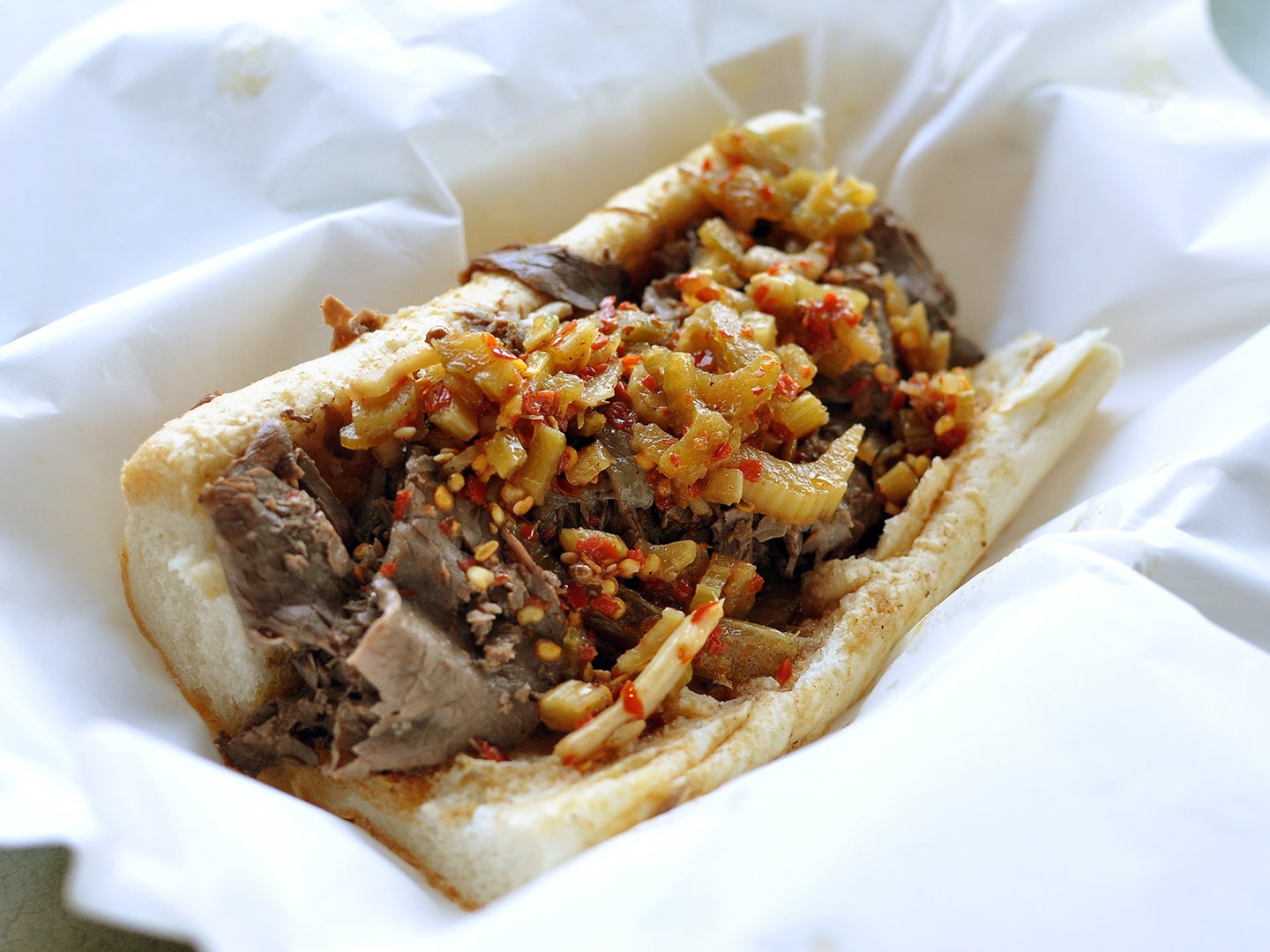 As chefs, bartenders, sommeliers, and restaurateurs from around the country descend on Chicago for the James Beard Awards (the Oscars of the food world) tonight, the Windy City is getting ready to feed them. While the ceremony at the historic Civic Opera House is the main event, nominees typically extend their stay in the city, making the most of their time away from the kitchen and taking in as much of the local food scene as possible.
It's no secret that restaurant folks can be tough critics, but they are also the food world's most beloved guests. They have an acute understanding of the effort that goes into creating a memorable dining experience, and a knack for zeroing in on the most exciting food wherever they happen to be—which is why they're the best people to ask for restaurant recommendations. We ended up doing just that in Chicago this year—here are the top picks from some of the 2019 nominees.
Greg Wade, head baker at Publican Quality Bread in Chicago (Outstanding Baker nominee), counts farm-to-table pioneer and neighborhood institution Lula Cafe among his personal favorites because "it's hyper-seasonal, and they're thoughtful about their food and their sourcing, and execute at a high level."
Ellia and Junghyun Park, owners of Atomix (Best New Restaurant nominee) and Atoboy in New York City: "It will be our very first time in Chicago, and we are excited to experience the city's restaurant scene. Dining at Alinea has always been our dream; it has been the most inspirational restaurant for both of us."
Miles Macquarrie, beverage director-partner at Kimball House in Decatur, GA (Outstanding Bar nominee): "I'm going straight to Al's for Chicago's O.G. Italian Beef."
For Macquarrie, no trip to the Windy City is complete without an Italian beef at Al's, a local chain (some Chicagoans swear only by the original Taylor Street location) that makes one of the best iterations of the regional sandwich. Thinly shaved roast beef is soaked in its pan juices and served on an Italian roll with roasted peppers ("sweet") or the spicy pickled-vegetable relish condiment known as giardiniera ("hot")—be sure to brush up on the ordering lingo before you go.
Zachary Golper, chef-owner at Bien Cuit in Brooklyn, NY (Outstanding Baker nominee): "When I was in Chicago recently, I failed to find the time to get over to Tank on Argyle Street. I intend to get my Vietnamese fix on as soon as I drop off my bags at the hotel. Everyone says it's incredible."
Isaac Toups, chef-owner at Toups Meatery and Toups South in New Orleans, LA (Best Chef: South nominee): "I'm really looking forward to checking out Galit, Zach Engel's new restaurant. I love his take on modern Israeli food, and we sure do miss him in NOLA."
Amy Brandwein, chef-owner at Centrolina in Washington, D.C. (Best Chef: Mid-Atlantic nominee): "Elske is high on my list. I'm intrigued by their relaxed tasting menu style."
Lisa Ludwinski, head baker at Sister Pie in Detroit, MI (Outstanding Baker nominee): "I can't wait to be back at my favorite Chicago place, Spinning J in Humboldt Park. Dinah Grossman is a genius with pie, and her creations nail it every damn time. Favorite things to order include the sourdough cinnamon roll, the breakfast strata, and whatever pie she's dreamed up that day. The atmosphere is welcoming, and the decor is thoughtful and gorgeous. It's next door to another favorite, California Clipper, and across from Cafe Marie-Jeanne. It's a really special corner of Chicago."
A longtime local favorite from beloved Chicago chef Paul Kahan, Avec is at the top of just about everyone's list this week, and with good reason. Many of 2019's nominees count the sleek and modern Mediterranean hotspot among their own professional influences.
Joaquin Rodas, chef-partner at Bacchanal in New Orleans, LA (Outstanding Wine Program nominee): "A visit to Chicago usually starts or ends with a visit to Avec. Avec had a formative impact on our founding chef's career, and a profound impact on Bacchanal, as I'm sure it has for many restaurants around the world."
Mike Lata and Adam Nemirow, chef and co-owner of FIG in Charleston, SC (Outstanding Restaurant nominee): "We're planning to pregame at Avec before our dinner reservations on Sunday with their deluxe foccacia and a bottle of sherry. It's become kind of a tradition—it may be the single best bite of food in the country."
Benjamin Sukle, chef-owner at Oberlin in Providence, RI (Best Chef: Northeast nominee): "The dish I always look forward to eating in Chicago is the brandade from Avec. It's one of the most luxurious dishes I've ever had. It's so buttery and perfect. Avec is one of my favorite restaurants in the world and one that is a constant inspiration. It's the food I want to eat every day."
Jason Hammel, chef-owner at Lula Cafe in Chicago (Best Chef: Great Lakes nominee): "The last totally mind-warpingly delicious thing I tasted was the kombu-cured hamachi at Passerotto. Actually any of the raw fish preparations are unique, compelling, beautiful, and so so tasty."
Rachael Lowe, beverage director-sommelier at Spiaggia in Chicago (Outstanding Wine Program nominee): "I love Rootstock Wine Bar—not only is it close to where I live, but it also consistently serves some of the tastiest food along with a very cool, always evolving wine list. My favorite thing to get there is the Rootstock Burger, which to this day I consider one of the best burgers in the city. It's insanely delicious—dry-aged meat, always perfectly cooked, and just all-around satisfying at any hour you can get one. Housemade ketchup, too."
Abe Conlon of Fat Rice (last year's Best Chef: Great Lakes winner) serves dishes inspired by Macau's unique mix of Chinese, Indian, and Portuguese influences.
Mashama Bailey, chef-partner at The Grey in Savannah, GA (Best Chef: Southeast nominee) is looking forward to one dish in particular: "I can't get enough of their piri piri chicken!"
Katie Button, chef-owner at Cúrate in Asheville, NC (Best Chef: Southeast nominee), is excited to check out Fat Rice for the first time: "I love to see how restaurants execute focused cuisine across different cultures of food."
Kelly Fields, chef-owner at Willa Jean in New Orleans, LA (Outstanding Pastry Chef nominee): "Sarah's cooking is just grace defined on a plate."
Previous James Beard award-winners, unsurprisingly, take up a serious chunk of real estate on visiting nominees' must-eat lists. Monteverde chef-owner Sarah Grueneberg won the Best Chef: Great Lakes category in 2017. This year, the pasta mecca can expect visits from many hopefuls in town for the awards, Fields included.
Tony Mantuano, chef-partner at Spiaggia in Chicago (Outstanding Wine Program nominee): "There's an off-the-radar spot in Old Town called Glunz Tavern, attached to the House of Glunz wine shop. It's a family-owned, historic business that opened in 1888. It's still owned and operated by the same family: Barbara Glunz and her son, Christopher. The tavern is filled to the brim with artifacts from their 120 years in business: old menus from the 1920s, vintage beer signs, an 1800s mermaid figurehead from the bow of a ship—the environment is so unique. Plus, the wine selection at House of Glunz is incredible."
Ann Marshall and Scott Blackwell, founders of High Wire Distilling Co. in Charleston, SC (Outstanding Wine, Spirits, or Beer Producer nominee): "We're really excited to be attending our first Cubs game at Wrigley Field, and I'm not sure if we're more excited about the baseball or eating all the hot dogs. We're also planning an obligatory stop at Delilah's to dive into their famous whiskey collection."