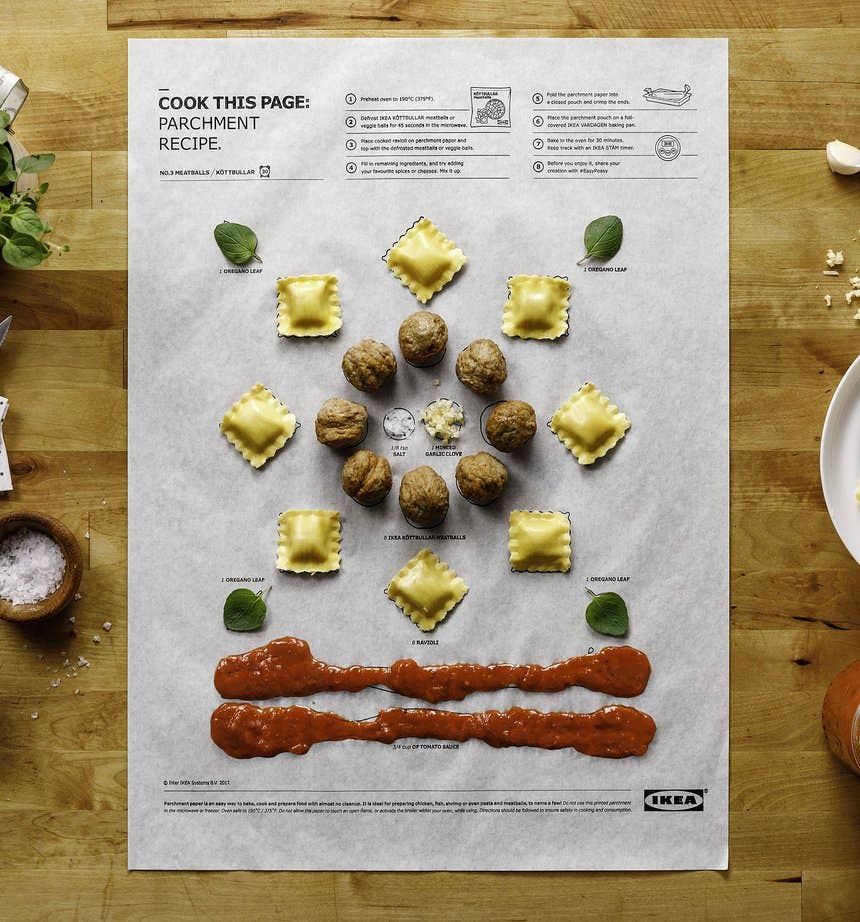 Culture
Finally, an IKEA Product With Instructions We Can Actually Follow—Illustrated Recipes
Cook This Page, sheets of parchment paper with illustrated slots for ingredients that you then wrap up and throw in the oven, is a brilliant visual update to recipes
Putting together an IKEA product can be daunting—everyone has their share of horror stories from putting together beds and desks and dressers—but IKEA Canada's latest invention, Cook This Page, has probably the most explicit instructions in their store.
Their new interactive cookbook is sort of like a coloring book, but instead of using crayons, you fill in the blanks with ingredients (literally). The "Cook This Page" recipes are printed on parchment cooking paper with edible ink, and all you have to do is stay inside the lines. And after you have all the ingredients spread out on the recipe, you can just roll up the paper and throw it in the oven. The idea, from marketing company Leo Burnett Toronto, was created for new cooks who might be anxious about trying new recipes.
So far, there are only four recipes and the sheets are not on sale, unless you're lucky enough to find a copy floating around on eBay. Cook This Page recipes were made for an event in Canada, but all 12,500 parchment paper recipes available in 18 locations were snatched up within hours.
And it's not the first time IKEA is doing something visually catchy with recipes. In 2010, photographer Carl Kleiner turned recipes into visual art for IKEA's Homemade Is Best cookbook.
Visual recipes and cookbooks like Cook This Page are becoming a kitchen staple for the way they help out visual learners. Samin Nosrat's Salt Fat Acid Heat is an illustrated book centered on these four pillars of cooking. Nosrat told SAVEUR that the book got started when she taught Michael Pollan to cook. Once Pollan heard about Nosrat's pillar system, he encouraged her to make it into a book.
And there are plenty of other surprising visual cookbooks: how about cooking on your car engine, or cooking with roadkill or even Twinkies? To impress future dinner guests, you might also want to take a look at the Special Effect Cookbook, which offers "safe and easy recipes for food that erupts, moves, sings, glows, talks, snaps, crackles, pops and swims."
But until IKEA's cookable recipe sheets are available for mass consumption, we'll be imagining what kinds of hacks and—ahem—herb-induced ideas will come from this new product.