Culture
A Region-by-Region Guide to Indian Condiments
Everything you need to punch up your Indian cooking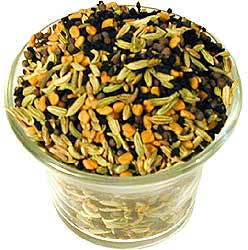 Given the sheer breadth and diversity of Indian cuisine and its regional iterations, it's hard to arrive at any broad generalizations about it. But regardless of region and the finely calibrated differences in cuisine that occur as a byproduct of geography, condiments play a vital role in enlivening the flavors of any Indian meal.
While achaars (pickles) and fresh chutneys are the most popular, there are also a variety of spice mixes, powders and pastes that merit a mention. Some of these are essential building blocks of regional Indian cooking condiments, like lanka jeera gunda, a fragrant, powdered mix of roasted chile and cumin that is widely used in the eastern state of Orissa. Others, such as a variety of spicy, lentil-based powders that are popular throughout South India, add some protein heft to otherwise carb-heavy cuisines. Some are best to make at home, while others can be purchased online or at a specialty market. What they all have in common is that they deliver sharp, concentrated bursts of flavor, aroma and texture—which makes them invaluable additions to your pantry.
Here is a sampling of some lesser-known Indian condiments you should consider trying, categorized by region.
Until recently a closely-guarded secret of the northern hillside state of Himachal Pradesh— specifically, the Chamba district that lends the condiment its name—chamba chukh can be considered a cross between a pickle and chutney, with the chunky consistency of a dipping sauce. This fermented chile condiment derives its heat and complexity from locally grown chitrali chiles that are pickled using chukh, or the concentrated juice of galgal, a semi-wild lemon that is endemic to the state. Chukh is made using both fresh green chiles and the sun-dried, red kind. While green chile chukh has a vibrant flavor with the distinct aroma of mustard oil and a serious underpinning of heat, the red chile variety could be compared to a smoky sambal oelek.
A member of the cucumber family that grows wild in the arid, desert landscape of Rajasthan, kachri is locally valued for its medicinal and nutritional properties. Resembling a small, green-brown melon with large seeds, kachri has a bitter flavor that mellows and sweetens as the fruit ripens. The sweet-sour vegetable finds several uses in the local cuisine: it is cooked as a dry sabzi and also used to tenderize meat in its dried, powdered form. But the distinct flavour of the vegetable is best enjoyed in chutney form. Typically made of kachri powder, which is cooked in oil along with red chiles, garlic, onion, spices like fenugreek and aniseed, and a small amount of yogurt, kachri ki chutney adds a smack of umami (and a slight bitterness) to even the simplest meals.
In Indore, the commercial and culinary capital of the central Indian state of Madhya Pradesh, nearly every dish comes with a generous garnish of jeeravan masala, a specialty spice mix that lends them an unmistakable aroma and a bold jolt of flavour. Salty, spicy and fragrant, jeeravan is closest in taste to chaat masala, with the added depth of red chile and spices such as black pepper, dried ginger, cassia, cloves, nutmeg and mace, which are quintessential components of garam masala. In addition, it also has a hit of hing or asafoetida, the pungent, powdered resin that is especially popular in the state given its large community of Jains, who eschew onions and garlic for religious reasons. A versatile spice blend that adds complexity to any dish, jeeravan is often sprinkled over poha, a popular savory snack made of flattened rice flakes. This is why it's also known as poha masala. (It goes just as well with dal, raita or fruit chaat).
Similar in composition to the lentil powders (see below) that are popular in South India, metkut is a complex blend of grains, lentils and spices that is considered a specialty of the Maharashtrian Brahmin community of western India. Its ingredients include chana dal (split Bengal gram), urad dal (split black gram), small quantities of rice and wheat, coriander seed, cumin seed, red chile powder, mustard seeds, asafoetida and black peppercorns, among other things. "Metkut is used to lightly spike khichdi or rice porridge or add that extra zing to raitas," says cookbook author Saee Koranne-Khandekar. It can even be sprinkled on buttered toast or eaten with fresh chapatis.
Derived from the Marathi verb 'thechne', which means to pound, thecha is a fiery condiment that is popular all over the western state of Maharashtra. At its simplest, thecha is made of green chiles, garlic and salt, pounded coarsely in a mortar and pestle. Communities across the state make versions of this peasant-style condiment, which packs a solid punch of chile heat. "Brahmin families make a 'richer' thecha using peanuts for flavor and texture, while lower income families might use only chiles and salt, and garlic if they can afford it," said Khandekar. Other versions including chinchecha thecha, a seasonal special made using fresh, green tamarind and ranzka, a regional version made of fresh red chiles, pounded with salt and lime juice and preserved for longer periods. Meant to be a humble accompaniment to a farmer's meal of bhakris (coarse rotis typically made of millet flour) and sliced onions, a dollop of thecha can add depth of flavor to a variety of dishes, from raita to cheese toast.
From the food-loving western state of Gujarat, jiralu is a spice blend that is similar to jeeravan. The tangy and salty blend is added to yogurt-based drinks such as chaas (or buttermilk), and sprinkled over fruit chaat and everyday snacks.
A mustard sauce that packs in a serious burn, kasundi enjoys cult status in Bengali cuisine. Whole grain mustard is ground, spiced, and allowed to ferment in order to give this condiment its signature pungency. Although it is now something of a darling condiment among chefs worldwide — with new-age spin-offs like tomato and even eggplant kasundi — the traditional preparation is quite simple. In addition to mustard, salt and water, kasundi often also includes a tart ingredient such as raw mango or tamarind. "Some element of tartness has to be part of kasundi," explained food writer and cookbook author, Chitrita Banerji. "Recipes like those given by the 19th Century food writer Bipradas Mukhopadhyay in his magisterial book, Pak Pranali, and by Kiranlekha Ray in her 1921 book, Barendra Randhan, present green mango as an integral ingredient for kasundi." Traditionally, kasundi was always made in the dry, summer months, following elaborate social and culinary codes — necessary precautions to ensure that the condiment didn't spoil in the pre-refrigeration era. Traditionally served with stir-fried greens, kasundi is now the accompaniment of choice to Bengali snacks such as chops, cutlets or fried fish.
Often eclipsed in prominence by Bengali cuisine, the cuisine of the eastern state of Orissa is a well-concealed regional secret. It finds its most elaborate expression in the Mahaprasad or chappan bhog, a vegetarian feast featuring 56 dishes that is offered to Lord Jagannath in the temple town of Puri. Tomato khatta (also known as Oriya khatta) is a popular, sweet-and-sour condiment that is a part of this ritual offering. Made by cooking tomatoes along with a few, simple ingredients such as ginger, asafoetida, and green chiles, tomato khatta gets its unique,sweet flavor from raisins or dates. It also has a hint of warmth and nuttiness from panch phutana—or the blend of five whole spices that is widely used in Oriya (and Bengali) cooking—that includes mustard seeds, cumin, fenugreek, fennel seeds and kalonji or nigella seeds.
You can find a recipe for tomato khatta in Purba: Feasts From The East: Oriya Cuisine From Eastern India, available on Amazon.
The cuisines of the southern Indian states of Andhra Pradesh and Tamil Nadu celebrate a variety of podis (or spice powders). Although there may be slight, regional variations in recipes, they usually include a combination of dals and fresh and dried spices. These podis serve as piquant accompaniments to bland breakfast dishes such as idli and dosa, and are usually mixed with rice and ghee, to serve as the first course of a meal. An Andhra staple, puttanala pappu podi (which is called paruppu podi in Tamil Nadu), includes either roasted chana dal or Bengal gram, dried chiles and spices such as cumin and coriander seeds, all of which are fried in oil and then powdered. Regional variations may also include garlic and dried, shredded coconut. "Every family has their own secret blend of this condiment, aptly titled gunpowder, because of the explosion of spice in every bite," writes Archana Pidathala, author of Five Morsels of Love, a book of Andhra recipes dedicated to her grandmother. With its catchy moniker and crowd-pleasing flavor, 'Andhra gunpowder' has spread far beyond the state.
A thick, spicy condiment made of tamarind extract, puliogare gojju (known as pulikachal in Tamil) is a staple of the state of Karnataka. Tart, savory and nutty, it is usually mixed with rice to make puliogare or tamarind rice, a preparation that enjoys runaway popularity in most parts of southern India. Although recipes and ingredients may vary slightly from state to state, puliogare gojju is essentially made of thick tamarind extract, which is reduced and flavoured with whole red chiles, coriander and cumin seeds, asafoetida and occasionally a little jaggery (or palm sugar). It also usually includes fried urad dal, chana dal and peanuts, which add texture and crunch.
The Kerala version of this dry, spicy chutney powder, also known as chammanthi podi, is made of curry leaves, shallots, grated coconut and tamarind, all of which are fried in coconut oil and powdered coarsely. In Tamil Nadu, citron or lemon leaves are also used in addition to curry leaves.