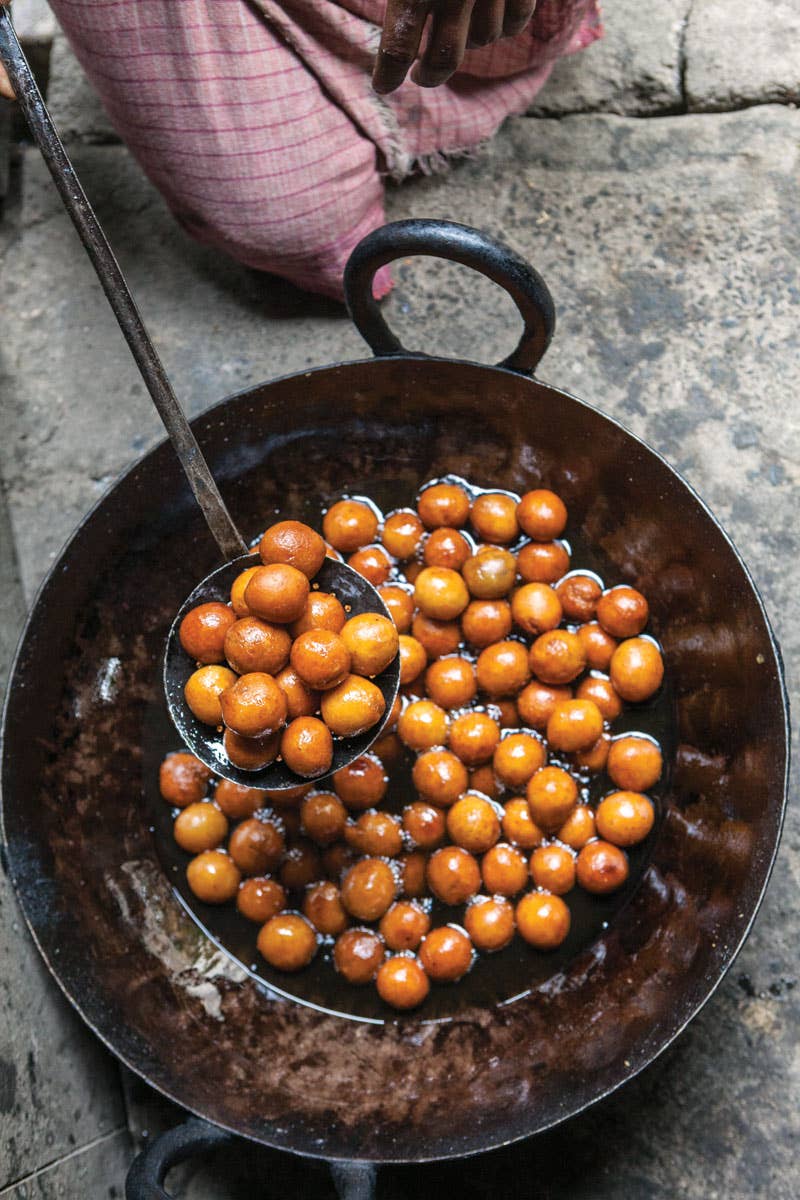 Culture
A Beginner's Guide to Loving Mithai, Indian Milk Desserts
How to know your rasmalai from your rasgulla
In India, there is no occasion too inconsequential for mithai—small, portable, and (often) milk-based sweets. Just had a baby? Graduated from school? Bought a new TV? Recently recovered from a cold? Undoubtedly, mithai will be involved.
Since most Indian restaurants don't offer robust selections of mithai, the best way to explore the world of these sweets is to go to a dedicated mithai shop. Like Levain in New York or Gjusta in Los Angeles, certain mithai shops in India have cult-like followings across the country. And while cooking in India is intensely regional, mithai—and the Indian sweet tooth for them—are far more universal.
I am lucky enough to have family in India who lives within walking distance of one of the most celebrated sweet shops in the country: Evergreen Sweet House, an ever-bustling storefront in New Delhi where the mithai are so fresh that there is a guy frying glistening pieces of jalebi (like a syrupy funnel cake) to order right outside the shop at all hours of the day.
If you're fortunate to find yourself at Evergreen, or any of the excellent mithai shops here in the U.S. (My personal favorite is Raja Sweets in Houston), you're going to want to know your rasmalai from your rasgulla. So, I present here your introductory mithai cheat sheet, which is by no means exhaustive and certainly biased towards my favorite varieties. Let it help to steer you toward the treat that is right for you, whether it's a silver-coated diamond of kaju katli or a ghee-laden sphere of laddu.
Burfi is the most basic variety of mithai—a blank canvas of condensed milk and sugar molded into countless variations. Burfi is usually decorative, and will come in interesting shapes and colors, often finished with a tissue-paper-thin sheet of silver (totally edible, in case you were wondering).
Other versions will incorporate almonds, carrots, pistachios, coconut, and even milk chocolate—but they'll almost always be finished with a hint of rosewater, a fragrant, delicate flavor that nicely balances out the richness of the burfi.
Though it's technically just a type of burfi, kaju katli is so popular and so delicious that it deserves a description of its own. The dominant ingredient is ground cashews, which make kaju katli taste less like a milk ball and more like a solidified nut butter—if you've ever had a Lara Bar, you've had a less sweetened version of kaju katli.
Another key feature: while a lot of Indian sweets will look (and sometimes taste) very similar, kaju katli stands out for its distinct diamond shape, coupled with the standard silver foil coating (though some shops will omit the silver to save money, as cashews are already expensive).
There's no getting around the fact that laddus are essentially just round vehicles for ghee, or clarified butter. The base for laddu is chickpea flour—either in its regular form, producing something similar in appearance to a cake ball, or as boondhi, a conglomeration of little fried balls of flour that make for a decadent, texturally rich treat.
I dream of a tower of laddus arranged Christmas-tree style, like a croquembouche—which you'll sometimes see at particularly fancy Indians weddings, if you're lucky.
Probably the best known of all varieties of mithai, gulab jamun are spherical, syrup-soaked balls made of milk and flour whose flavor and texture closely approximates that of a thoroughly buttered-and-syruped pancake. Though the predominant flavor in the syrup is rosewater, gulab jamun manages to taste more like a dark caramel, with a slightly roasty depth, making it a perennial favorite of children (and me).
Think of rasmalai like ile flottante, but cooler and with more milk. It's a classic dinner party dessert whose floating pillows are made out of fresh cheese curds that get dunked in sugar syrup, then set afloat in a cardamom- and saffron-flavored cream.
The soft and sponge-like texture the curds take on is not for everyone, but on a hot, summer day in New Delhi, a chilled bowl of rasmalai can really hit the spot.
If the texture of rasmalai is not your cup of tea, go for rasgulla: firmer, denser balls of cheese that only get the sugar water treatment (no cream bath). There are a lot of ways to serve rasgulla: You can enjoy it hot, cold, or room temperature; you can top it with a pool of syrup (to keep it moist); or just leave it by itself. Out of all the varieties of mithai, rasgulla tastes the most like pure sugar—but in a pleasant, not overbearing way.
Cham cham is like a more dressed-up version of rasgulla. They two sweets involve roughly the same preparation; but the difference, with cham cham, is that you'll often see it dyed bright colors and split in half, stuffed with shredded coconut or crushed pistachios.
As a result, cham cham is always a popular party or wedding treat. Even without the color or stuffing, you can always differentiate cham cham by its egg-like shape — probably a trick invented by mithai shops to distinguish between cham cham and rasgulla in the preparation process.
If you're at a mithai shop, you'll have a hard time missing the jalebi: bright golden squiggles of deep-fried dough that sit in a pool of syrup until their insides turn sticky and gooey. The end result is crispy on the outside but chewy on the inside, with each bite revealing a pocket of syrup. Like at Evergreen, it's not uncommon in India to see jalebi being prepared by street vendors in portable fryers, the lingering smell of just-fried dough permeating the roadways.
A thumbprint cookie in appearance and fudge-like in texture, peda are little coins that start with the same base as burfi. But instead of stopping at burfi, the base then gets mixed with saffron and cardamom, and flattened into a small circle. Most pieces will have a little crater in the middle where a sliver of pistachio or an almond will be pressed in, for crunch. For Indians, peda is a very popular way to break fasts, as it's easy to prepare, and with the combination of milk, nuts, and spices, it's said to provide a burst of energy.