Recipes
Meringue Floating in Crème Anglaise (Île Flottante)
Serves

serves 4

Cook

1 hour 30 minutes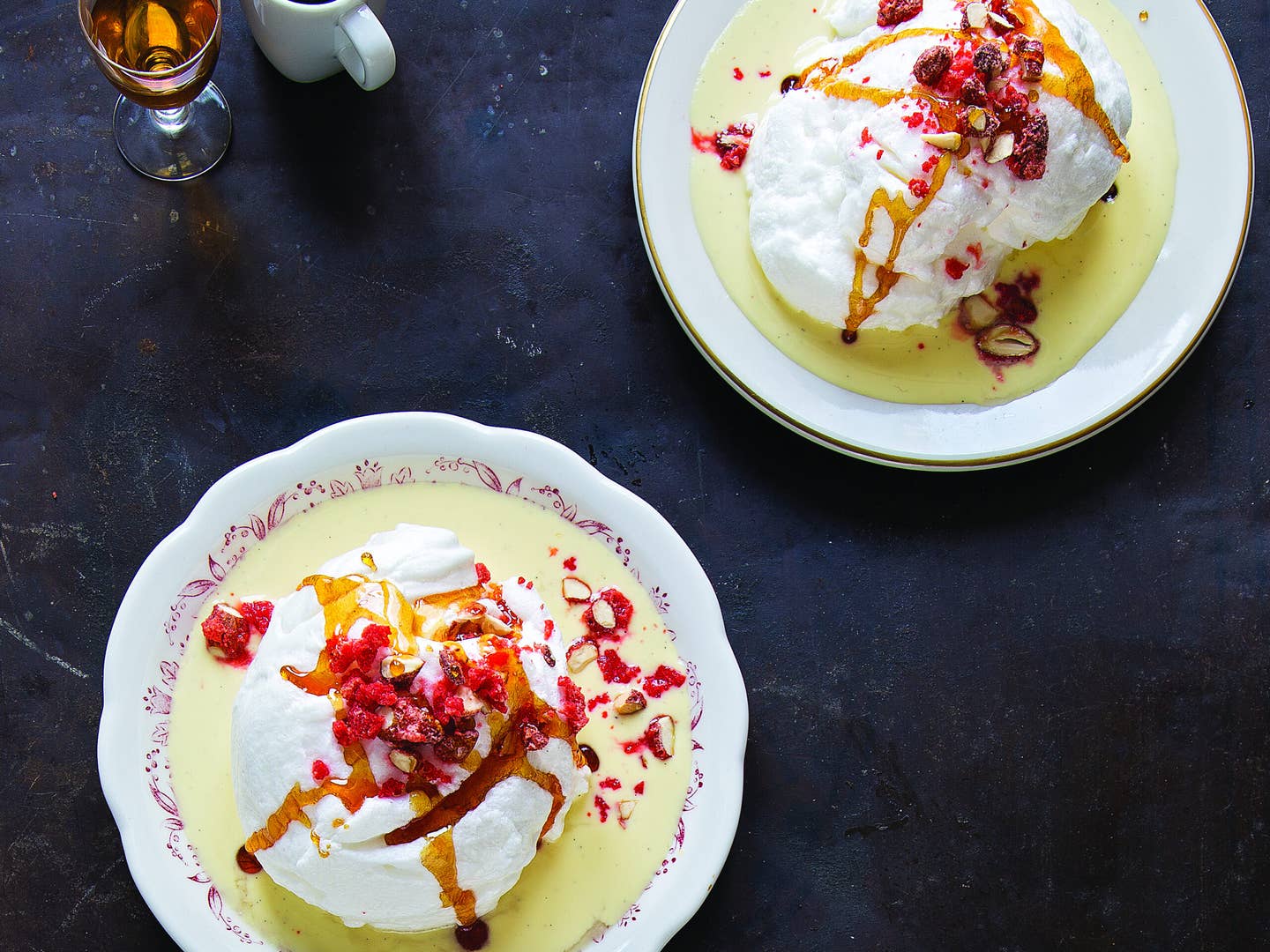 Sprinkled on top of these delicate meringues—which float in a vanilla custard—are praline roses, caramel-coated almonds dyed a bright pink. The color's a bit shocking, but they're a staple of Lyonnaise pâtisseries and lend a nice crunch and color to this white-on-white backdrop.
Ingredients
3 3⁄4 cups sugar
1⁄4 tsp. Preema red food color powder
8 oz. (2 cups) whole almonds
1 tbsp. orange blossom water
2 vanilla beans (1 scraped, 1 split)
3 cups milk
6 egg yolks
10 egg whites
Instructions
Step 1
In a small saucepan, combine 2 cups sugar and the red food color powder with 1⁄2 cup water over medium-high. Using a candy thermometer, cook until the temperature reaches 118°, about 18 minutes. Stir in almonds, orange blossom water, and vanilla seeds; stir until crystallized, 4 minutes. Spread praline roses out onto a parchment paper-lined baking sheet until cool.
Step 2
Place the split vanilla bean and 2 cups milk in a heavy-bottomed saucepan and bring just to a simmer over medium heat. Whisk egg yolks and 1⁄4 cup sugar in a mixing bowl. Reduce heat to low and slowly whisk 1⁄2 cup hot milk into egg mixture, then whisk egg mixture into remaining hot milk. Cook, stirring constantly with a wooden spoon, until mixture is thick, about 15 minutes. Remove from heat, strain through a fine sieve, and transfer to a bowl. Stop the cooking by placing bowl into a larger bowl of ice water. Scrape seeds from vanilla bean into custard and discard pod. Cool the crème anglaise to room temperature, then refrigerate until cold. (Store in refrigerator for up to 3 days.)
Step 3
In a medium saucepan, combine the remaining 1 cup milk with 1⁄2 cup sugar and 8 cups water; boil. Reduce the heat to maintain a simmer and cook until the sugar has dissolved, 2 minutes. Reduce the heat to medium-low and keep warm.
Step 4
In a large bowl and using a hand mixer, beat egg whites to soft peaks, 3 minutes. Add 1⁄2 cup sugar and continue beating until stiff peaks form. Using a 2-cup measure and working in batches, form meringue into a half sphere and submerge in the milk mixture. Cook, turning as needed, until the meringues are firm on the outside, 3 to 4 minutes. Using a slotted spoon, remove and drain on a paper towel-lined baking sheet.
Step 5
Divide the crème anglaise between 4 shallow bowls and top each with a meringue. Sprinkle with praline roses.
Step 6
In a small skillet, heat the remaining 1⁄2 cup sugar and 1 tablespoon water over high, and cook, stirring occasionally, until the color of dark amber, about 6 minutes. Quickly, and using a spoon, drizzle the caramel over the meringues until set. Serve immediately.
Watch how to make meringue