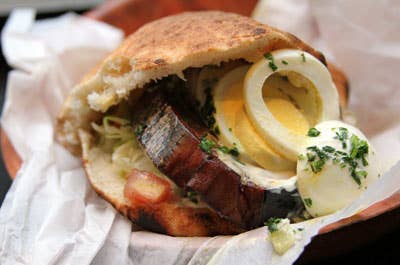 Travel
Hall of Fame of the World's Great Sandwiches: Israel's Sabich
Fried eggplant + eggs + pita = a vegetarian superstar
Falafel you know. Pita, chickpea fritters, tahini, salad. It is delicious. It is ubiquitous. It is multi-faceted. A guiding light of meat-free "clean" eating that satisfies like nothing else.
But, as Yoda put it, there is another.
Sabich is falafel's lesser-known sibling: same pita, same salads and saucy toppings, same meat-free ethos. But instead of fried chickpea mush, the sandwich is loaded with fried eggplant and hardboiled eggs. And in Israel, the sandwich's home turf (it's one of the few truly-native-to-Israel dishes out there), it's just as important as falafel.
The sandwich came to Israel by way of Iraqi Jews, who cooked eggs and eggplant as make-ahead food to eat during the Sabbath, when observers aren't supposed to cook or turn on a stove. Along the way, those components found their way into a sandwich (doesn't that happen to every good thing eventually?), and the rest is sandwich history. As Neal Ungerleider puts it for SAVEUR, "like any other great food, the sabich is deeply connected to immigrant folkways and history's pathways."
In the video above, Keren Brown documents just what makes Israel's sabich so splendid to cook, eat, and just have on the street all around you. Want to try your own? We have a recipe right here.