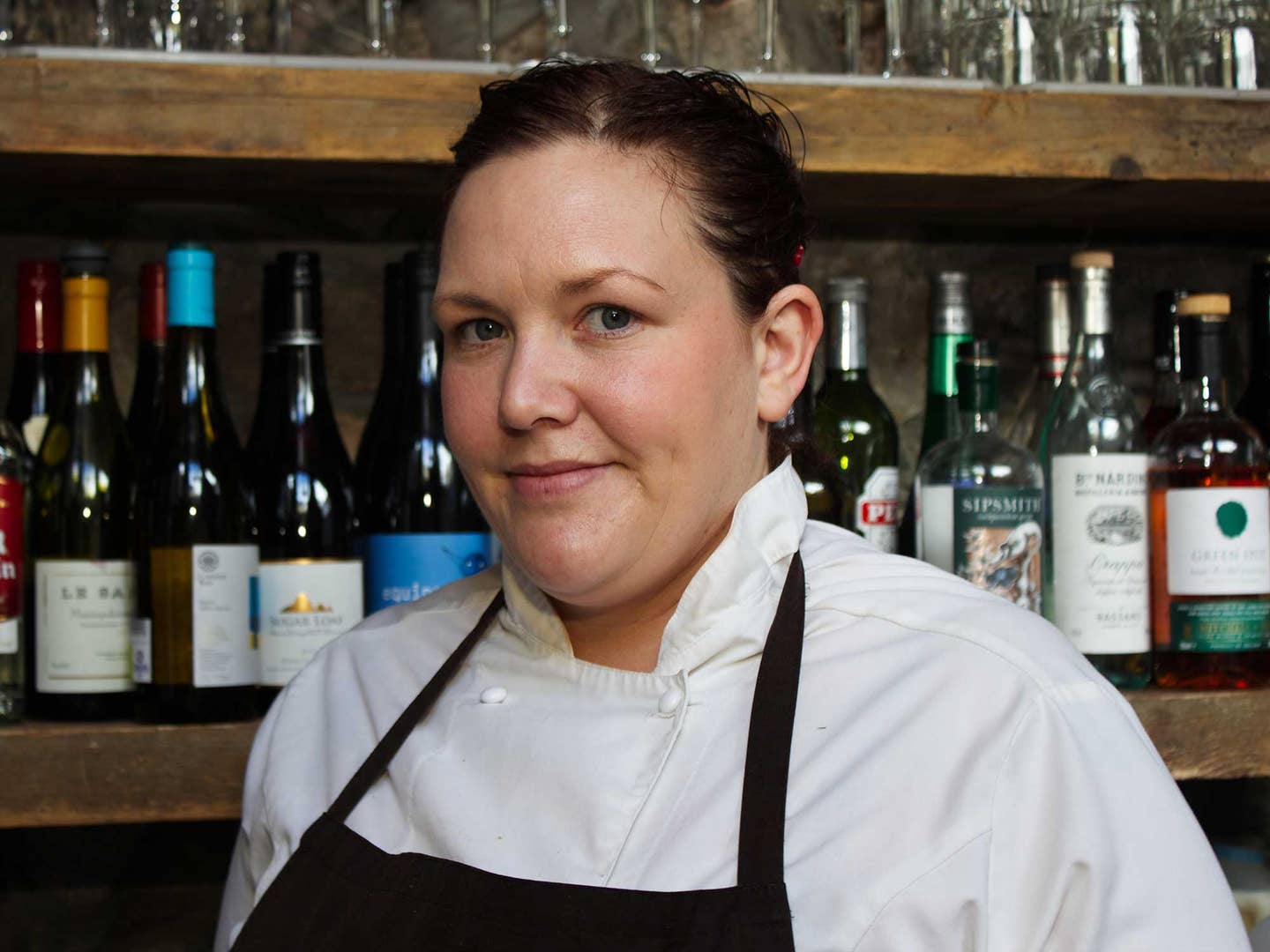 Culture
An Irish Chef is Proving Her Country Doesn't Have a Shortage of Great Women Running Restaurants
With the first ever Athrú conference, Jess Murphy hopes to revolutionize Ireland's restaurant industry at a time when the country needs it the most
About two months ago, a number of Ireland's top journalists and chefs were jumping in on a popular Twitter thread about one of Irish media's topics du jour: fair gender representation in the country's restaurants. "Really loving all the coverage that gender equality in professional kitchens is getting," Dublin chef Holly Dalton tweeted on May 30 in response to columnist Trish Deseine's criticism of the machismo in Ireland's culinary world in The Irish Times, which was met mostly with encouragement in the forms of pledged approval, but nothing actionable. And then Jess Murphy, chef-owner of Kai Café & Restaurant in Galway, chimed in. In multiple tweets, she called for chefs from all over the country to step forward, and when Ireland's only Michelin-starred female chef Danni Barry tweeted to represent Belfast, Murphy responded with a simple command to send along her phone number because "this isn't going away."
Murphy, who was the first female chef to be named Best Chef in Connaught by the nationally esteemed Irish Restaurant Awards and has been awarded a handful of others, is not only well-respected in the kitchen. She's also been an instigator in Ireland's recent discussions around gender equality. Just four weeks ago, she took on her biggest project yet: organizing Athrú, an inaugural two-day conference, centered on discussing gender equality in Ireland's culinary arts and creating a referenceable database of Ireland's female chefs. In a country currently suffering from a crisis-level shortage of chefs, Murphy knew that now wasn't the time to let that conversation get away.
"I want people to stop saying there aren't enough women chefs of a high enough caliber out there," she says. "There are women out there. This needs to be talked about."
Athrú, starting today, is how she's talking about it. While Murphy's been doing everything from fueling conversations on social media to refusing to participate in panels where she's the sole token woman, her dedication to promoting the representation of Ireland's female chefs is at its highest with this major conference. Modeled after PARABERE Forum, a international platform that brings women together to discuss major food issues and promotes their advancement in the culinary world through networking, Athrú is specific to Ireland. But it wasn't until Maria Canabal, the president of PARABERE, offered to help Murphy put together Athrú that it seemed feasible. As an attendee of Canabal's forum for years, Murphy leaped at the opportunity to work with such an inspirational leader.
"Women's voices need to be heard and their talents deployed, so that we can boost confidence in the food sector, and construct a vision of the future based on values of sustainability and equal opportunity," Canabal is quoted on Athrú's website. "If society, and also [the] food and wine industry, is to evolve towards greater sustainability, greater equality, stronger growth, and increased social progress, women must be able to take their rightful place."
Born and raised in a country where "every town is a small town," Murphy spent the first part of her life in New Zealand, a place where "foraging food wasn't something cool that you did, but instead something you did because you were poor." She grew up killing pigs with her dad, diving for abalone, and watching her grandmother de-boning mutton. Watching her entire family take part in providing that every day's food, Murphy has wanted to be a chef since she was a 10-year-old Kiwi, eating sea urchin right out of the shell.
"I always thought that feeding people was very important and that cooking for people was the greatest thing you could do," she says. So after washing dishes to put herself through two years of New Zealand's culinary college at age 18, she spent time cooking in Australia's outback, then moved to North Wales, and later found herself cooking under Kevin Thornton, the first Irish chef to receive two Michelin stars. After one more move and a four-year stint as a cheesemonger, she and her husband opened up Kai Café & Restaurant in Galway five years ago, where she takes a nose-to-tail approach to cooking and serves up dishes like ox tongue and pumpkin jam, dry-aged strip loin with sprouting broccoli, and burrata with candied lemon.
But when she started gaining recognition for her food, it wasn't all celebratory. After being the only woman selected to help create the banquet menu for Ireland's 2016 Restaurant Awards, she found herself irritated.
"No other woman won an award, so it was great to be up there, great to be asked, but now we are back to no females cooking at the awards again," she said in an interview with The Taste.
So when she found herself in a Twitter conversation about female representation in the culinary world this past May, she decided it was time to start compiling a database of Irish female chefs to be available for committees deciding judging panels, journalists, and anyone looking for a female voice. The statement that there just aren't that many great female chefs out there—it's false, if you ask Murphy, referencing PARABERE's list of 5,000 chefs.
"I want 50-50, male-to-female panels," she says. "I want panels choosing panels to be 50-50. [With Athrú's database], all you'll have to do is write to them to get the level of expertise, whether it's for judging raw cheese awards to speaking at a conference." But beyond bettering the documentation of the current troupe of working female chefs, Murphy's an advocate for increasing the placement of upcoming female chefs in professional kitchens.
Ireland is currently facing an extreme shortage of chefs—so much that it's a threat to the hospitality industry, according to the Restaurants Association of Ireland. The issue has its roots in the country's required training for culinary arts programs: many schools that offer certificates or degrees don't require their students to get valuable real-world kitchen experience, so few schools turn out aspiring chefs that restaurateurs believe to be appropriately qualified. This has the Association requesting that the Minister for Education re-establish CERT, the now-defunct state tourism agency, provide training in the hospitality industry.
Which is why Murphy thinks this database will be so important; if restaurants are to be filling these positions, and the hospitality industry is to become more balanced, it needs to be impossible for business owners to claim there are no great women chefs are out there. As Murphy says repeatedly, "we are here."
And once women are in these kitchens, it's about making sure they're hospitable to both men and women, but especially women, who are at a disadvantage.
"How can we break the cycle?" she asks, referencing Ireland's gender-based pay gap (women are paid 14% less than men, according to the EU Commission), the demanding hours and vacation-less months, and the threat of losing your job should you choose to start a family.
These issues aren't unique to Ireland, or even New Zealand—they plague female chefs around the world, and the topic hasn't go completely undiscussed. In an interview with Splendid Table, Cohen cites the "restaurant industry's lack of benefits like health care and maternity leave" as sources; in Gastronomica, Charlotte Druckman investigates the mark of a "great chef," which doesn't work in womens' favor; and on Eater, Amanda Kludt explore how paid maternity leave could be key to reducing the gender divide.
"Can women who choose not to play by the same rules as the boys; who are equally ambitious culinarily but prefer different lifestyles—a slower pace, a more communal spirit in the kitchen, motherhood, less manic hours, or one restaurant where they cook as opposed to ten they oversee from afar—still vie for the same trophies as their male counterparts?" Druckman writes. "As long as success is measured by the male status quo, women will likely remain overlooked."
So to Murphy, it starts with this database: something journalists, restaurateurs, panels, and those in the hospitality sector can reference to start getting women in restaurants, speaking on panels, participating in cooking demonstrations. Then, perhaps, the restaurant industry can see that it has to shift its bar for what makes a Great Chef.
"If I can get young women back in kitchens and make their lives more bearable, then we'd have more females in kitchens," she says. "I want to be able to say 'you can have a family, you can have lives, you can have hobbies, you can do all the things that your mates do.' If we can make one little change, it will make a big difference."