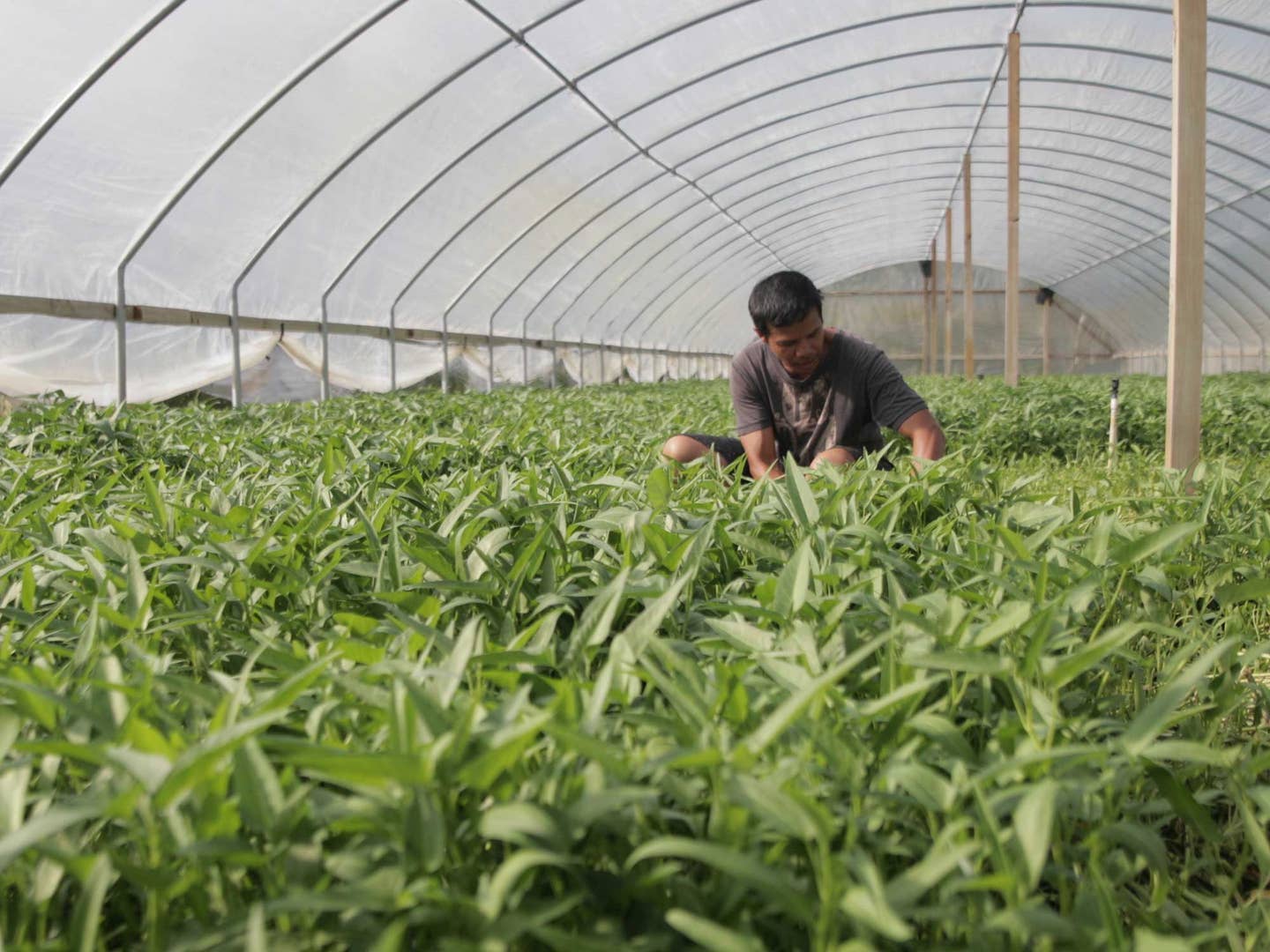 Culture
Houston's Water Spinach Village is Fighting for its Life
The Cambodian farming town of Rosharon, just 30 miles from downtown Houston, is still reeling from Hurricane Harvey. Today, farmers face not just the loss of their homes, but also their economic engine that supplies the region's restaurants and markets
What was once a rural stretch of unpaved road in Rosharon, Texas is now a tent city. Piles of flood-damaged furniture flank the length of Summer Lane, and homes sit vacated, dilapidated, or completely destroyed. The scene repeats on every road of Little Cambodia, or what the locals just call "the village." Set about 30 miles south of Houston, the predominantly Khmer-speaking community was among those hit hardest by flooding after Hurricane Harvey devastated Southeast Texas. Nearly two months later, the village still has a long way to go. In Rosharon, the storm took both homes and livelihoods: The majority of residents are farmers who grow traukon, also known as water morning glory or water spinach, to supply Houston's sprawling Asian markets and restaurants. The tropical greens must grow in greenhouses, and all 100 of them in the area have been ripped open and, in many cases, damaged beyond repair. "We're working with a third-world mentality here," says Lisa Oum, a former resident who's returned to help her family. "Some people are getting food stamps now, but there's no refrigerators, so where are they going to put the food?"
As in most of coastal Texas, the midday sun is brutal. But despite the heat, everyone in Little Cambodia is outdoors: renovating damaged walls, organizing supply and clothing drives, clearing heaps of debris. In Harvey's wake, the attention and sympathy of the nation turned to Houston and its 2.3 million residents. But nearby rural communities like Rosharon are in danger of being left behind.
Though the numbers are vague—Census estimates are unreliable here, and business owners are cagey to share their sources—it's safe to say Rosharon supplies the majority of water spinach cooked in Texas, if not the greater South and Midwest. Thousands of restaurants and markets across the country sell the vegetable, which is increasingly grown domestically, not imported. But only a few communities produce the nation's supply; in addition to Rosharon, there are Vietnamese water spinach farming enclaves in California and Florida, and Hmong immigrants have established one in Iowa. Beyond the water spinach, these disparate Southeast Asian groups share a history of evacuation and reconstruction in the decade after the Vietnam War. Rosharon's original settlers—now with children and grandchildren of their own—fled the genocide of the Khmer Rouge communists in the '70s and '80s to start anew in America. Some of the homes flooded today were built from scratch by those first families. Now, there are over 200. One of the earliest refugees was Yani Rose Keo. The educated, English-speaking wife of a high-ranking official in Phnom Penh, she and her husband escaped the country with nothing but the clothes on their backs, narrowly missing the massacre that claimed more than 60 of her immediate family members. Relocating to Houston, Keo put her difficult past behind her by learning to farm—everything from driving a tractor to building a greenhouse—and discovered a demand-heavy market for Asian vegetables, including trakuon.
Taking classes to obtain a farming license, Keo lended her new skills to her countrymen, helping establish the community in Rosharon with just a handful of families in 1984. What started as a small operation selling to local wholesalers has since flourished into an organized network that mirrors Houston's well documented racial diversity. A 2012 Westword feature on Rosharon described the process as "an ethnic conveyor belt": "The Cambodians, Hmong, and Laotians grow the crop and then sell it for 50 to 90 cents per pound to the Vietnamese and Thai, who run the wholesale transport system. The wholesalers cart it to the markets in Texas and beyond, which are predominantly governed by the Chinese." In 1985, Keo founded the Alliance for Multicultural Services, which would become largest refugee resettlement agency in Texas. (Today, Houston resettles more refugees than any other American city.) Keo has since stepped back from her work with the Alliance, but the organization remains one of the most prominent assets to the otherwise isolated community. Only two county roads lead to Little Cambodia. Coming southbound from Houston, a left turn off Highway-288 takes you down one, passing idyllic farms and well-kept ranch homes until you reach the hazy border where wheat turns to water spinach and Baptist churches sit near Buddhist temple spires.
Of the 1,400-some residents of Rosharon, fewer than one percent—approximately .003%—benefit from any kind of public or federal assistance. Most opt to live entirely cut off from the local or federal government. The self-reported crime rate is non-existent, and a group of nine or ten village elders serve as an informal body of governance, meeting to make decisions and communicate with outsiders. When one family suffered, the others would band together to raise funds and pitch in in any way they could. But when Harvey struck, the entire community was caught off guard.
"Out here, they don't have city lights, so it's pitch dark," says Lisa Oum, who grew up in Rosharon and whose in-laws still live in the community. "Can you imagine? You can't tell how high the water's going. The young men out here were the first responders. They got on their tractors and started getting people to higher ground."
Farming communities like Rosharon are used to doing things on their own, but Harvey revealed how truly isolated the village is from nearby Houston—and the aid that comes with it.
Oum, who is of Hispanic descent but married into the Cambodian community, was among the first to bring attention to the community through a tearful Facebook Live video that went viral in early September. Pitsami Norm, public relations director at the nonprofit Houston International Trade Development Council, likewise took to social media, creating a Facebook group that's become the digital hub for relief efforts, now boasting over 700 members that share videos of relief efforts, information on how to access government help, and sign-up links for donations.
Health was the immediate concern, says Oum. A drainage issue caused sewage backups, requiring water to be tested for potability, and leaving residents unsure if they could use their water to cook or clean. The same contamination threatened the community's greenhouses; officials warned growers to avoid picking greens until they could evaluate the soil.
Meanwhile, the stench of rotting wood, mildew, and toxic black mold permeated the early autumn haze. Of the 200 hundred homes and trailers in the community, almost all had suffered flooding, with about 80 damaged beyond repair.
Oum and Norm's grassroots rallying stand in stark contrast to a near-total absence of government aid in the weeks following the storm.
In early September, a trio of nearby community organizations arrived and set up camp in the temple square. Known as the Confederate Riders of America, the American Freedom Keepers, and the SSG, members of these groups sported Confederate flags—and rifles—all in the name of helping the community.
They told residents that they could either choose to receive their help, immediately, or opt for government help that they claimed would take months. Houston's ABC 13 affiliate spoke to a representative named Cowboy, Sergeant at Arms with the National Confederate Riders Association, who stated at the time: "We will see this till the end, until the people have their community, their temple of worship."
Some residents, scared and desperate for help, accepted the offer, while the groups barred FEMA's Disaster Survivor Assistance Teams from entry. The aim of these radical anti-government groups was to make a point that, in the face of a natural disasters, communities should rely on the strength of their neighbors to rebuild—a shaky claim that'd leave many families behind as collateral.
Though the groups did help a few families rewire their homes and get rid of mold, their confrontational stance also delayed much-needed outside money and aid from reaching residents. A FEMA representative told SAVEUR: "Due to a threat encountered by the FEMA DSA teams assigned to the Rosharon community in Brazoria county, FEMA suspended operations until a time at which safe passage could be garnered."
When Norm first visited homes in Rosharon, fearful elderly residents sat quietly, refusing to speak until she switched to Khmer and revealed herself to be a Cambodian refugee herself. She says she believes that the American Freedom Keepers and Confederate Riders had good intentions, but simply did not have the manpower that the community needed. After a month of disputes over organizing, and inaction, she explains that the community's elders politely asked their unwanted visitors to leave late last month, allowing other groups—including churches, nonprofit organizations, and FEMA—to take over. The latter visited Rosharon later in the month, allowing residents to apply for FEMA checks, though not all affected have been approved. But the damage of time had already been done: many in Houston proper had repaired their homes, the media had moved on to other storms, and the public's generosity was wearing thin.
On a recent trip to Rosharon, I went door to door with Norm's colleague and strategic analyst, EJ Wilson, who, along with Lisa Oum, has taken the lead in organizing the urgent relief effort in Rosharon. In place of official disaster-response teams like the ones seen in Houston, we met with a motley coalition of volunteers as diverse as the region's cultural and religious makeup. There's the Cambodian Baptist Church of Houston, a Vietnamese-American community organization called Nguoi Viet, the Houston-based disaster-relief nonprofit Sewa International, and the Alliance, which originally settled the refugees. There were even lone-ranger volunteers like Dodie Armstrong, a constituent liaison from the office of U.S. Congressman Randy Weber, who was told by the Congressman to go to Rosharon not in an official capacity, but as "the hands and feet of Jesus Christ." At over six feet tall, Wilson is hard to miss, and everywhere we went, folks waved out to him and rolled down their windows to say hello. Drawing on his expertise assessing and implementing a plan for disaster-stricken communities, Wilson has enacted what he calls phase one of reconstruction: gathering information on the number of homes and trailers and generating lists of specific needs—sheetrock, wood, insulation—to get those homes into safe and livable conditions. Following his lead, Oum and other volunteers are acting as caseworkers; she's overseeing the mucking of homes, for example, while Pastor Panha Mey, leader of the Cambodian Baptist Church, receives and processes the donations of food, supplies, and even used refrigerators. Our first stop is the gutted childhood home of Channy Keo, who brushes aside her paint-splattered hair as we approach. Though she lives in Houston, Channy's returned to help her mother, Savan, whose home suffered significant water damage. Her mother and younger brother take relief from the heat in a tent propped on the front porch. Channy tells me the residents here insist on rebuilding their own homes, a process that could take up to six months. "They're not able to get a contractor to come out and rebuild right away—everyone does it themselves," she tells me. "It's pride and culture. My dad built our house with his own two hands."
Though Savan is one of the few farmers here who grows other crops like sugarcane instead of water spinach, her situation is typical of the village's aging population. At first, she slept in her gutted house, not realizing the potential health hazards of mildew and black mold. Unfamiliar with government programs—and the bureaucracy that accompanies them—she was slow to fill out paperwork and apply for FEMA checks. That task has largely fallen to second- and third-generation English-speaking Cambodians who've returned to help their parents.
And like many in the village, Savan initially accepted help from the American Freedom Keepers and Confederate Riders, something Wilson addresses firmly before we leave, telling her through her daughter that she should "politely decline any of their offers for help" if they return. Though they'd been asked to take down their camp at the temple, individual members were still offering to assist residents. [Update on October 19th, 2017 at 4pm: In a new email to SAVEUR, Wilson says that members of these community organizations are now assisting relief efforts and working with other volunteers to provide aid to those in need.]
We head down the road to the Rosharon Bible Baptist Church, where Pastor Alex Montalegre of La Vida Church has organized a free market day. Residents sift through organized boxes of clothes, cleaning supplies, and baby formula to find what they need. Working with Wilson, Montalegre has spent the week dropping off packages of building materials to families in need, including Channy Keo's.
"We've made very good friendships here," says Montalegre. "At times, folks would give us some water spinach or whatever they were growing just as a gift." His presence highlights the bonds the community has forged: Cambodian and Hispanic, Christian and Buddhist.
"Now, it's going to take months for them to farm again," he goes on. "You've got a group of people that have never been flooded and they don't know how to deal with it. That's pretty devastating."
Despite the outpouring of volunteers, water spinach farmer Vouth Loch says Rosharon still needs all the help it can get to harvest the crops, which are the last of the season, before preparing for next year. Loch is one of the lucky few whose greenhouses were spared the brunt of structural damage. He's been able to keep harvesting his crops, while his brother's greenhouse has collapsed entirely. But with winter fast approaching, the greenhouses will need to be covered in order to survive the season's below-freezing temperatures.
"We in bad shape right now," says Loch. "We got a lot of bills to pay, and without the spinach, we couldn't keep up with the bills. Anyone can help."
While many in the community are worried about working again, Wilson stresses that getting people out of tents and back into homes is the priority, and that the money residents save on donated building materials could potentially help them afford the cost of fixing their greenhouses—the plastic tarps cost around $650 each. Wilson and Norm have set up an online form highlighting specific needs that remain: drywall mesh, gypsum boards, sanding blocks, sheetrock, insulation rolls, pressure-treated 2x4's.
With most of the mucking largely out of the way, Oum is focusing her efforts on providing immediate aid to those who have not been able to get approved for FEMA checks. Her exhaustion is increasingly audible as new problems arise with each phone call. She says she's glad she's not working full-time, because she's committed herself to seven weeks of volunteering.
Nearly two months in, it's clear that one of the community's greatest barriers—its wall of isolation from the rest of the world—has fractured. With every tearful exchange as volunteers stop by a home to deliver gifts small and large, and every meal shared by members of the village and volunteers as far-flung as Michigan and New York, the bonds of trust are cementing.
"If there's one good thing that came from this, it's that this community has been able to see the outside world not as a threat," says EJ Wilson. "They've built bridges and relationships outside Rosharon in case they ever need them again."
The sun is high as volunteers and locals take a break for midday lunch. I smell a familiar smell wafting through the temple square, and one of the village elders beckons me over. Lunch is ready: rice, barbecued quail, and, fittingly, sauteed water spinach.
If you want to help the Cambodian community in Rosharon, check the Cambodian Community Harvey Disaster Relief group on Facebook for the most up-to-date news. [Update on December 29th, 2017 at 1:00pm: SAVEUR has been contacted by the office of Holly Ham, director of the White House Initiative on Asian American and Pacific Islanders. Ham and the WHIAAPI will be visiting Rosharon, Texas in mid-January, as a result of this story.]