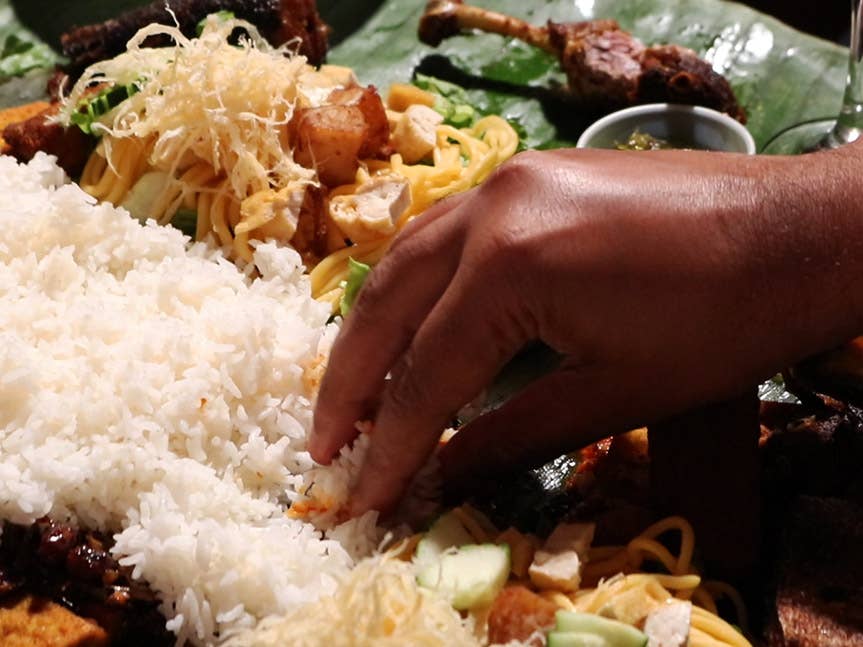 Travel
No Plates or Silverware Allowed at This Massive Indonesian Feast
At a liwetan, a long table is covered with banana leaves, rice, and as many as a dozen different dishes. Roll up your sleeves and dig in
A long table filled with food of all kinds is the very definition of a feast. In this Indonesian version, a tradition called liwetan, that spread excludes two elements: plates and silverware. A long table is lined with banana leaves, then covered with steamed rice and assorted Indonesian dishes, which you eat with your hands—but only your right hand, as per proper Indonesian table manners.
In this video, SAVEUR documents a liwetan organized by the Queens Dinner club, with the fare prepared by New York City restaurant Awang Kitchen. The tables were filled with food to be experienced through both taste and touch. Dishes up for grabs (literally) included crisp and pungent ikan teri petai (anchovies with sator beans), crisp-tender tahu goreng (fried tofu), tempe goreng (fried fermented soy bean), fried duck, and bandeng presto (deep-fried, pressure-cooked milkfish)—all perfect for dipping into spicy sambal.
The Queens Dinner Club, headed by Chef Jonathan Forgash and food writer Joe DiStefano, arranged this dinner in line with their goal to recreate and bring different global dining experiences to its local guests. If you want to try hosting your own, these dishes should get you started.