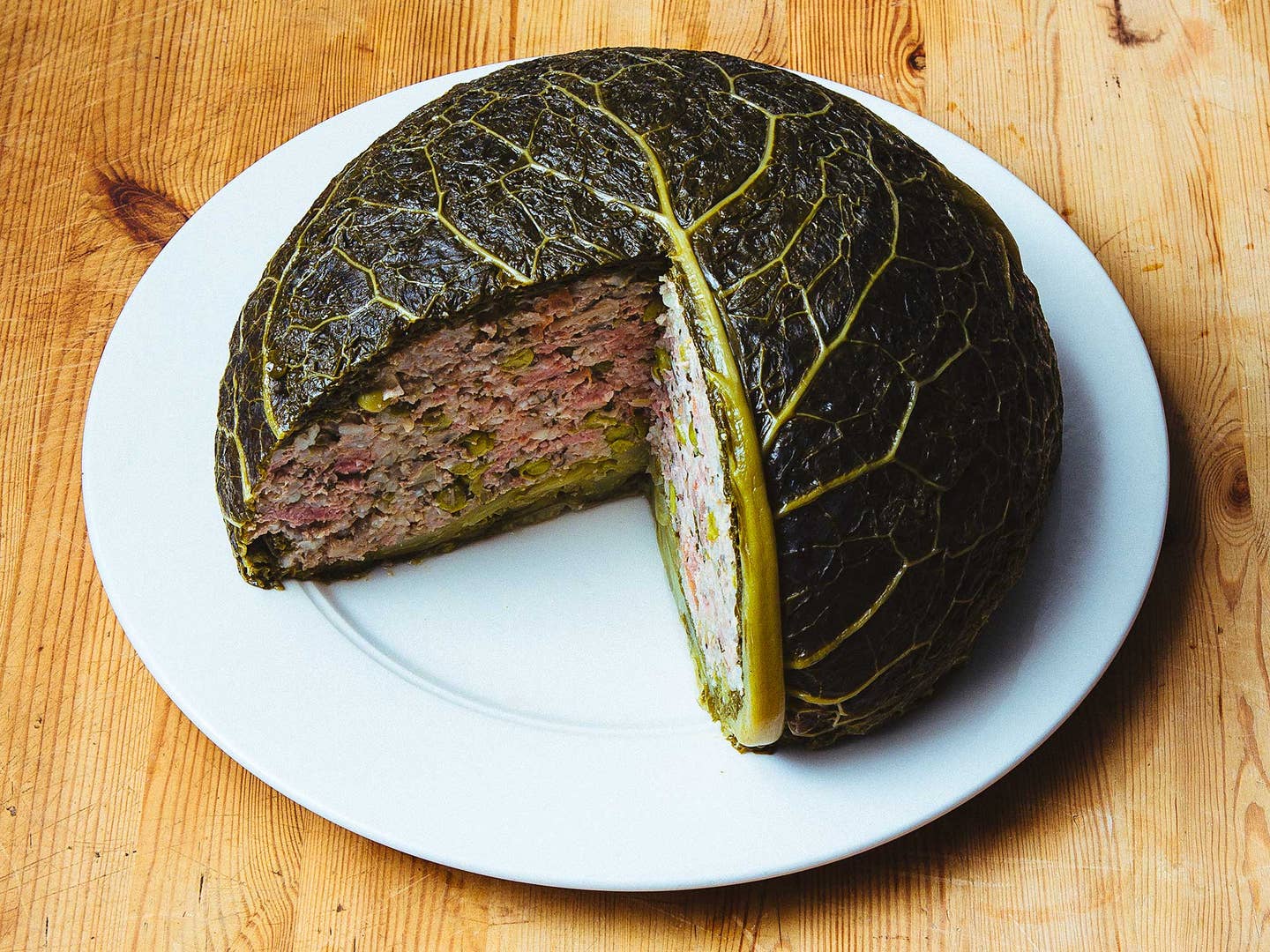 Culture
Go Make Lou Fassum, the Forgotten Stuffed Cabbage That's Worth Getting to Know
And may the farce be with you
If you just started eating in restaurants yesterday, you might think that cabbage was a new ingredient popularized by contemporary Nordic chefs. Of course, for millennia cabbage has been a mainstay of the masses, a hearty, filling vegetable that can grow in climates as diverse as Poland and Provence and keep in a cold cellar for months on end, longer if fermented. It's common in traditional dishes of food cultures as varied as Japanese, German, Chinese, and British.
And still it was a surprise for us to realize that both Laurent's grandmère in Provence and Mitchell's grandmother in Fort Lee, New Jersey, made stuffed cabbage on a regular basis. Of course, their recipes were different. Like many bubbes in the area, Mitchell's grandmother would make a filling of ground beef with onion, rice, raisins and, on occasion, ground gingersnaps—her secret weapon. She'd wrap the meat mixture in individual leaves of cabbage and braise these rolls in a sweet and sour tomato sauce typical of Mitteleuropean Jews. This kind of stuffed cabbage is known in Yiddish as holishkes and you can find it on menus in Jewish delis as well as in Jewish homes around the world.
Laurent's grandmother worked over a woodburning stove in a country house outside Antibes. First, she'd prepare a filling with rice, peas, several types of pork, and plenty of garlic. Then she'd line a large bowl with a clean dish towel on which she'd arrange leaves of blanched Savoy cabbage. This she would fill with her forcemeat and shape into a sphere resembling a whole cabbage. Finally, she'd poach it in a light stock until it was cooked through. This dish is known as lou fassum in the flower-growing town of Grasse, where it is from. And although it sounds as if it could be the name of one of Mitchell's grandmother's country-club friends, lou fassum is local dialect for stuffed cabbage.
Like many humble, regional French dishes, this one has a heartiness and earthy allure that makes it immediately familiar and comforting, even if you've never eaten it before. In the kitchen, after so much care goes into making it, an attachment grows between the cook and lou, so that when the latter emerges from its fragrant poaching liquid and the cook pulls back its swaddling to reveal a beautiful green orb, he can do nothing but beam with parental pride. At the table, slicing a wedge reveals a filling as complex and beguiling as a fine country pâté. Though of peasant origins, lou fassum is equally suited to more sophisticated dining. A little black truffle in the filling would not be out of place.
Just a few decades ago, lou fassum (aka sou fassum, lou fassun, chou vert en fassum, or chou farci à la Grassoise) was once so common in the region around Grasse that just about every housewife had a fassumier, a reusable mesh net with an opening at the top to help shape the dish. Fewer home cooks attempt it today, though it is still available in the center of Grasse on the menu at the Michelin-approved restaurant named, aptly, Lou Fassum. Maître cuisinier de France chef Emmanuel Ruz makes individual fassums that sit confidently on his dégustation menus alongside more contemporary preparations of foie gras, fresh pastas, and wild game.
Redolent of garlic and dense with several varieties of fresh and cured pork, our lou fassum is about as straightforward as it gets—though we have left out any offal (liver, spleen, or what have you), which would likely find its way into the traditional Grasse mix and could be added if you like. Preparation isn't difficult, but it does take some time, so it's a relief to know it can be made a day or two in advance, held and cooked, or cooked and held until reheated to serve. (It's delicious at room temperature, too.)
With a better public relations team, lou fassum might find itself in the pantheon of great spherical stuffed dishes, alongside haggis and, perhaps, San Francisco sourdough bread bowls filled with clam chowder.
Thanks to Robert Burns, haggis has poetry to prove its worth, but lou fassum has its own prayer, known as the Grasse Bénédicité: O bèu façun tant desia, gràci à Dièu ti sies pas creba, Preguen bèn sou boun diou, avans de li coupa sou fiou. I.e.: O nice cabbage, so desired, thank God you hold out, Let's pray to the Good Lord before cutting the string.
How to Make the Ultimate Stuff Cabbage
As with flavoring a sauce, it is important when making a filling or forcemeat—known as farce in French—to build up layers of flavor. You start with the main ingredient, pork in this instance, and add elements to reinforce or fill out the flavor from there. To the ground pork in this filling we add cured but not smoked bacon, prosciutto, and cooked ham to make the pork flavor richer and more complex. (Smoked bacon would overpower the whole thing.) We add some earthiness with mushrooms, onions, and garlic. A fresh, green taste comes from peas and Swiss chard. The cheese and a few grinds of black pepper tie it all together.
The role of any poaching liquid is to capture all of the flavors of whatever is poaching in it, and also to become the backbone of the flavor of what is being poached. There is a give and take. The liquid has to be light to start, with few ingredients, so that it can take on whatever is given to it. In this dish, the stock, made from chicken and tomato, has a delicate flavor and some sweetness that balances the richness of the pork and the bitterness of the cabbage, which ends up almost tasting sweet itself. As is often the case, the poaching liquid is the basis of the glaze and can even be served as a bouillon along with the meal.
Savoy cabbages, which have a crinkled, tender but sturdy leaf, are the ideal choice for lou fassum—the leaves are easy to peel away without breaking, and the beautiful veins on each leaf make the dish even more visually striking. If you can't find Savoy, green cabbage can also be used. To prepare, blanch the whole head in boiling water until its outer leaves tenderize, then remove each leaf whole. Repeat as needed. Red cabbage should be avoided, as it will color the farce in an unappealing way.
A clean, thin dish towel is a common tool in French kitchens. Perhaps its widest-known application is foie gras en torchon, a preparation of fattened duck liver that is rolled in a towel like a sausage and poached. Laurent has three or four towels in his kitchen he uses only for cooking (i.e., not for drying dishes). You can also use several layers of cheesecloth, but be sure to purchase good quality cloth that doesn't throw off any threads. In a pinch, plastic wrap can also work.