Recipes
The Ultimate Stuffed Cabbage (Lou Fassum)
Serves

serves 8-10

Cook

5 hours 25 minutes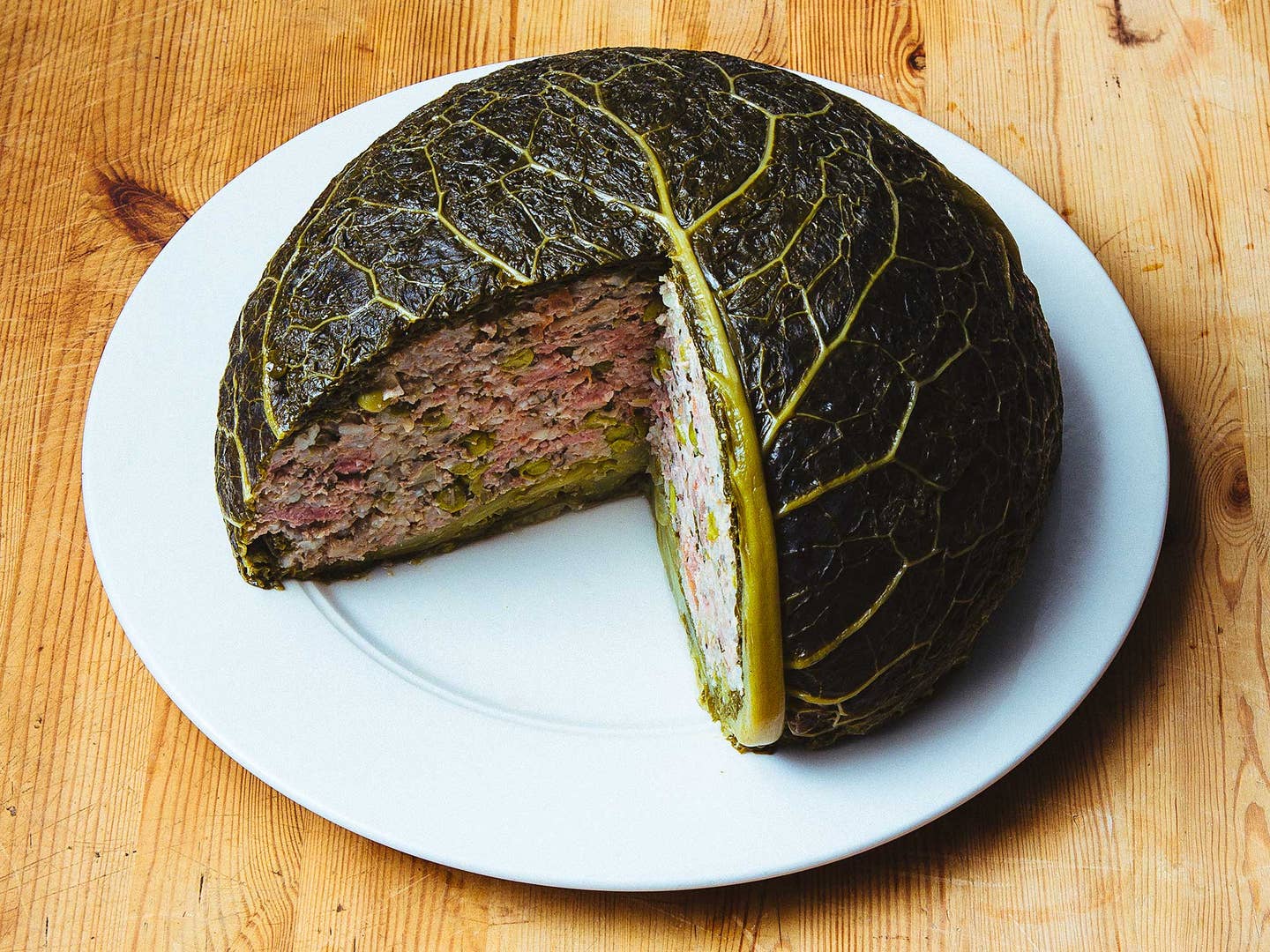 Lou fassum is most dramatic when presented whole, then sliced into thick wedges. Serving the pieces with a stock-based glaze is optional. The dish can also be drizzled with olive oil and sprinkled with fresh herbs, or ladled with chicken stock and topped with a dusting of grated cheese. Serve with mashed or roasted potatoes if desired.
Ingredients
For the poaching stock and lou fassum
2 lb. bone-in chicken thighs (6–7 thighs), skins removed
2 vine-ripened tomatoes
Salt
1 large head Savoy cabbage
1 1⁄4 cups (8 oz.) long-grain white rice
1⁄2 cup plus 1 Tbsp. olive oil, divided
1 large head garlic, peeled and chopped (1/3 cup)
1 large white onion, peeled and chopped (2 1/2 cups)
6 oz. maitake or other mushrooms, sliced
2 1⁄2 tsp. kosher salt, divided
Freshly ground black pepper
1 bunch Swiss chard, stems removed, leaves thinly sliced (3 cups)
2 lb. ground pork
5 oz. thick-cut cooked ham, julienned (1 cup)
3 oz. thinly sliced prosciutto, torn into shreds (1 cup)
10 slices unsmoked bacon or pancetta, cut into lardons (1/2 packed cup)
1 1⁄2 cups (8 oz.) fresh or frozen peas
1 1⁄2 cups finely grated Tomme Tarentaise, Comté, or another flavorful hard cheese
Zest of half a lemon
For the glaze (optional)
1 tsp. cornstarch
2 tbsp. olive oil
2 tbsp. unsalted butter
Salt
Instructions
Step 1
Make the poaching stock: In a large pot, add the chicken thighs and cover with 6 quarts cold water. Bring to a boil, then reduce to a simmer. Skim any impurities from the surface. Add the tomatoes and a generous pinch of salt. Let simmer 3 hours.
Step 2
Strain the stock and reserve. Save the chicken for another use. Peel away the stem and skin of the tomatoes; chop the pulp and reserve.
Step 3
Make the lou fassum: Bring a large pot of water to a boil. Meanwhile, using a sharp, short-bladed knife, core the cabbage. Remove at least 20 intact outer leaves. Thinly slice 2 cups of the remaining raw cabbage and set aside.
Step 4
Set a large bowl of ice water next to the stove. Working in batches as needed, add the leaves to the boiling water and cook until slightly softened, 2 minutes. Using tongs, transfer the leaves to the ice water.
Step 5
Bring a small pot of water to a boil. Add the rice and let cook until softened slightly, 4 minutes. Strain into a colander, rinse with cold water, and set aside to drain.
Step 6
In a large skillet over medium-high, heat 1⁄4 cup plus 2 tablespoons of the olive oil. Add the garlic and onion and cook, stirring occasionally, until translucent, 3 minutes. Add the mushrooms, 1⁄2 teaspoon salt, and pepper to taste. Cook, stirring frequently, until softened, 3 minutes. Add the thinly sliced cabbage and chard and cook until wilted, about 5 minutes.
Step 7
Transfer the vegetables to a baking sheet, and spread into an even layer. Refrigerate until completely cool, 10–15 minutes.
Step 8
In a large bowl, mix the pork, ham, prosciutto, and bacon. Add the tomato pulp, rice, sautéed vegetables, peas, cheese, and zest. Add the remaining 3 tablespoons olive oil, 2 teaspoons salt, and a generous amount of black pepper; mix well.
Step 9
Line a large, round-bottomed bowl with a clean linen dish towel or 3 layers of cheesecloth (there should be significant overhang). Starting with the largest leaves, lay the blanched cabbage pieces on top of the towel, arranging them stem side down in a concave manner, overlapping the leaves significantly to create a sphere with sturdy layers. Transfer the filling to the cabbage-lined bowl, pressing down with your hands to compact. Tuck the leaves in as needed to fully enclose the filling and shape the lou fassum into a neat, firmly packed, liquid-tight sphere. Wrap the edges of the towel around the cabbage so they meet at the top center. Using twine, tie the towel very tightly to make sure the lou fassum holds its shape.
Step 10
In a large, deep pot, bring the prepared stock to a boil. Carefully lower the lou fassum knot side up into the stock, and add water to cover if necessary (up to 4 cups). Bring to a boil over high heat, then reduce to a gentle simmer. Cover and simmer until the cabbage is firm when pressed and a rich, deep aroma emanates from the pot, 2 hours. Lift the lou fassum from the pot and transfer to a colander to drain and cool slightly.
Step 11
If making the glaze: Transfer 3 cups of the cooking stock to a small pot and bring to a boil; reduce by two-thirds (leaving 1 cup), about 25 minutes. Combine the cornstarch with 1 tablespoon cold water. Whisk the olive oil and butter into the reduced cooking liquid, then whisk in just enough of the cornstarch slurry to form a thin glaze. Season with salt.
Step 12
Untie the lou fassum and carefully invert onto a large serving plate. Either pour the warm glaze on top or slice into wedges and serve with the glaze on the side.