Culture
Meet the Australian Ceramicist Turning Snake Skin and Crocodile Eggs Into Art
Anna-Marie Wallace is making the country's most beautiful dishware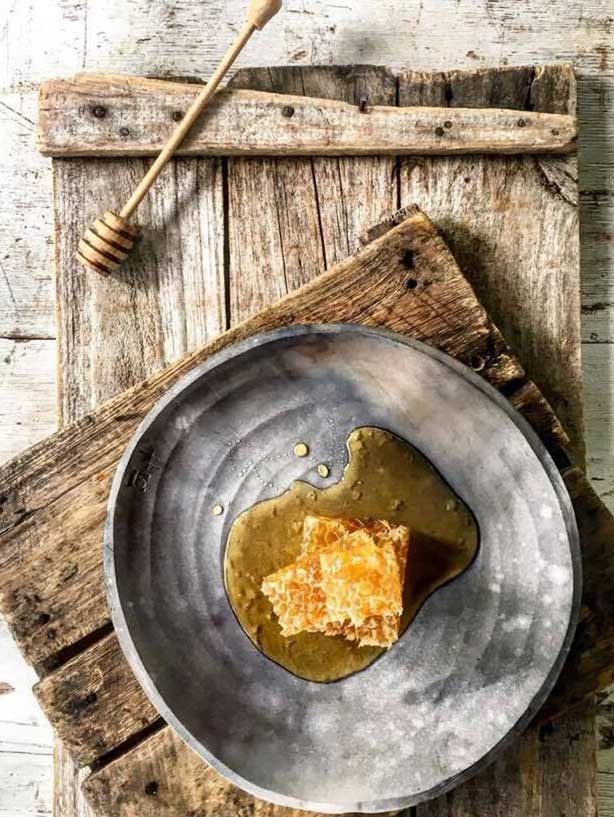 Anna-Marie Wallace keeps a python named Cleopatra in her Made Of Australia ceramics studio. It's a fairly common backyard resident in the "big scrub" rainforests of northern New South Wales but the 42-year-old potter has a particular fondness for reptiles and insects that shed their outer layers.
"I have a couple really big lace monitor lizards that like to eat my cacti and scare my pond fish to death. They are pretty intimidating, but thankfully prefer the garden to the studio," says Wallace, who wears outsized glasses and favors her breakfast toast smeared with black sesame EveryMite. "There's carnivorous antechinus keeping the bugs at bay; they've obviously made a deal with the reptiles not to be devoured. The giant skink that lives in the drying area is a bit big for snake food too. I think my python prefers the micro bats that nap in the loft during the day."
On a country road in the foothills of Nightcap National Park, a few miles inland from the coast at Byron Bay, Wallace scavenges her 18-acre property for the detritus left behind by native bird and animal species, which she then packs between raw clay forms stacked in tins headed to a dual burner, gas-fired brick kiln she calls Caia Caecilia, after the Roman goddess of fire and the hearth.
A former industrial designer, Wallace specializes in unglazed ceramics, a raw expression of earth and fire, fashioning plates and bowls, sake cups, pitchers, ovoid serving dishes, mortar and pestles, each piece uniquely imprinted by a process with unpredictable results. Her finished work is shaded deep gray, with lighter splotches of ash and stark white, and the occasional brilliant slash of oxidation. Surfaces are defined by the organic remains that she layers with rough Australian clay during the firing process. Depending on her whimsy and an informal network of foragers, that may include hatched crocodile eggshells, pandanus fruit, macadamia nutshells, cockatoo feathers, kelp picked up on the beach, even wombat poo. And Cleopatra's discarded skin, too.
"My kiln temperatures near 1800°F," explains Wallace, who stores foraged scraps in an open shed next to the studio. "This controlled combustion and containment transforms these ingredients from solid to gas, releasing natural minerals and compounds. Unable to escape into the atmosphere, they permeate the clay, creating an unrepeatable transference of color, pattern and texture."
While learning her craft five years ago, Wallace turned away from glazing chemicals due to severe allergic reactions, so she experimented with alternative techniques—pit firing, barrel firing, naked raku—and finally fell in love with the saggar method, which dates back thousands of years and employs containers to safeguard ceramics in a kiln. "Saggar resonated with my environmental ethos. No waste. Less toll on the planet. It felt like a bygone method that needed reviving, so I set about modernizing it."
Made Of Australia ceramics may be a response to her environment, but Wallace also has a high-tech side—she invented a water-based, silicon dioxide sealer that provides a protective barrier on unglazed tableware, making it safe for commercial use. (Apparently, it can even withstand liquid nitrogen.) Commissions from her studio have turned up on the table at Orana in Adelaide and Igni in Geelong, both restaurants known for their use of equally indigenous ingredients. For chefs weary of white plates and bowls, her textured pieces are darkly expressive palettes. Another part of their beauty is a lack of uniformity. It takes her up to four weeks, and 30 steps in the process, to create a single piece.
And what about Wallace's occasional muse?
"She's pregnant right now, it's spring here, so I expect several mischievous baby snakes any time now, breaking my plates and causing general havoc while they learn to hunt."