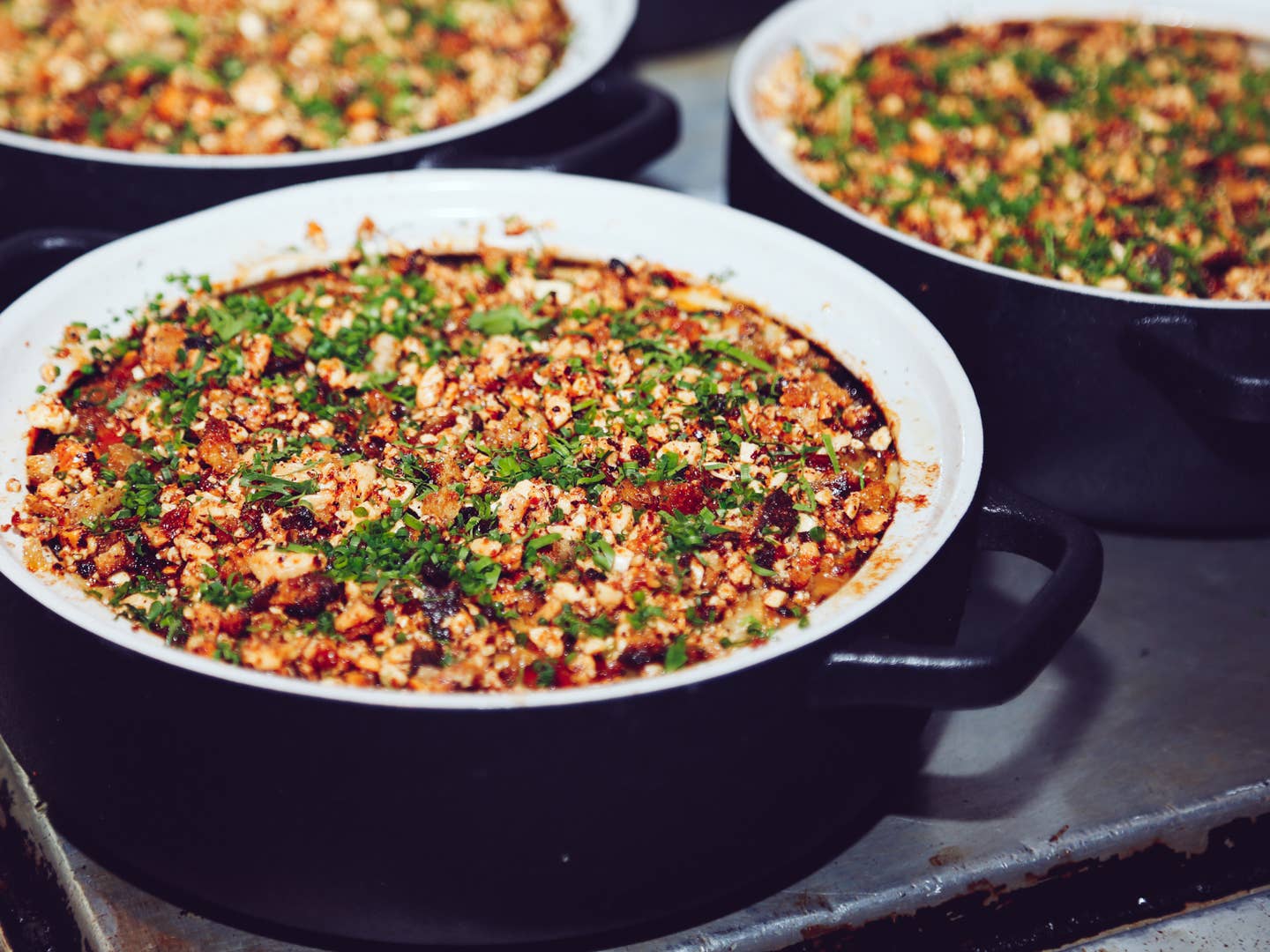 Culture
The Magic of Cooking Stale Bread for Dinner
Justin Smillie shows how bread pudding can steal a meal
When Justin Smillie told us he had a surprise in store, it didn't take much guessing to realize he'd be serving short ribs. The menu for last night's SAVEUR Supper in our test kitchen was notably absent his crazy-good brined and roasted, peppercorn-crusted and radish-decorated recipe, and while the likes of cured mackerel, crackly-skinned duck, and an astonishingly delicious apple pie were more than enough to keep the crowd enthralled, we couldn't help but wonder. There were immersion circulators in the kitchen, after all, sous-vide-ing something beefy.
The ribs were, of course, incredible—there's a reason they were the cover of our January/February issue—but if you listened to murmurs around the table, you'd know the real hero of the night was something less obvious. It was mush.
Bread mush, specifically: a casserole of salt cod and root vegetables and cubed sourdough soaked in smoked cream, topped with enough garlic-blasted bread crumbs to make us all unkissable the rest of the night. "You think you only want the crisp edges," senior editor Sophie Brickman confided in me, "but those soft insides are just as good." Astonishingly savory, with enough texture to keep you poking around for more goodies, it was a creamy, scoopable distillation of some much meatier thing. All from a dish mostly made of bread.
The dish is a cool-weather take on the summery recipe in Smillie's new book, Slow Fires: Mastering New Ways to Braise, Roast, and Grill. It's a panade, a savory bread pudding, and in the book stale bread is sogged-up and baked with tomatoes, olive oil, confit garlic cloves, and more of that salt cod (go see what else salt cod can do). It represents not just an improbably delicious thing made from humble ingredients, but an illustration of good cooking know-how. Namely: We all too often think of bread pudding as too-sweet dessert or mild-mannered leftovers fodder. But that doesn't need to be true. Bread pudding, and all its soupy and casserole-y variations, can kick ass.
Bread carries bold flavors better than almost anything. Meaty mushrooms. Ripe tomatoes. Funky cheese. Cured meat and fish. Smillie's ridiculous smoked cream. And it renders them into a soft, custard-like texture that doesn't even need eggs. It's as good a case as any to buy an extra loaf of bread just so it can go stale for panade. Because it may wind up the surprise favorite of your table. And it won't take all day to make like that roast.
For more bread pudding glory and scenes from our SAVEUR supper with Justin, take a scroll through the gallery below.