Recipes
Justin Smillie's Peppercorn-Crusted Short Ribs with Lemon, Olives, and Radishes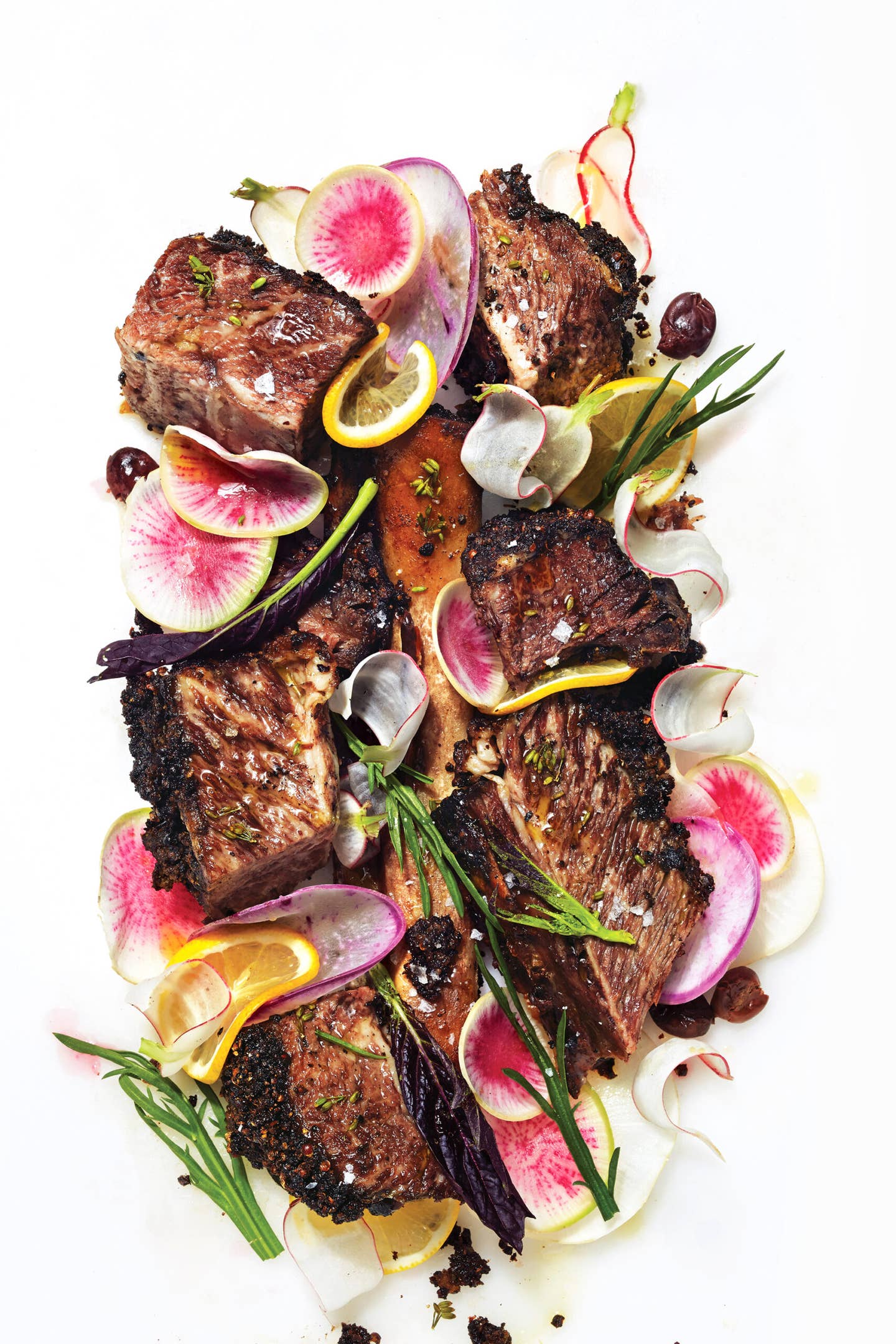 Ingredients
2 tbsp. plus 3/4 cup whole black peppercorns
2 tbsp. coriander seeds
2 tbsp. fennel seeds
2 1⁄2 cups olive oil
1 large red onion, halved
1 cup kosher salt
1⁄4 cup sugar
3 fresh or dried bay leaves
2 lemons, preferably Meyer (1 halved, 1 thinly sliced)
10 bone-in beef short ribs
1⁄2 cup green peppercorns
2 tbsp. pink peppercorns
2 tbsp. white peppercorns
3-5 assorted radishes, such as Bordeaux, French breakfast, lime, or watermelon
1⁄2 cup pitted Gaeta or kalamata olives
1⁄4 cup minutina, mustard greens, or parsley leaves
3 tbsp. colatura (Italian anchovy sauce)
3 tbsp. red wine vinegar
Fennel buds (optional) and Maldon flake sea salt, for garnish
Instructions
Step 1
Heat a 12" skillet over medium-high. Toast 2 tbsp. black peppercorns, the coriander, and fennel until fragrant, 1–2 minutes; transfer to a large plastic container. Add 1 tbsp. oil to skillet and cook onion, cut side down, until blackened, 5–7 minutes; transfer to plastic container. Stir in kosher salt, sugar, bay leaves, halved lemon, and 1 gallon water; add ribs, cover, and chill 48 hours.
Step 2
After 24 hours, toast remaining black and green, pink, and white peppercorns in a 4-qt. saucepan over medium-high, 1–2 minutes. Add 2 cups oil; simmer over medium-low until peppercorns are tender, 40–45 minutes. Let cool; chill 24 hours.
Step 3
After ribs have brined for 48 hours and peppercorns have chilled for 24 hours, remove ribs from brine and pat dry using paper towels. Strain peppercorns, reserving oil for another use, if you like. Using a mortar and pestle, grind peppercorns into a wet, gravel-like consistency. Coat ribs in peppercorn mixture and place on a baking sheet fitted with a rack; chill, uncovered, for 12 hours.
Step 4
Heat oven to 350°. Allow ribs to come to room temperature and transfer to a roasting pan; cover pan tightly with aluminum foil and roast for 3 hours. Remove from oven and let ribs rest in pan for 1 hour; discard bones.
Step 5
Increase oven to 400°. Working in 2 batches, heat 3 tbsp. oil in a 12" skillet over medium-high. Sear ribs, turning as needed, until peppercorn crust is browned, 8–10 minutes. Meanwhile, use a mandoline to thinly shave radishes; place radish slices in a bowl of ice water and let sit 30 minutes. Transfer ribs to a baking sheet fitted with a rack; roast until crust has hardened, about 15 minutes. Let ribs rest 10 minutes; cut crosswise into 2" pieces and arrange on a serving platter. Drain radishes and sprinkle over ribs with sliced lemon, olives, and minutina; drizzle with remaining oil, the anchovy sauce, and vinegar. Garnish with fennel buds, if you like, and flake sea salt.