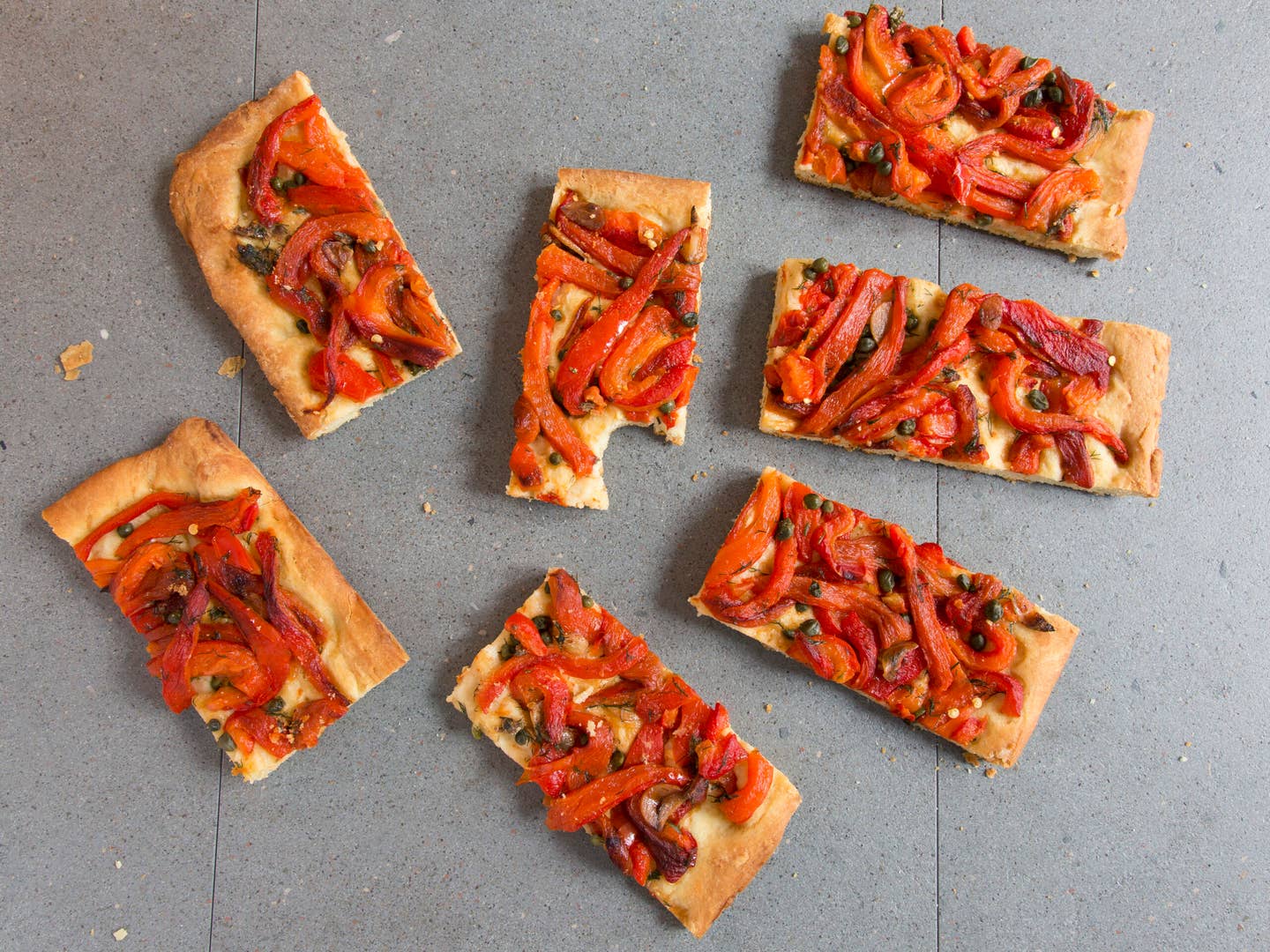 Culture
This is a Love Story Between a Man and a Red Pepper Tart
When chef Fabio Trabocchi tasted coca mallorquina 15 years ago, it was love at first sight
When chef Fabio Trabocchi got the invite to meet his girlfriend Maria's family at their home in Mallorca, an island in the Mediterranean off the east coast of Spain, he knew he had passed her test. What he didn't know was that he'd find a new love on his first trip to Mallorca: coca mallorquina.
A Catalan specialty, coca mallorquina is often translated to "pizza" in English, though most Americans, whether a fan of New York's foldable slices or Chicago's deep-dish variety, would not consider it a pie. Coca mallorquina has a tart-like, crumbly, Olive oil-rich dough that's topped with roasted vegetables and peppers, and then baked in a wood oven before it's eaten at room temperature; on Mallorca, coca can be found everywhere, from the homes of sharecropping families to bakeries.
"Imagine a big outdoor table with a nice view, and a hot tart sitting on top of it," he says, describing his first experience with coca mallorquina on a warm end-of-summer night in Sineu, a village in the heart of the island, 15 years ago. His girlfriend's father had bought the coca from a local baker and family friend who had spent the entire day making it, from marinating the peppers in the early hours of the morning, to letting the dough rise, to personally delivering it to the table. "Dinner was dedicated to this," Trabocchi says; the only thing that was served in addition to the coca was plenty of crisp white wine.
Trabocchi has returned to Mallorca every summer since (now, as the husband of Maria) and he eats the same tart, made by the same man, at the same table every visit. He says it can be eaten for breakfast, lunch, or dinner, and that it tastes best when bites are broken up by sips of bubbly Txakolina, a dry, fizzy white wine from Basque Country. Though, says Trabocchi, it can be eaten whenever and however one wants it.
And maybe that's exactly why coca mallorquina draws comparisons to pizza—it's good, no matter when or how you eat it.