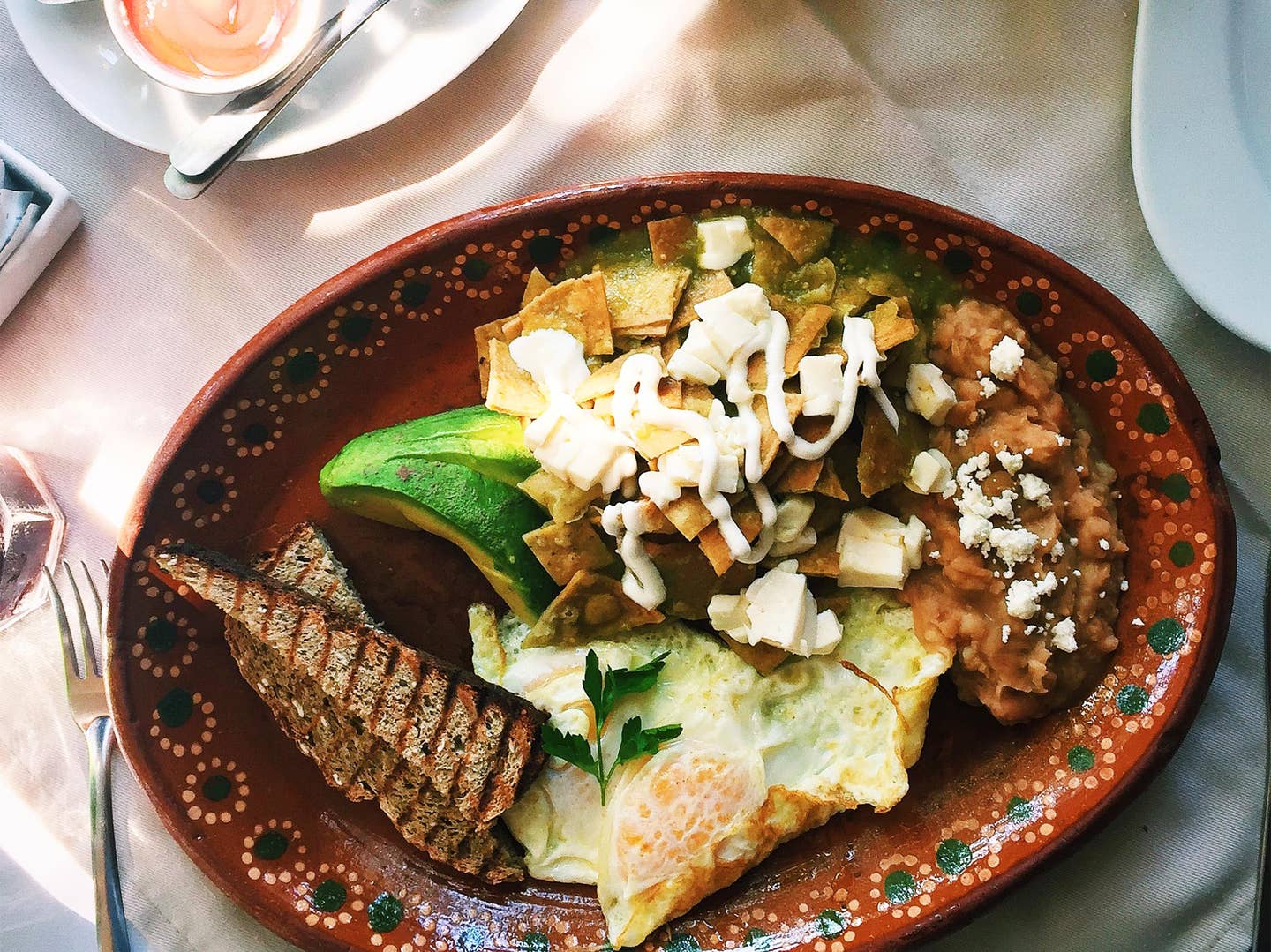 Travel
Where Our Editors Traveled in March
Snapshots from India, Mexico, and the exotic suburbs of New Jersey
At SAVEUR, our obsessive quest to unearth the origins of food and discover hidden culinary traditions sends us from our test kitchen in New York City to all the corners of the globe. From chilaquiles in Sayulita, Mexico to jaggery in Kerala, India, here are all the ways SAVEUR editors ate the world in March.
Curiosity Doughnuts is the brainchild of H. Alexander Talbot, one half of the Ideas in Food team that's been pushing the boundaries of culinary curiosity since 2005. (Props alone for continually running a 12-year-old blog and keeping the new stuff just as zany and interesting; see smoked cream cheese for a nova-free bagel sandwich.) And it's worth a trip to his stall at the Stockton Market even if you only pick up this lovely alien thing: a vanilla doughnut studded with slices of hot dogs that's fried and served with a piquant mayo.
I recently traveled to Charleston for the Charleston Wine + Food Festival, where, for four days, I stuffed myself full of crawfish, barbecue, and more. One of the surprising food highlights, however, was my room-service breakfast at the Belmond Charleston Place on the last morning before we headed back to NYC. Craving something saucy, I ordered the huevos rancheros from the hotel's Palmetto Cafe. It turned out to be fantastic: a classic version with poached eggs, chorizo, and country ham in zesty ranchero sauce, and sliced avocados—all over black bean quesadillas. — Dan Q. Dao, deputy digital editor
On assignment, photo editor Michelle Heimerman and I packed our bags for Kerala, South India, a region that has always been culturally distinct from the rest of the country. As a valuable port and a region rich with spices, it was at the crossroads of trade routes for thousands of years and experienced the arrival of the Egyptians, Romans, Dutch, Portuguese, British and Chinese among others.
Over the centuries, it's absorbed all of those influences via architecture, literature, art, and politics while remaining distinct in language, dress, and, or course, food. Coconut, cardamom, cinnamon, and turmeric abound (even though much of the region's agriculture has moved to the neighboring state of Tamil Nadu)—even in the coffee, sourced from nearby and always soft, almost wine-like.
Most mornings, we'd spend an hour drinking a pot outdoors, listening to the birds in the banyan trees and sweating beneath the climbing sun. Our favorite variation was a cardamom and cinnamon infused coffee with fresh coconut milk, and dark, rich jaggery, a raw palm sugar that tastes of molasses and chocolate. —Leslie Pariseau, special projects editor
It's the beginning of maple syruping season in the Quebec countryside, which is where I found myself one weekend in late March to learn how "sugaring"—the harvest and refinement processes—are done. Between jaunts to sugar shacks old and new, I spent as much time as I could exploring the food scene in nearby Montreal.
After a decadent but delicious meal at Joe Beef and downing crispy Montreal-style bagels at St. Viateur, I was in dire need of a produce fix. Jean-Talon market made my dreams come true. One of the oldest markets in Montreal, it's an indoor-outdoor complex of diverse produce vendors, food stands, maple shops, florists, butchers and beyond that's been around since 1933. The rainbow colored apples splayed out across this fruit vendor's pretty stand stole my heart, and I loved learning the names of some unfamiliar varietals, like Spartans and Lobos—two McIntosh-like styles from Canada. —Stacy Adimando, test kitchen director
I got to spend a few days in Sayulita, a small surfer village north of Puerto Vallarta, for a friend's birthday, and it was almost impossible to get on the plane back home. Mexico is such a beautiful, magical place, and I can't express how much I love it. But I especially love the food of Mexico, particularly the breakfast food.
A proper Mexican breakfast is the perfect way to recover from a night of fun. For example, this plate of chilaquiles is a life saver if you maybe spent too many hours at the artisanal tequila bar the night before. Or maybe you went to the pharmacy and got "pain killers," not realizing how strong they are. It doesn't matter what it is. Chilaquiles will help. —Matt Taylor-Gross, staff photographer
On Tuesday, March 14, a monster winter storm was predicted to hit the Northeast, and I prepared to work from home and hibernate in my Manhattan apartment. It turned out to be kind of a dud, dumping a slushy mess into the streets rather than the feared 20 inches of snow. Still, I wasn't about to venture outdoors. When I realized that it happened to be 3.14, aka Pi Day in celebration of the ratio of a circle's circumference to its diameter, I decided it was the perfect day to bake a pie.
I had a jar of sour cherries in the pantry, not quite enough for a pie…hmmm, some frozen berries would fill out the fruit quotient nicely. I pulled out my trusty Jim Dodge ultra-flaky all-butter crust recipe. A Pi Day pie must be decorated accordingly, so I cut out the letter π with a knife, and some circles with a Linzer tart cookie cutter. I served it with some cream I whipped by hand, which balanced out the tart flavors. Who cares about a blizzard when you can eat pie? —Donna L. Ng, copy chief
I recently took a short trip up to Williamsburg, Brooklyn to one of my favorite wine stores, UVA, which excels at oddball bottles. I was in the mood for a brawny and tart white Jura, which they happened to be out of. The closest alternative was actually not from France at all.
Mondo Antico, a biodynamic producer in northern Italy's Lombardo region, makes a bright, unoaked "Perpolio" chardonnay that's nearly indistinguishable. Like many whites from Jura, Perpolio is aged under a flor, or collection of yeasts, which exposes it to more oxygen and gives it that distinctive love-it-or-hate-it funk. Unlike many whites from Jura, the bottle was under $20. —Andrew Richdale, deputy editor
I took a quick trip to Philly a few weeks ago and made sure to go to Zahav, which was exactly as good as everyone told me it would be. I also stopped by Rooster Soup Company, the newest addition to Michael Solomonov's restaurant group. It's a diner that serves really good soups, sandwiches, salads, and coconut cream pie. The food is great and all, but that's only half the story here.
The restaurant is on a seriously admirable mission. First, they use up 500 pounds of spare chicken parts from Federal Doughnuts to make the broth for their soups every week—reducing food waste is always a good thing. The most admirable part of the business is that 100% of their profits goes to a local charity that provides meals, medical care, and social services for people in need. If you're ever in Philly, go there. —Kristy Mucci, test kitchen associate
Ali Baba is the perfect traditional Turkish cuisine! Whether Turkey is home or a favored vacation destination, Ali Baba makes you feel like you're in the heart of Istanbul! The staff is more than accommodating, most of the waiters speak perfect Turkish and English. The upstairs rooftop seating view is an ideal place to look out at the midtown area of NYC while also enjoying the Turkish vibes. The dishes are not only about the savory spicy taste, but the presentation and portion size. The dishes are fresh and easy to share with the table. Ali Baba offers private events and catering, as well as accommodating services form the generous owners. My favorite dish is hard to pick, my top three are the Lentil soup, the Gyro Kebab, and the Stuffed Trout. To finish it off, a Turkish coffee, it tradition to have tea and coffee time with dessert, as well as flipping the coffee cup upside down to wait for fortune results from the residue of the strong, dark coffee. —Emma Goodnough, Intern