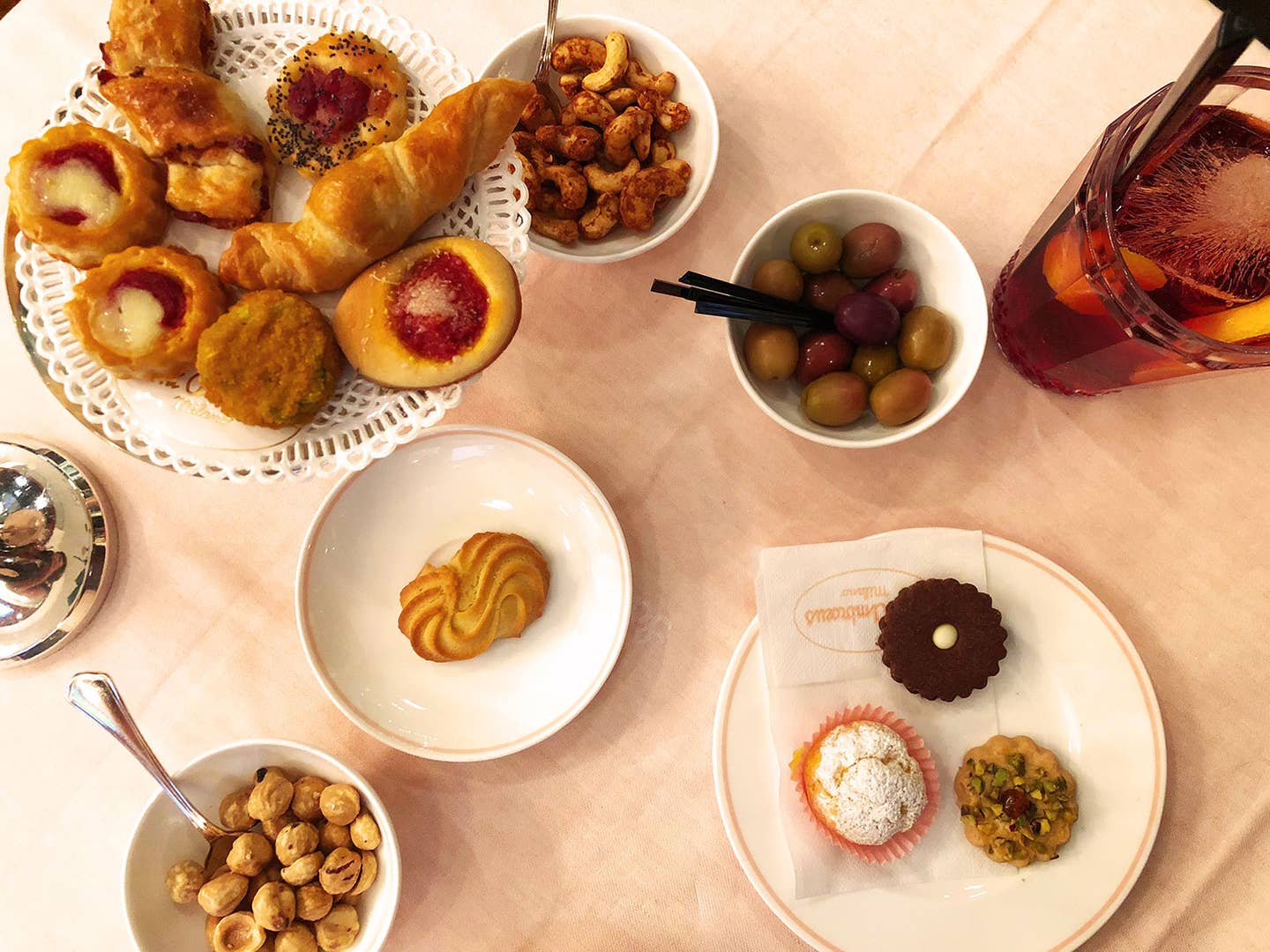 Travel
Why Milan May Be Italy's Most Underrated Food City
Friendly, diverse, and full of all the fancy carbs from fine pastries to the region's famous risotto, Milan offers more than meets the eye
Italy has no shortage of epic regions in which to dine. I've been to my fair share, from Piemonte to Rome to Puglia and beyond. It's impossible to choose a favorite; like children, or pets—or maybe pots and pans—they are all uniquely special and lovable, and I cherish each for its own reasons.
Milan, however, is a city that many had long warned me against bothering with, brushing it off for being not as charming as other parts of Italy, or calling the culture cold, work-obsessed, and cosmopolitan without character. Beyond the occasional mention of their risotto alla Milanese—the city's signature dish—some osso buco, and panettone, I hadn't heard much about the cuisine, even from friends in the food industry. While I had visited Milan once in college, mostly I just remember seeing the ornate, Gothic façade of the Duomo and getting some good street food at night with friends after the bars closed. But this fall, I returned to see what the city had to offer.
I was initially invited to Milan for the Barilla Pasta World Championship. It was a heated pasta tournament among not only Italian chefs, but chefs representing some of the great cuisines of the world. I decided to make a week of it in Milan, scratching both my itch to find out who would win the contest (it was American chef Carolina Diaz and her mezze maniche rigate pasta with tuna, if you're wondering!), while also reacquainting myself with this intriguing city. What I would come to discover were all the fancy, phenomenal bread- and rice-based dishes Milan had to offer.
It's easy to see why—from tourists who expect Italy to be filled with ancient ruins and mustached gondoliers at every turn—Milan would receive not-so-glowing reviews. Through much of the country, you'll hear visitors and often even other Italians refer to it as "the gray city" or even "the ugly city." It's seen as an overly modernized and unwelcoming urban sprawl, where people work too hard and obsess too much about their careers, and where the streets look like those in any other city. Many have even said the international mix of people and restaurants has rendered the city only sparsely recognizable as Italian, instead turning it into a mishmash of global finance, fashion, and food, and the chain restaurants that inevitably follow.
On the contrary, I found Milan to be one of the friendliest cities I'd been to in Europe, with plenty of urban beauty, and one of the richest, most overlooked culinary scenes in Italy. From the park vendors to the morning baristas, every interaction I had in Milan was pleasant—and not because the locals immediately defer to English, as they do in many highly touristed cities in Europe. In fact, they applauded and embraced my efforts to speak what Italian I knew, and wanted to know my story. That kind of friendliness is a big deal in a place that absorbs more than 8 million foreign travelers a year. (In Rome, for comparison's sake, the number is around 4 million.)
It may not be a postcard town for tourists, but Milan has been host to a unique kind of migration all its own. After World War II, the city received an influx of migrants who fled from the impoverished south of Italy to seek factory work in the more industrialized north. The city began expanding outward due to its growing population, causing a boom in not only the number of people, but also the city's overall diversity. In addition to attracting some of the most style-obsessed Italians from other regions of the country, since the 1970s, Milan has become a hub for immigrants from Albania, Egypt, Ecuador, and China as well. The city has opened its walls again and again, to both people and events—design week in April, fashion week in September and February—gradually and energetically reinventing itself over and over during the last five decades.
Expo Milano, a consciousness-raising world fair that took place in 2015 under the theme "Feeding the Planet, Energy for Life" (encompassing sustainability, climate change, and food waste) may have helped put the city back on the map for food lovers and industry influencers, many who on behalf of the event traveled to the region for the first time or the first time in a while. A whopping 20 million people attended overall, and the Expo is likely part of the reason wide-reaching global events like the Barilla World Pasta Championship now take place there.
This has largely impacted the food, of course, and in part the city does contain a cultural hodgepodge where you can eat (at all hours) anywhere from a trendy wood-fired pizza and cocktail joint to a dumpling stall to a Hawaiian poke bowl cafe. Fast-casual concepts have sprung up everywhere, and supermarkets too. But there is also plenty of Italian cuisine from all over the country accessible in Milan, as well as delicious traditional foods specific to the region.
Many of the famous dishes stem from the fact that Milan is a rice-growing region. Up until a few decades ago, the southernmost tip of the city still featured rice paddies, and if you stand there now, you can see the ones just outside city limits in the distance.
With the help and advice of local friends and residents, I came away completely enamored with the food and wine scene in Milan, and believe it to be one of the most underrated cities in Italy. From morning pastries to late-night pizza, here are my picks for where to eat (and drink) some of the best fancy carbs in the city.
Bakeries filled wall to wall with pastries are common all over Italy. Most urban Italians sip espresso drinks and eat pastry for breakfast and throughout the late morning. But in Milan, pastry shops are taken to the next level. Designed more like chic fashion houses than simple bakeshops, they are gilded in glamorous materials and staffed by suit-clad servers. While you can of course grab a pastry and caffè perched at one of the standing bar tables anywhere in the city, an iconic, high-design shop like Pasticceria Marchesi is an experience worth sitting down for. The original opened in 1824, and two new ones have opened since 2014, but all three have immaculate pastries like sugar-dusted and cream-filled bomboloni, pan dei morti (a dense sweet spice cake with ground nuts), and puffy kranzino studded with raisins or chocolate chunks. You'll eat them among some of the chicest residents of the city.
Italy is the largest rice producer in all of Europe, and Milan falls in the western-central part of one of its primary rice-producing regions, Lombardy. The country's most famous risotto recipe comes from Milan, which is surrounded by fertile, swamp-like plains (the city's name is said to originate from the Celtic mid-lan, which means "in the middle of the plain"). Unlike many risottos cooked or replicated elsewhere, the Milanese version is loose, almost like a starch-thickened soup or porridge that first spreads on the plate and then masterfully thickens just the slightest amount as it cools.
When in Milan, do not miss the chance to sample a few versions of risotto alla Milanese, a stunning yellow, primo dish with saffron-infused beef broth, softened onions, beef marrow, butter, and a healthy dose of Parmigiano cheese. I had a particularly rustic, but tasty, version at Antica Trattoria Della Pesa, where the dining room and lunch specials make for a decent midday meal surrounded by locals. But the epitome of this dish—a transcendent version—can be found at Trattoria Masuelli, where it is impeccably seasoned and each bowl is made hot to order (about a 20-minute process).
I would have never believed that after taking down a bowl of rich, creamy risotto that I would want a breaded, bone-in piece of meat as my main course, or secondi. But the two go hand in hand on Milanese menus. After the spoonable, nearly chewless texture of the risotto, costoletta alla Milanese—a thick bone-in chop, typically of veal, dipped in egg and then breadcrumbs and sizzled in butter—is fun and satisfying to cut into. Think of wiener schnitzel, but thicker, bone-in, and with a juicier interior. Trattoria Masuelli also makes a great one, but this is a dish you can find at almost any traditional restaurant in Milan.
Milan is a melting pot of regional Italian dishes, from southern Italian street foods to northern Italian breads. Milan transport and food tour guide Elizabeth Jones recommended the gargantuan pizza fritta—or fried stuffed dough—at Zia Esterina Sorbillo, a small open-air shop in the city center that's originally from Naples. Most are filled with a combination of ricotta and provola di bufala as well as tomatoes, and you can choose from chopped salami or cicoli Campani—the pork parts leftover from rendering lard. Grab extra napkins and eat it in a nearby piazza.
Jones also recommended the thin and crispy cheese-filled focaccia known as focaccia di Recco or focaccia col formaggio, originally from the town of Recco but sold at Milan's outpost of Recco favorite Focacceria Manuelina.
While not historically known for one particular pizza style, Milan today seems to have captured that on-trend Neopolitan version where the oven is wood-fired, the ingredients are seasonally sourced, and the wine list is hipster-approved. Dry Milano is one of the best, and cult-favorite Pizzium also has fun vibes and seriously respectable pies. I didn't get around to trying the local "slice pizza", pizza al trancio, a thicker, definitely not Neopolitan, no-frills pie with no toppings but tomatoes and an intimidating blanket of mozzarella.
Though I happened to visit for the Barilla World Pasta Championship, Milan is typically not known for its pasta dishes the way places like Bologna or Rome are, due to the higher availability of rice compared to wheat. But at the right traditional restaurants, there is some magnificent pasta worth seeking out. At Latteria San Marco (24 Via San Marco, no website), a bowl of seemingly simple lemon spaghetti—clearly cooked from high-quality dried pasta—was pungently bright and acidic from the tart citrus and finely minced herbs, and bracingly spicy with hot fresh chiles. (If you go, don't miss the chicories with anchovy sauce, a dish served many places in the region but done especially well there.) My favorite pasta restaurant—and my favorite restaurant in general during this visit—was Ristorante da Giacomo, an upscale, highly stylish dining room where I savored every bite of fettuccine with seasonal fresh porcini, the sweetest langoustines, and thinly shaved bottarga, an Italian delicacy.
Don't forget the non-Italian pastas, like the dumplings at La Ravioleria Sarpi, a street food joint in Milan's Chinatown that everyone raved about. Their doughy stuffed dumplings and filled Chinese crepes are made before your eyes and served piping hot into all hours of the morning.
Nobody does aperitivo—the beloved pre-dinner ritual of cocktails and heavy snacks—like the Milanese. A chef friend from Milan pointed me in the direction of Saint Ambroeus, which she described as "where super chic Milanese old ladies go for aperitivo." The place delivered on fashionable old ladies, and their tiny lap dogs too. And the supposedly casual but breathtakingly gorgeous before-dinner snacks—like savory tomato pastries, focaccia, and olives—come out on ornate serving stands and with dozens of tiny dishes for grazing on.
If you just want to see modern Milan fulfill all of its culinary potential, Erba Brusca is a must. This farm-food-inspired, mostly women-owned and women-run lunch and dinner restaurant would blow away most of the nation's trattorie with its more exciting, modern flavors and brighter, more adeptly cooked ingredients. Besides a tender octopus and inventive greens-infused pasta, which starred on the seasonally changing menu when I visited, owner and chef Alice Delcourt's hip and creative team makes some of the best desserts in the city. I had the most delicate meringue with rhubarb compote and piney fresh thyme, and a chocolate cake with homemade strawberry gelato and tangy whipped cream. Go for a long lunch in the sunny indoor-outdoor patio and stay for a double dessert.
Some might say a city in Italy is only as good as its wine bars. If that's the case, Milan's Cantine Isola—recommended to me by a Saveur contributor who resides there part-time—is the stuff dreams are made of. At this impressive, some might say institutional, wine shop, people plop down on whatever seats there are, from benches to wine boxes, to casually drink some of the best bottles from around Italy. The informal seating creates a wonderfully convivial vibe where you are sure to meet your neighbors and gather some wine tips, and the bottle list is exceptional, a true lesson in the wide world on offer from Italian wines.