Culture
A Pakistani Food Writer is Here to Show the Hidden Side of Her Country's Cuisine
Sumayya Usmani, the author of Summers Under the Tamarind Tree, is exposing a Western audience to food with ancient roots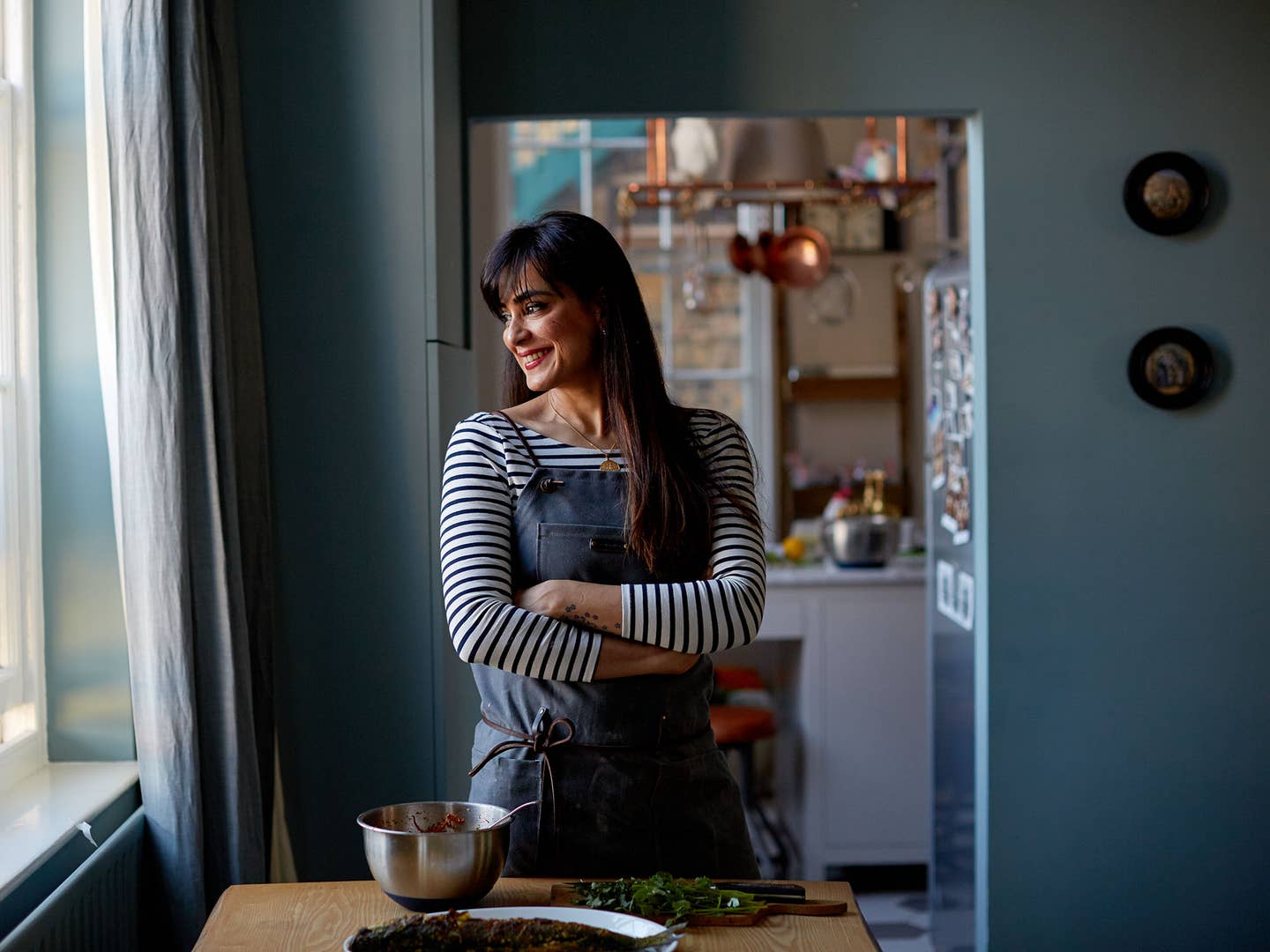 When food writer Sumayya Usmani started the blog My Tamarind Kitchen five years ago, she began with a simple goal: Show the world how distinct and delicious the food of her native Pakistan can be. Now she's taking that knowledge to an even greater audience with publication of Summers Under The Tamarind Tree; not just her first cookbook, but one of the first modern texts about Pakistani cuisine written by a Pakistani author.
Often lumped in with the other cuisines of the Indian subcontinent, Pakistani cooking is full of staples that feel familiar—naan, chapati, curries, dals—but also goes its own way, with unique spice mixes, cuts of meat, and cooking techniques.
For years Usmani has been sharing the recipes she learned cooking with her mother, grandmothers, and other women "who have always inspired her." Traditionally, women have been the carriers of family recipes—Pakistani and otherwise—which she thinks is worth celebrating—especially since that oral tradition is slowly falling by the wayside.
Currently based in Glasgow, Usmani was born in coastal Karachi, a major metropolis in Pakistan's southern province of Sindh—though she passed a good deal of her childhood not on land, but instead at sea. Her father was in the navy, so for the first eight years of her life, she didn't see much of country's culture firsthand, except for through one lens: her "Mummy's" cooking. Through smoky curried lamb keema and nutty saffron rice, she learned about her country through its flavors; today, through writing and cooking classes, she's teaching the rest of the world what she has learned.
"There's this huge heritage and history behind Pakistan's cuisine," Usmani says. Bordered by China, Tibet, Afghanistan, Iran, and India, Pakistan only formed in 1947, so the descriptor "Pakistani" is relatively new, but the countries around it have distinct cultures that have seeped into the land and food. If you go to the north, where Alexander the Great settled in 300 BC, you'll find thyme, capers, and dumplings; if you go to the south, you have lots of seafood.
"Not all food in the Indian subcontinent is the same," she says, and she illustrates that diversity in her book. If you enter the home of a Gujarati-speaking Parsi family in Pakistan, you'll find haddock rubbed with green chutney wrapped in banana leaves; in Lahore, Punjab, that haddock would more likely be battered with a spiced chickpea flour and fried. Because she grew up in Karachi, Usmani wasn't eating all of Pakistan's nuanced cuisines, so when she writes the recipes in her book that she didn't grow up eating, she gives a piece of digestible cultural context, or credits the recipe source. Sometimes that means explaining that the salted meat curry from Peshawar isn't heavy on the chiles because the Peshawari tend not to like a lot of spice in their meat dishes—other times, that means introducing us to food she discovered through her best friend Shazia's mother, her childhood Punjabi friend Moneeza, or her cousins in Lahore.
Despite all the geographical differences, there are a few universal Pakistani food cornerstones that Usmani highlights: meals tend to include bread, rice, and a pickle, all of which have ingredients that are thanda (cold) or garam (hot), so she dedicates sections to each staple dish. She doesn't just write about any bread recipe, though—she includes her "Dadi's" (paternal grandmother) puri flatbread with poppy seeds and green chiles and her "Nani's" (maternal grandmother) salted lemon preserves. Many recipes' headnotes mention a family tie because, as she reminds us, there's no definitive recipe for moong dal or mango pickles or slow-braised mutton. Every family has their own version of traditional recipes, which starts at the base of a dish: its spices.
In Pakistan, most cooks go by andaza (estimation): learning to taste, breathing in scents, and finding the flavors that are right for your tastebuds. So before delving into dishes without understanding, Usmani encourages readers to pay attention to cooking techniques she explains and experiment with masalas, or spice mixes.
"There are so many spices in the world, and so many cultures and cuisines use the same ones," she says. "Unless you know how they're incorporated in cooking techniques, you'll never know how they can change a dish."
Her first (and biggest) piece of advice: Start with what you know you like. "People are intimidated by spice," she says. "I grew up as a child eating spice, but many have never had more than cinnamon or cumin. People see a dish with five or six spices and they think they can't do it."
Usmani's most-used spices include cumin, coriander, black and green cardamom, cinnamon, cloves, black peppercorns, star anise, and dried red chillies, but if you're clove- or cardamom-averse, just skip them.
And cooking with spices doesn't just mean measuring teaspoons of powders and seeds into a mixing bowl and hoping that they'll flavor and perfume the dish. The way spices are cooked—yes, cooked—is also extremely important. Some spices should be toasted while others don't need it. Some are best added into a dish early, whereas others should be saved until the very end. Here are a few of Usmani's words of wisdom:
Always buy whole spices—they're fresher, more aromatic, and have more punchy essential oils.

Skip the supermarkets and buy spices in bulk from ethnic groceries to save money without skimping on quality.

When toasting spices in oil, ones that go in the pan early are cinnamon and star anise because they take longer to toast and won't burn as easily. Whenever you're cooking spices with oil, make the sure the pan and oil are hot before, because as soon as the spices hit the oil, they'll release their essential oils, which flavor the dish. Only cook these for 30 seconds or so.

Cumin and coriander seeds are best dry-roasted whole in a hot pan until they're aromatic and light brown. Once they perfume your kitchen and get a nice tan, let them stay in the pan until it cools. They will get darker in the hot pan, and that's okay. Then, make sure they're completely cool before grinding them in a mortar and pestle. If you grind them when they're hot, you'll lose a lot of their essential oils in the mortar.

Store spices in tins and airtight jars to keep them from going stale.

Don't forget that on top of spicing, dishes need salt. "No amount of seasoning will ever rise to the occasion without a balanced amount of salt," Usmani writes.

Ultimately, add your spices to taste. If you like a dish with extra ginger, add it; if you don't like the flavor of cloves, you can leave it out. "People are too concerned about recipes being authentic but I think authenticity means understanding what you like," she says.