Naan (Indian Leavened Flatbread)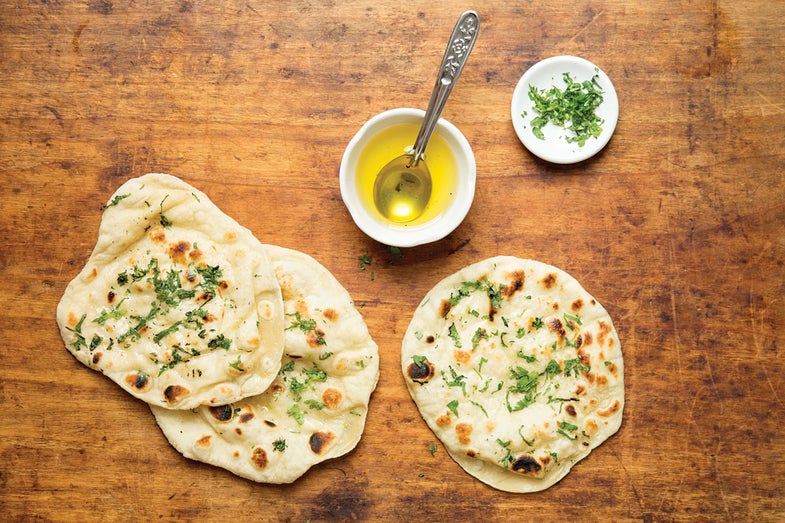 Unlike some other staple Indian breads, which are unleavened and crafted from durum wheat flour, or atta, fluffy naan is made with all-purpose flour and yeast. Traditionally, the dough is slapped against the chimney wall of a clay tandoor oven and baked over wood fires, but many home cooks make it on the stovetop. It is best savored hot and slathered with ghee. This recipe first appeared in the tablet edition of our August/September 2014 special India issue. See a step-by-step guide to making naan »
What You Will Need
Naan (Indian Leavened Flatbread)
Classic, fluffy naan, a staple of Indian cuisine, is traditionally baked over wood fires; many home cooks make it on the stovetop with equally tasty results.
Ingredients
3⁄4 cup water heated to 115°
1 tsp. honey
1 (1/4-oz.) package active dry yeast
2 cups all-purpose flour
1⁄2 cup plain, full-fat Greek yogurt
2 tbsp. canola oil
1⁄2 tsp. kosher salt
1⁄4 cup minced cilantro
Melted ghee, for brushing
Instructions
Stir water and honey in a bowl; add yeast and let sit until foamy, about 10 minutes. Add flour, yogurt, oil, and salt; stir until dough forms. Using hands, knead dough in bowl until smooth, about 5 minutes. Cover dough with a damp cloth; let sit in a warm place until doubled in size, about 1 hour.
Transfer dough to a work surface; divide into 10 balls. Working with 1 ball at a time and using a rolling pin, roll dough into a 7″ circle about 1⁄4" thick. Sprinkle with 1⁄4 tsp. cilantro; press into dough.
Heat a 12″ nonstick skillet over medium-high. Working with 1 piece dough at a time, cook dough, plain side down, until bubbles appear over the surface, about 45 seconds. Flip dough; cook until bubbles appear once more, about 30 seconds. Transfer naan to a plate and slide skillet off heat. Using tongs, cook naan about 2″ over the open flame, flipping once, until browned in spots, about 1 minute. (Alternatively, finish cooking naan in pan until browned in spots, about 1 minute.) Return naan to plate, brush with ghee, and sprinkle with more cilantro. Serve hot.