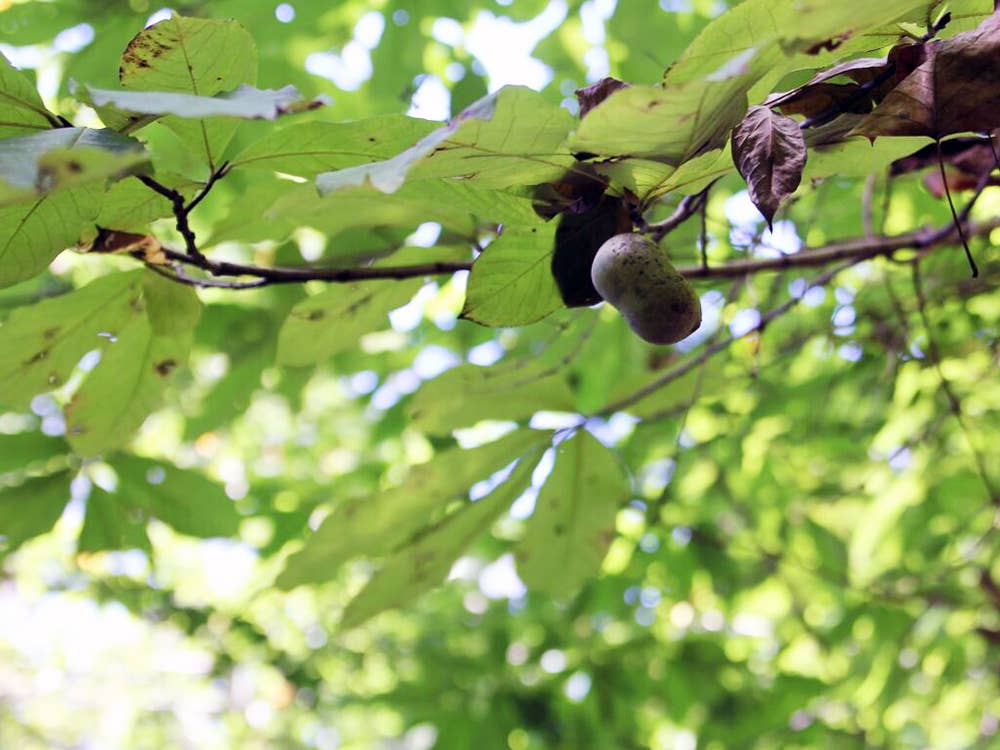 Culture
America's Most Obscure Fruit Makes the Best Ice Cream
For the paw paw underground, early fall is a mad race against the deer for this seasonal delicacy
It's possible your only reference is the song, but if you've never heard of paw paws before, you're not alone. Not even Andrew Moore, author of Pawpaw: In Search of America's Forgotten Fruit, had seen one before just a few years ago. It's understandable; the strange, creamy, tropical-tasting fruit is elusive—though it's native to America, it can only be foraged, not cultivated, and its brief growing season in early fall makes it especially rare, even for the paw-paw-mad.
It's the kind of ingredient that develops into an obsession, and with local, foraged, and seasonal foods all in vogue, chefs are now embracing the paw paw across the country, giving a whole population of Americans their first taste of this curious but delicious fruit.
A botanical cousin of the cherimoya (custard apple), paw paws have a sweet, tropical flavor and custardy texture reminiscent of a mango. Under a tough, inedible green skin that turns purplish-black as the fruit ripens, there is sweet, orange flesh with a dense, creamy bite. More than a dozen varieties of paw paw grow wild across the South, Mid Atlantic, and Midwest, often near rivers and streams. But the season is painfully short, just a month or so to find the fruit before woodland animals like deer realize it's in season, too.
Justin Dean, the chef/owner behind the Madhouse Vinegar company in North Bend, Ohio, goes on a daily paw paw hunt for about three weeks in early fall, hitting different patches and hauling out up to 40 pounds on a good day. He says this year has been a particularly good season. On a recent hunt he "probably got close to 15 pounds off one tree," and he's seen extra-large clusters of "six to eight fruit hanging" in trees where normally you find a mere two or three.
One spot Dean forages in is a small park near his home where, over 50 trees produce several pounds of paw paws, unrecognized and unappreciated by nearby residents. But almost every animal in the woods loves a paw paw, so he follows their lead as if they were truffle pigs. Once he gathers a haul of ripe fruit, he scrapes the skin and and removes the seeds, then purées the pulpy flesh with some citric acid or lemon juice to fix the color. He then freezes the purée to add it to panna cotta, crème brûlée, quick breads, muffins, and daiquiris later on. This fall, he's experimenting with paw paw wine, which he plans to turn process into vinegar.
About an hour from Washington, DC, the restaurant at Patowmack Farm offers spectacular views of the Rappahannock valley and the Blue Ridge mountains. Here, chef Tarver King forages year-round, gathering chanterelles and morels and other edibles from the surrounding forest. Paw paw season holds a special place in his heart: a race between deer and chef to find the best fruit. At the start of the season, as soon as he smells their heady, tropical scent, he and his crew rush to gather paw paws at a grove near the restaurant.
Practice makes perfect, and King can spot fruit from a distance high in the air, or scattered and fallen on the ground. He giddily scoots around the woods, shaking trees to release ripe paw paws and plucking firmer, unripe green ones from branches. Fruit that's already fallen is good to eat too, but the fall always bruises the flesh; for pristine paw paws, it's better to catch them in your hand on first shake.
Once he's back in the kitchen, King processes and purées the pulp much like Dean does. He cooks it into sweet and savory dishes, and paw paws will have a presence on the menu every day until the season ends and the frozen stash is depleted. Paw paw ice cream is a crowd favorite, but recently King's enjoyed a savory twist after cooking an all-paw-paw dinner with chef Justin Severino of Cure in Pittsburgh. He speaks wistfully of a salad he made with firm green paw paws, a riff on Thai som tum made with unripe green papaya. He's currently serving a play on classic banoffee pie, made with paw paws instead of bananas.
Paw paw country stretches across the South, Mid Atlantic, and Midwest, and the season is fast coming to a close. If you feel the hunger to forage paw paws on your own, look for groves of flexible trees with the largest, broadest leaves in the forest. The fruit ripens well off the tree, so paw paw hunters walk with their eyes on the treetops, stopping to shake clusters of green kidney-shaped fruits from the tree. Otherwise, keep an eye out for them at your farmers market, or order them online at Earthly Delights during the brief season.